A Story Worth Tellin'
2/19/2017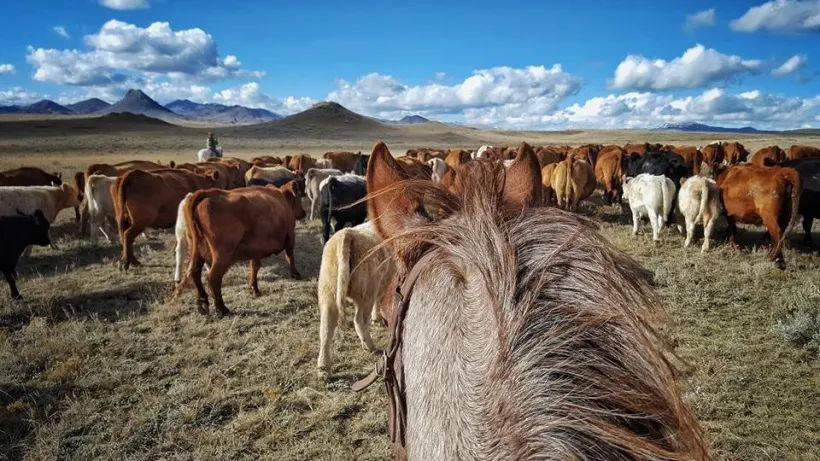 "The idea is not to live forever. It is to create something that will." ~ Andy Worhol
As I was driving home yesterday, we passed our neighbor's teams of black percherons standing together in the corral. It was said to me, "that is something I could never get into or find the fun in." And I thought about that, and it hit me hard how much the world has changed into a fast and so-called improved pace of life. And I slowed down, and I smiled to myself thinking, "I could."
I hear it often. The "I don't get it. I don't understand why you hitch a team to feed cows when you have a perfectly good motorized vehicle at your disposal? Why don't you use a 4-wheeler instead of that cold-backed colt to night check those heifers? Who cares about seeing the Bob Marshall Wilderness from the back of a horse leading a string of mules? What is the point of climbing on that bronc just to hit the dirt short of eight seconds? I don't get your ways."
Here's my answer to that…
I say iron sharpens iron. Sociologists may label the cowboy's choices a lifestyle. Psychologists may see it as obsessive to worry over critters and hay crops and good horses. Economists just say it's damn pointless to throw your money and effort after foolishness. But as for the cowboy, well, he just calls it living.
What you get out of life is just what you put into it. And the benefits of being a cowboy, well, words don't suffice. It's a life well lived and even harder earned, but it's tradition and knowledge and heritage. It's a legacy made of generations of hard living from hard working men and women who carved a life out of the coulees and mountains and sagebrush seas. It's fixing old, worn saddles and harness, not always buying new. It's the satisfaction of a well-aimed heel loop on a wily calf to drag them to the branding fire. It's knowing that young colt is gonna test your mettle, but if you gentle him right, you've got a pretty good dancing partner. It's knowing nothing is going to be handed down to you on a silver platter, and you wouldn't want it to be anyway. Because the grit in your gut and the try in your soul is what makes the man.
It's honoring traditions, and taking time to listen to the old men that talk about the days of long ago. It's considering yourself lucky to look out over a herd of well-matched and bred angus in the heat of summer grazing. It's blazing new backcountry trails on a fine mountain pony. It's helping your neighbor come branding time whether the cooking is any good or not. It's teaching the younger generation the meaning of a little hard work while getting dirt under their fingernails; it's responsibility and knowing their roots. It's about having a story worth telling at the end of the day. It's a legacy.
So, I believe in the old cowboy ways. The things a cowboy has are simple. It's work ethic, appreciation for land, good stock, a hard-working partner, and good neighbors. These traditions deserve to be preserved and honored. Take the time to visit with an old cowboy or cowgirl. Look around at this Big Sky country with its Charlie Russell sunsets, and be grateful for the cowboy, the Native American, and the land that made them. Is your story worth tellin'?
Happy Trails,
Havre, MT
MCHF & WHC District 4 Trustee
Granddaughter of 2015 Inductee Clarence Barron "C.B." Rich of Seeley Lake, Montana
See Heather's original post on her blog, Cowgirl Ramblings Blog and Photography