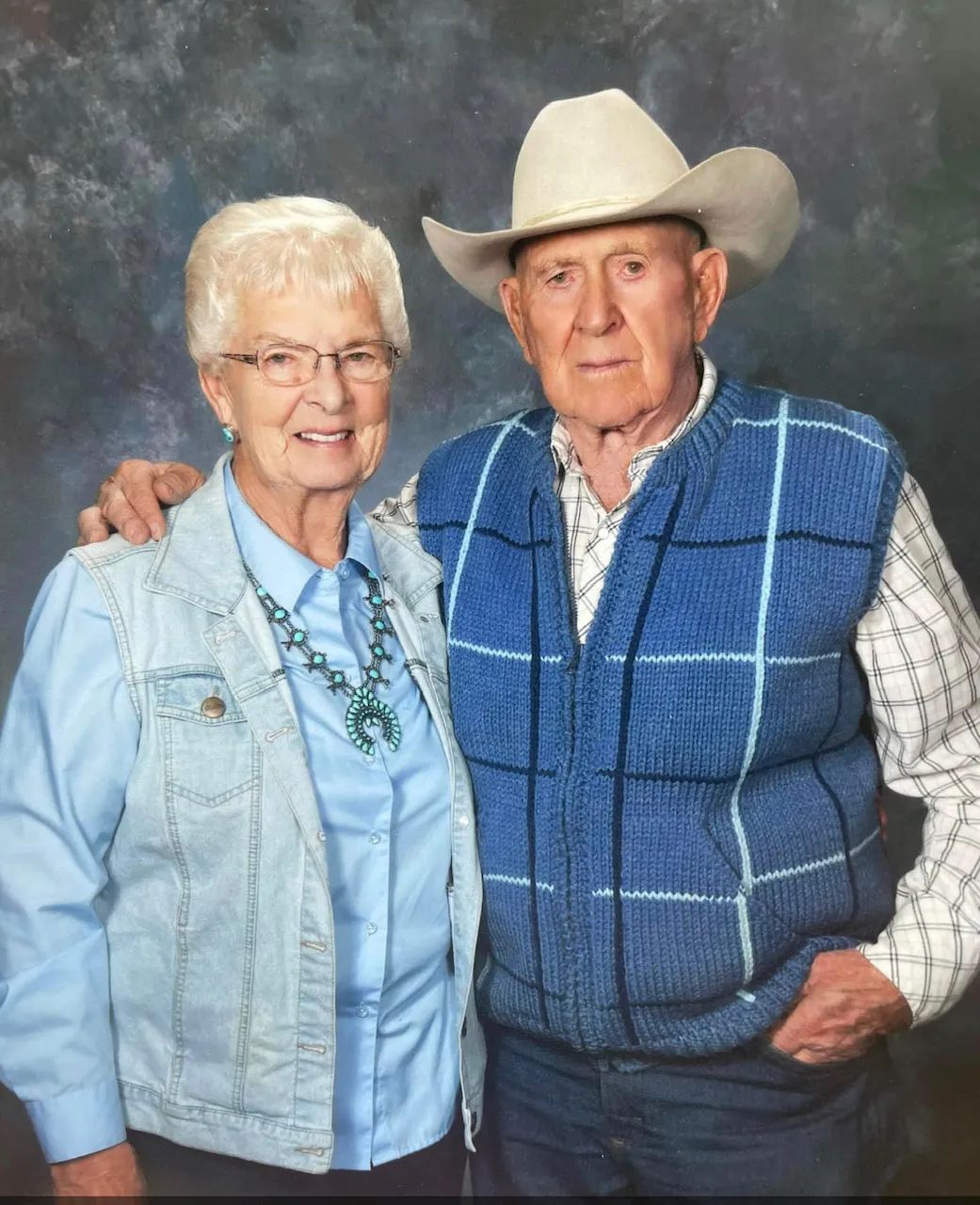 Bruce Pitcher Photography
MONTANA COWBOY HALL OF FAME Living INDUCTION
DELBERT & JANICE (GEE) HIGH
DISTRICT 9 - YEAR 2024
Born at his childhood home along Montana's Ruby River on September 14, 1931, Delbert High was the eighth child of nine children. With the addition of a grandchild, it was a lively home. He attended school in Twin Bridges, Montana and at the age of nine was trailing sheep with his dad for the Reid Estate, sleeping out under the stars. A year later, Delbert made roughly five hundred dollars trapping muskrat, mink and beaver. For several years in the summer, he trailed cattle into the Centennial Valley for area ranchers. A few of those drives are worth remembering. One in particular, was trailing a herd of over a thousand head of steers, for the 101 Ranch Company to the valley. Every steer made the 80-mile trek to summer pasture. During a fall drive for W.D. Stadameyer the temperature averaged 17 below. During his high school years, Delbert worked for various ranchers in the Ruby Valley. He halter broke registered bulls and heifers for the Bayers Hereford Ranch at the Armstrong Doncaster Round Barn in Twin Bridges for the purpose of showing and selling. He bucked hay bales after, using one of the first balers manufactured and brought into the valley. After graduating high school, Delbert continued to trap and worked for a brick layer packing hod in Anaconda and Dillon, Montana.
Janice Gee was born April 9, 1941, the daughter of Dick and Pearl (Maher) Gee. She grew up on the family farm near Springhill, Montana and went to high school in Belgrade, Montana. As a freshman in high school, Janice partnered with her cousin, Harold Gee, to purchase Butch from Carl Holt. Janice used Butch for barrel racing and Harold used him for the other timed events.
It was at the 1959 Belgrade rodeo where Delbert and Janice were both competing that Delbert first set eyes on Janice Gee. She had just been bucked off into a mud puddle at the water trough. Delbert casually road over and asked if she was okay. He found out she was, then, laughed at the situation. Later that evening they went dancing, and as they say, it was love at first sight. The couple were married August 31, 1961, in Twin Bridges. As soon as they said their vows, Delbert loaded Janice up in a wheelbarrow, wheeled her out the door and off they went to the Labor Day Rodeo in White Sulphur Springs, Montana. Their honeymoon home was in Belgrade, later they moved to the East Gallatin, living there for a year. From there they moved to a place on North Road near Four Corners. With a growing family they moved to a home on the Burkhart Biering Ranch east of Bozeman. It was there that both of their children were born, a girl, Teri and a boy, Alvin.
Janice continued competing on Butch, running him until a fateful day at the Ennis Rodeo in western Montana. She was intent on getting both kids ready for their events but neglected to tighten her saddle cinch. She was making the run, when on the way home from the third barrel, the saddle started to slip, she completed her run ending up in the bucking chutes, hurting just her pride. With that, Janice decided there were too many irons in the fire, with her children and Delbert also competing, so she chose to retire from competition.
The rodeo bug bit Delbert in 1949, after meeting Bob Davis, a competitor at a rodeo in Whitehall, Montana. He rode roughstock until at the Club Royal rodeo in Dillon. There he met bull dogger, Kenny Downing, who kindly paid Delbert's entry fees in the steer wrestling event. With Bob Olson loaning him a horse, hazing for him, and telling him when to get down and flip the steer, Delbert won the event. With that, bulldogging became Delbert's event in rodeo. He purchased Matt, a once in a lifetime dogging horse, in 1963. There were many high school and college steers wrestlers that came up the ranks and qualified for the National Finals Rodeo, having learned off the back of Matt, with Delbert as the instructor. If anyone needed help, from youth to adult, in timed or rough stock events, Delbert was always willing to help them. Many rodeo contestants make a point to look up Delbert at either end of the arena, to go over their run or ride before the performance.
Delbert worked for a building contractor as a carpenter, including the building of the eleven story Roskie Hall at Montana State University in Bozeman. He also worked at the college service shop as a carpenter. In 1975, the family moved to the Gallatin County Fair Grounds where Delbert managed all operations held at the grounds. While there, the High's supported the College National Finals rodeo held in Bozeman for many years. For eleven years Janice was employed at the Bozeman Livestock Yards as a bookkeeper. She then began working at Montana State University Student Health Service, as an administrative assistant for 29 years, until her retirement.
Chuck Swanson, one of the Professional Rodeo Cowboys Association (PRCA) judges at the Livingston Roundup asked Delbert to help the committee to get the timed event barriers, "straightened out". It was then that Greg and Duane Kesler, PRCA Stock Contractors, asked Delbert to work the timed event chutes for the Kesler Rodeo Company. He worked their rodeos for twenty years, making all of their neck and pull ropes and barriers, until he was almost ninety years old. Delbert still enjoys making the "sets" and selling them to stock contractors across the country. Janice had been timing for the Montana Rodeo Association (MRA), Northern Rodeo Association, and Montana Junior Rodeo Association (MJRA) as well as the college rodeos. She also served as secretary of the MRA and MJRA Associations for years. PRCA secretary, Judy Kesler, needed a timer for Kesler Rodeo and Janice seemed the perfect fit. She timed for them until Delbert's retirement.
Delbert was hired to work the timed event chutes for several years at the Montana Pro Rodeo Circuit (MPRC) finals held annually in Great Falls, Montana. The High's continue to travel to rodeos, supporting the contestants. They enthusiastically attended the Wrangler National Finals for 34 consecutive years meeting up with friends they made along the way. Both Delbert and Janice were long time trustees of the Montana Cowboy Hall of Fame, and rarely missing an event.
Teri and Alvin continued in the footsteps of their parents by participating in the western way of life. Delbert and Janice don't miss Teri competing in the Cowboy Mounted Shooting. Janice enjoys keeping a watchful eye and recording the time. Over the years, Alvin has helped Delbert at the timed event chutes. In and out of the arena, Alvin continues to keep the barriers for the timed event runs the same for each contestant, having learned from his dad the importance of fair competition.
The Highs are characteristic of a fading generation of Montana couples embedded in the western culture. Married now for 64 years, Delbert and Janice have lived a selfless and humble life.