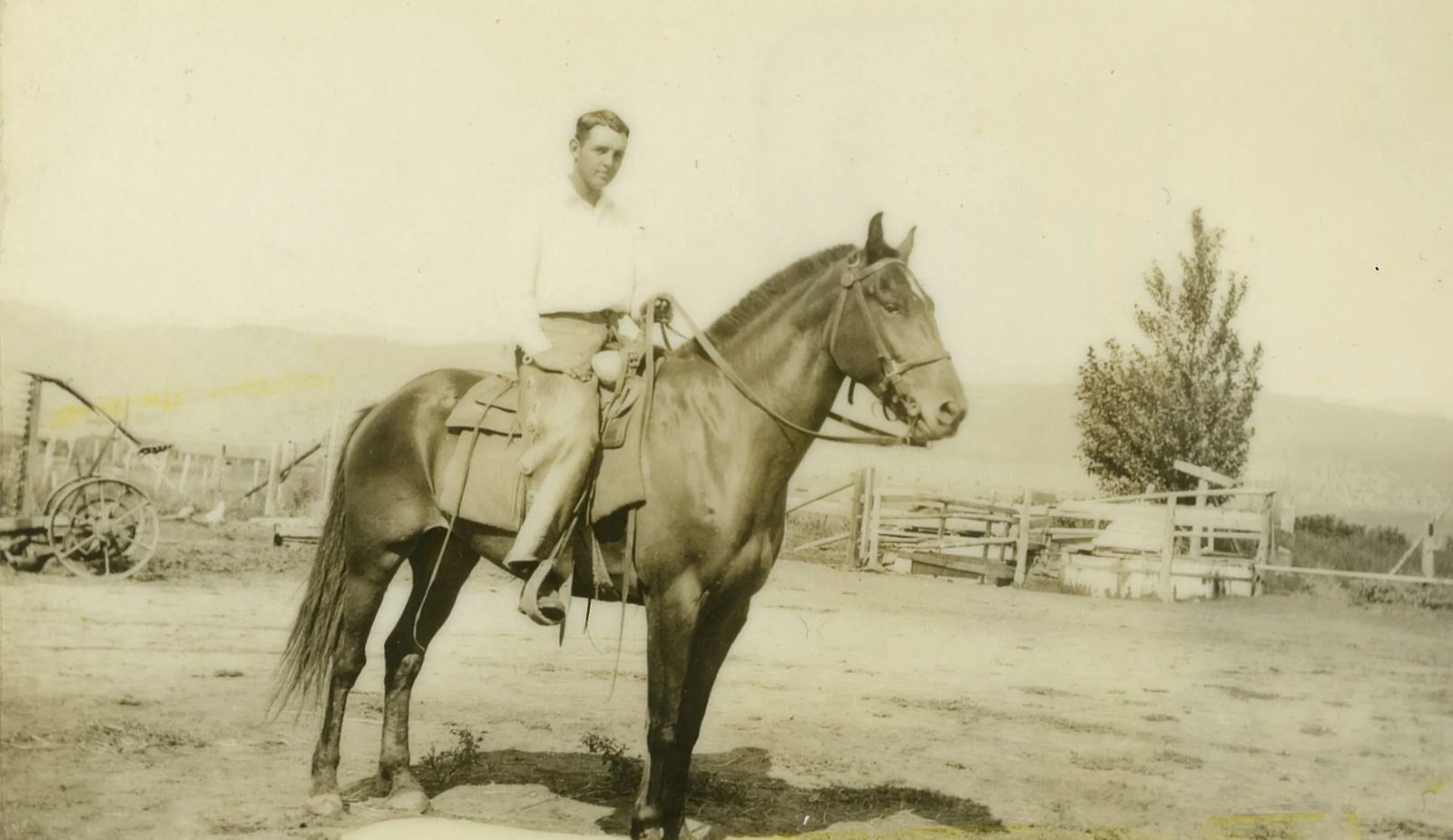 MONTANA COWBOY HALL OF FAME Legacy INDUCTION
PAUL B. HART (1909 – 1993)
DISTRICT 8 - YEAR 2024
Paul Bryte Hart was born on December 27, 1909, in Livermore, Iowa. By the time he was four years old his parent's, Lenora "Maude" (Bryte) and Ralph Hart, came from Livermore to Bozeman, Montana and eventually homesteaded in the Spokane Bench area near Helena. They pastured cattle in the Rock Creek and Jim Ball Basin summer range in the Big Belt Mountains. Paul grew up with one brother, George.
The life experience that Paul remembered vividly was at the Manual's place on Rock Creek near White Sulphur Springs, Montana. Paul was just nine years old when he was sent alone to their ranch to gather, drive and return his father's cattle to the Hart homestead. The Manuals kept an unbroken horse in their corral and each morning the two Manual brothers, their sister, and any visiting guests were challenged to ride the horse. Whoever was bucked off had to cook for a week. Paul was terrified! He mustered up the courage and admirably rode the horse. Relieved, he left the Manual Ranch, to never again return there alone.
Around eleven years old, Paul heard of the Forest Service gathering wild horses roaming the mountains in the Helena area, were being put up for sale. After receiving permission from his parents to attend, Paul arrived horseback where roughly four hundred horses were to be wrangled, including many stallions. After the roundup, a roan stallion charged his horse and thankfully he was able to avoid contact.
Paul was an avid hunter and usually did so using horses. One fall when he was camped on the banks of the Sun River with a group of hunters, Paul had to cross the freezing river with his pack horse to retrieve a five-hundred-pound elk that had been shot. Paul was afraid, as the river was frozen with many chunks of ice on top to maneuver. Once the elk was loaded onto the horse, Paul climbed on top of the elk and started back across the ice. The ice gave way when they were about twenty feet out thus his horse had to swim them across. Needless to say, it was quite an exciting ride for a bit, and he certainly was wet and cold when he reached the far side of the river.
The home of Mrs. Edna Welch, a woman who pastured cattle between Spokane Bench and the Jim Ball Basin, was Paul's stop for the first night of a two-day cattle drive. She recalled the first time she saw Paul at such a young age, he was horseback, with his feet barely touching the stirrups and wearing a Mexican sombrero, all you could see was hat and feet! Paul's love of horses was evident throughout his life.
Paul attended several elementary schools in the Helena Valley and for the entirety of his time attending high school, he lived and worked at the Y.M.C.A. and was very active in football, basketball and baseball. He enjoyed teaching swimming lessons and would tell parents, "If your children can wash their face, I can teach them to swim." At age 17, he purchased a parcel of land with a cabin in the Big Belt Mountains near York, Montana. After finishing high school Paul attended Intermountain Union College, in Helena, Montana, which merged with Rocky Mountain College in Billings, participating in many sports. He rode horse in the first Vigilante Parade in Helena in 1924, a procession that was established to celebrate the pioneer life and adventurous spirit of Montana, and which is still an annual event of the Helena community and its two high schools, whose students assemble to build class floats.
Paul's summers were spent working for his father and other homesteaders. When time allowed he entered rodeos, to compete in the Bronc Riding, at Augusta and Browning, Montana, as well as Canada.
He and his father ranched together until 1945, then Paul bought the current Hart Ranch at the foot of the Little Belt Mountains in the Helena Valley near Lakeside, from Montana Power and began the management of its heritage. He was offered a position as a land appraiser for the United States Bureau of Reclamation in 1950 and was given the assignment of negotiating with ranchers, the sale and flooding of their land, in the Canton Valley for the Canyon Ferry Dam Project, located northeast of Helena, Montana. As a long-time cattleman and rancher, himself, he provided an understanding ear to the ranchers whose land was necessary for the government to acquire. In 1952, the construction project was successfully begun.
Paul was as much a storyteller as he was the consummate cowboy, and his family relished his gift of sharing his wealth of knowledge and experiences. A family collection of his stories were dictated to his wife, and she lovingly put them into writing for his descendants. One such reminiscence illustrated his horsemanship, at an early age, when he went to an auction of semi-wild horses, that had been gathered by the U.S. Forest Service, in order to thin out the population.
In 1957, Paul purchased another mountain parcel and cabin in the Jim Ball Basin. His bachelor days ended when Paul met and married Delores Williams in 1958. Together they raised five children.
Paul engaged in the management of his cattle and sheep as well as growing hay and grains. Paul donated his time and energy to the local school district while his children were growing up. He was active in the Prickly Pear Sportsman Club, a group of likeminded sportsmen instrumental in reintroducing elk to the area.
Horses were the main characters in Paul's lifestyle. According to him, "There are no bad horses, there are only bad riders."
For ten years, he planned and orchestrated a 4th of July rodeo style event, called the O-Mok-See, at the Hart Ranch attended and competed in by family and neighbors.
In life, Paul was the salt of the earth and as big as the Montana sky. Everyone called him "The Boss." He was a planner, a coach, and the lead in all the neighborhood events. To his family he was the "arena director" of everything fun. Heading up ranch cattle drives and brandings, playing basketball in the loft of an old barn, and bobsledding at York Hill, Paul was central to his community. Simply put, he was fun to be around, and everyone looked up to him and loved him. Paul passed away on September 13, 1993, at the age of 83. There are endless memories of all that this cowboy experienced and countless lessons his family and friends learned from him. Paul was known to say when he rode off horseback, "If I'm not home before dark, come looking for me."
References:
Family records.
Ancestory.com.
U.S. Federal Census
The Independent-Record, Helena, Montana, September 14, 1993, Page 6
The Independent-Record, Helena, Montana, October 12, 1955, Page 16
The Montana Standard, Butte, Montana, April 7, 1955, Page 12
Daily Independent Journal, San Rafael, California, November 20, 1967, Page 4