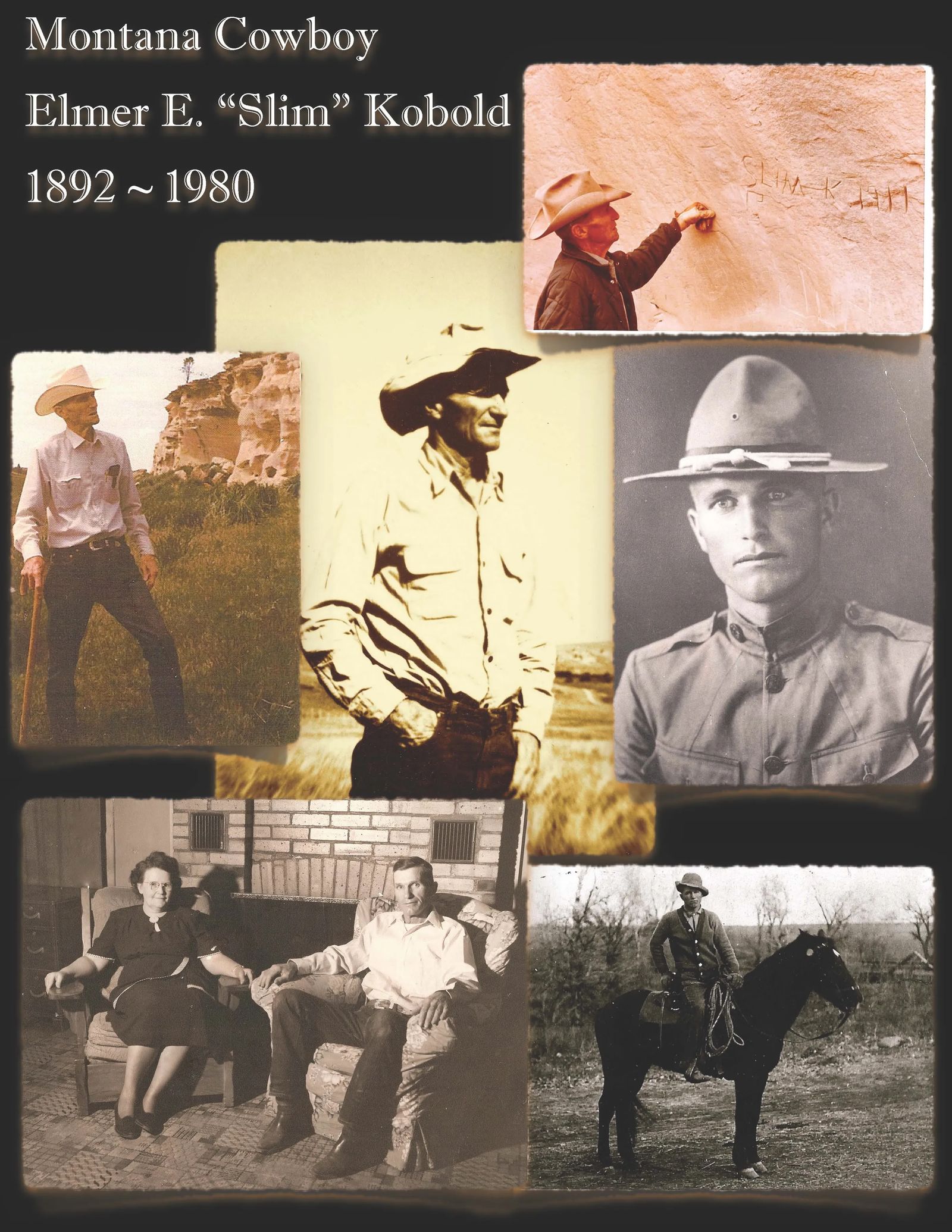 MONTANA COWBOY HALL OF FAME LEGACY INDUCTION
ELMER E."SLIM" KOBOLD (1892-1980)
DISTRICT 7 - YEAR 2024
Elmer E. "Slim" Kobold was born on April 13, 1892, during the race to the Cherokee Strip, now the state of Oklahoma, to parents George and Elizabeth (Sheilds) Kobold.
In 1900, the family moved south and worked picking cotton. Slim had his first full time job at ten years old. At sixteen, Slim's father George loaded up a wagon and told Slim and his brother to "head southwest and keep going till you find work." He worked random jobs before making his way to Montana in 1911, to get his first real ranching experience as a hand and wrangler at many outfits in the surrounding area.
One morning after roundup, just as the sun was rising and the hands were getting dressed, Slim looked over and said, "Good Lord, a woman in camp!" Another hand told him no, that's a dude from the Eaton Dude Ranch. The man had a 'pompadour piled high on his head and creamy white skin'. To his good fortune shortly thereafter he was hired by "the dude", Hugh DeHaven, from New York to take him into Yellowstone National Park and show him the real West. It would become a 750-mile pack-trip full of wonderful adventures. Hugh never "bellyached" once and Slim began to refer to him as his Pardner, who later became a lifelong friend.
In 1915, Slim was old enough and able to stay on the Rosebud and file his homestead. He built his cabin and worked on his claim for the majority of that year.
In 1917, war was declared on Germany. Slim served in World War I, traveling to the Philippines, Hawaii, Guam, and Manila where he developed a fever from a smallpox vaccine, dropping 45 pounds. Once the fever broke, he was shipped out on the US Army Transport 'General Crook'. The Transport was headed to Vladivostok, Siberia where he stayed until the war ended. Ironically, General Crook fought on the battlefield Slim ultimately lived and ranched on in Montana.
After moving back to Montana, Slim and his brother, Andy, bought a neighboring ranch that joined his homestead, expanding his holdings to 5,000 acres. Andy did not enjoy the ranching business and moved on.
While at a dance in the "old log school" in Kirby, Montana, Slim met the "good lookin' new schoolmarm." On November 7, 1923, Slim married that pretty little schoolteacher, Rose Smith, in Buffalo, Wyoming. They went on to have six children: Kathleen, George, Lenore, Joanne, Dolores and Elmer E. Jr., many grandchildren and great-great grandchildren.
Like most pioneer families, they lived on what they raised in their gardens, wild fruit and beef. They had their own smoke house to cure pork, ham and bacon. The only items they ever had to stock up on was coffee, tea, flour, sugar, salt and tobacco. The family dug their own coal for the ranch which usually took eight to ten days to fill the coal house. In winter they waited until the ice on the pond was at least a foot thick, then saw it into blocks 24 inches long to be loaded up on the wagon and hauled to the icehouse. It took a lot of work, but worth every ounce of labor when enjoying cold drinks and ice cream in the hot summer months. They lived out the last days of the pioneer life where one always looked out for family and neighbors.
The Kobold Bar Z Heart ranch, located 15 miles south of Hardin, contained an important historical battleground site. It was the location of the Rosebud Battlefield. It is also known as "The Battle Where the Girl Saved Her Brother" or "Buffalo Calf Woman Rescues Chief Comes In Sight." The Cheyenne call it "Battle where Mo'kesa'e meona'e saved her brother Vehoneme'ehnstese." It was the campaign of General Crook against the Sioux and Cheyenne that ultimately lead to General Custer's last stand. Shoshoni Chief Washakie, along with Crow leaders, Medicine Crow and Chief Plenty Coups, fought with General Crook. Chief Spotted Wolf led over 1500 Sioux and Cheyenne in the Battle of the Rosebud on June 17, 1876, and ultimately killed General Custer eight days later in the Battle of the Little Big Horn.
Slim discovered a 4,000-year-old, 40-foot Buffalo Jump on the ranch along with many pictographs. After retiring in 1970, Slim spent all his spare time preserving and promoting the battlefield and the jump. Over the years Slim welcomed many Native Americans from different tribes to come back to the ranch on the anniversary of the Battle of the Rosebud and share the stories of their people, perform ceremonies and make offerings to their forebears. Slim graciously gave complimentary tours to anyone interested in the area. One visitor, J.R. Vaughn, ended up publishing a book, "With Crook on the Rosebud."
The ranch happened to be located in coal country and contained a vein of coal almost 80 feet deep running underneath the ground. Slim and Rose had the opportunity to sell the ranch for millions but instead stayed the course and 45 years later saw it become a state park where others could visit and enjoy. The Kobold's sold the ranch to the Montana Department of Wildlife, Parks and Recreation, which includes the battlefield and prehistoric sites including the 'Slim Kobold Buffalo Jump' within the 3052 acres. In 1978, Slim signed the papers from his hospital bed after suffering a stroke. The land is known today as the Rosebud Battlefield State Park and National Monument. Slim Kobold's lifetime battle of preserving this sacred land for future generations, was finally won.
One of the last old-time cowboys, he lived a life filled with adventure. Slim died at home "with his boots on", Christmas Day 1980.