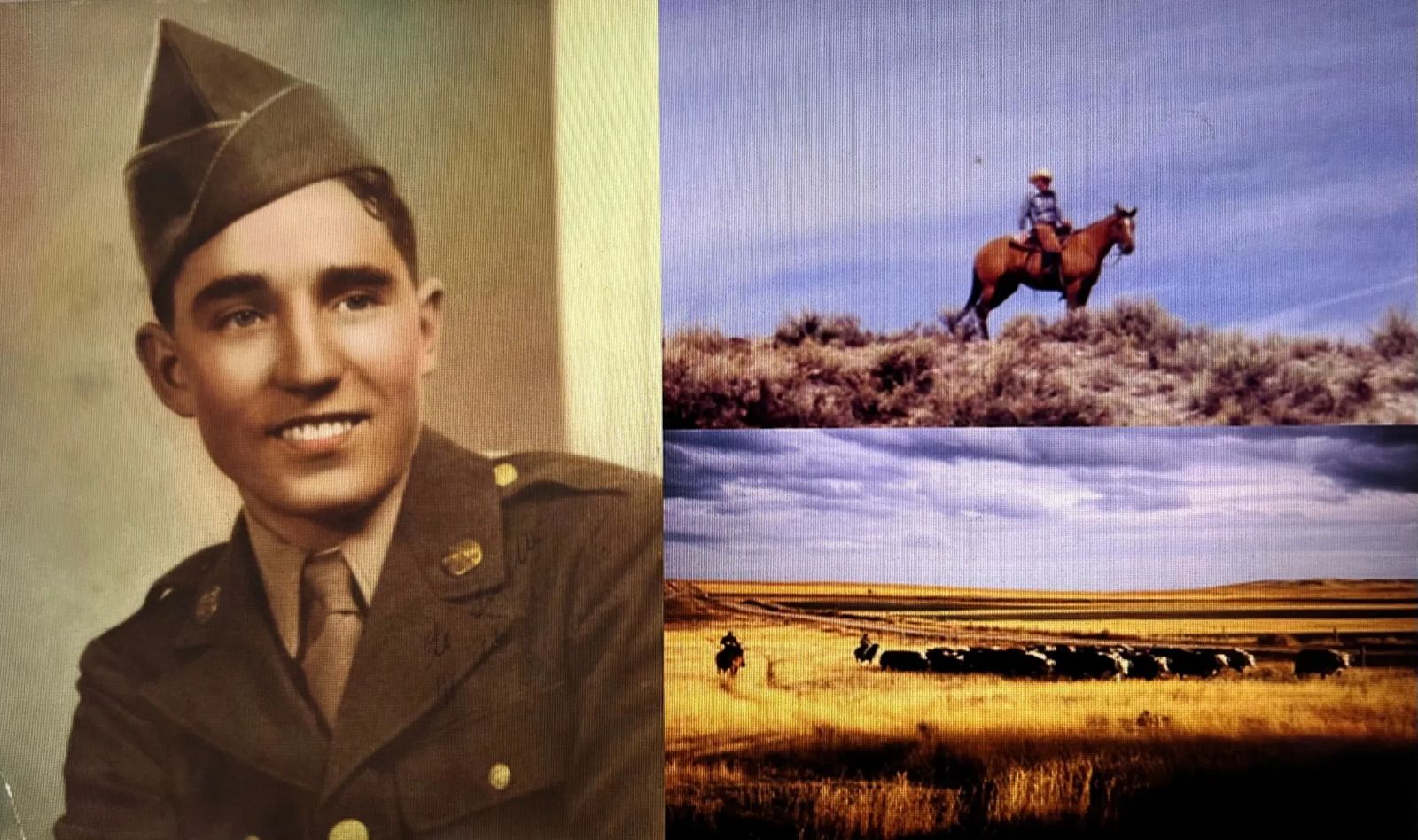 MONTANA COWBOY HALL OF FAME Living INDUCTION
DURL J. GIBBS
DISTRICT 6 - YEAR 2024
Durl Gibbs was born on September 24, 1925, to Tasman and Lottie (Barnard) Gibbs in American Falls, Idaho. Durl's father worked on various farms and ranches to support the growing family. This way of life fostered a lifelong love of animal agriculture and growing crops. During the depression years of the 1930s, Durl grew up horseback, something he enjoyed until he was ninety years old.
Durl said, "My dad earned his living by the sweat of his brow. He always had a job because of his attitude toward his job. It didn't matter if he was digging a ditch alongside the cat operator, the most important part of the job to my dad, was the ditch he was digging." Durl lovingly recalls his mother's endless decisions to go without, so her children would have plenty of food and decent clothing. He learned at an early age what a positive attitude, hard work and sacrifice can lead to. This path would eventually direct he and his family to Montana. Durl has said, "I took pride in being able to do a good job." To this day he lives by those words fused with his positive attitude and humor.
In the spring of 1944, with World War II in full swing, Durl graduated from high school. By that fall he was inducted into the United States Army at Fort Douglas, Utah and went through basic training in Camp Hood, Texas. Shortly after, he was sent overseas to the Philippines, where he joined the 96 Infantry Division as an infantry soldier. Durl was part of the Okinawan Campaign where he was engaged in combat action. While his unit was preparing to make the final assault on Japan, the Japanese surrendered. After the end of the war, Durl spent one year setting up a government for the people of Okinawa, where he was part of the public health department.
Durl met Lucille Hofer of Blackfoot, Idaho, shortly after being discharged from the Army in 1946. The couple were married in June of 1949, in Idaho Falls. During their marriage, he worked as security patrolman at an atomic plant west of Blackfoot.
"I always wanted to come to Montana, and raise cattle," he said. "So, we put an ad in the Montana Farmer-Stockman (for ranch hire) and responded to the replies we got." After receiving a written invitation for hire, from Vern Watson, who owned the Green Ranch in Buffalo, Montana, they decided to accept.
The Gibbs, along with their two young sons, Lee and Wes, headed north, on a cold January morning in 1956. Durl said, "We left Blackfoot and headed for Montana with $1,500, all of our possessions in a pickup and a car, and an old milk cow in a horse trailer." In the summer of the same year, Durl met Bill Gaugler of Judith Gap, Montana. They bought registered Hereford cattle together and formed the partnership named Gaugler-Gibbs Herefords. By the fall, the family moved from Buffalo to a place one mile south of Judith Gap, where they were involved in community functions and Durl was able to realize a dream of raising his own registered Hereford cattle. He began to build his reputable herd and to sell registered bulls. Replacement heifers became his top priority.
They had been at Judith Gap for seven years, when in November of 1963, Durl was given the opportunity to lease the Green Ranch. It was during this time that their daughter Clarajean was born. The family moved back to Buffalo where they managed their herd of 250 cows, mostly registered Herefords, farmed, and put-up hay. "I never wanted to do anything but ranch, raise cattle, or farm," said Durl. "I always thought that if I worked hard and saved enough money, someday I could own a place of my own. I got in the habit of watching for an opportunity." Durl feels that an individual's attitude is the single most important aspect to of how one lives their life to the fullest.
While leasing the Green Ranch Durl, continued to develop his registered cattle operation. He was elected to the board of directors of the Central Montana Hereford Association and was an active member of the American Hereford Association. His study of beef cattle genetics led him to become a foundation breeder of Line 14 Herefords developed at Fort Keogh Research Station in Miles City, Montana. Durl was also a pioneer of artificial insemination in the Central Montana region. Furthermore, he was devoted to the betterment of seed stock cattle. He shipped his registered bulls to buyers all over Montana and neighboring states.
In the fall of 1972, Durl had the chance to buy the Mountain View Ranch located four miles east of Buffalo. For a few years, Durl operated both the Green Ranch and the Mountain View.
In 1997, Clarajean and her husband, Cory Merrill began a lease purchase agreement to buy the Mountain View Ranch property. The final payment was made in January of 2023. It is not often that a father is able to live long enough to see the succession of one generation to the next.
Durl has always enjoyed using horses to work cattle. This gratification led Durl, Lucille and their children to routinely competing in area cattle and horse shows. Sadly, Lucille passed away from cancer in 1985. In his later years, Durl competed in Team Penning and Team Sorting throughout Montana, Idaho and Utah. In 2004, at age 79, he took first place honors and won a Martin Trophy Saddle which qualified him to compete in the National Team Penning finals in St. Louis, Missouri.
In 2011, Durl and his children traveled to Japan, to meet the daughter of a Japanese soldier he had faced in battle on the island of Okinawa in World War II. While in Japan, he was known as the American soldier with the white cowboy hat. Durl has been honored that over the past several years, he has been chosen to represent his fellow veterans by speaking at Veteran's and Memorial Day events. Specifically, the Memorial Day programs at Big Sandy, Jordan and Great Falls, Montana
At nearly 100 years old Durl enjoys challenging people to guess his age and is amused when they are usually 15 years under the mark. He currently spends his time between the ranch and his son's place in Fort Benton. Although he no longer rides horseback, he can still put in a full day driving tractor to do field work and swath hay.
References:
A Soldiers Journey, by Wesley Durl Gibbs
The Life Story of Lucille Hofer Gibbs, by Wesley Durl Gibbs