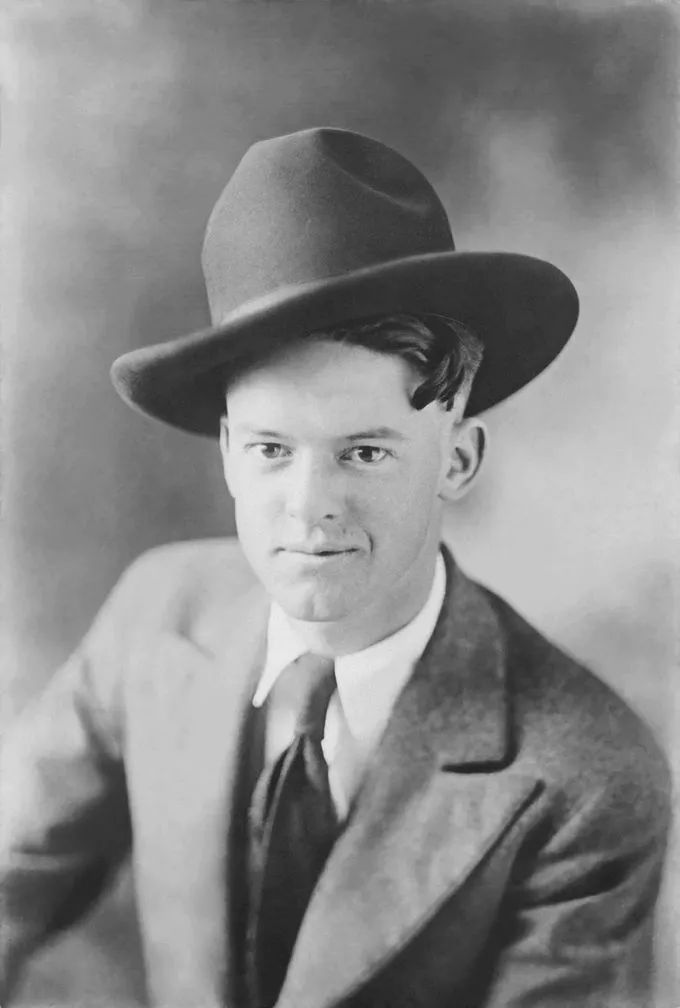 photo courtesy Western Heritage Museum
MONTANA COWBOY HALL OF FAME LEGACY INDUCTION
JOSEPH FRANKLIN "JOE" DE YONG (1894-1975)
DISTRICT 5 - YEAR 2024
Joe De Yong was born as the only child to Adrian and Mary Ellen De Yong in 1894 in the small town of Webster Groves, Missouri, a suburb of St. Louis. When he was five years old, his family moved to Dewey, Oklahoma, where his father ran a general mercantile store. Living in Indian Territory, the western lifestyle sparked the boy's dream to be a cowboy. Joe De Yong was enamored with everything related to cowboys and horses; so, when he was not at school, he would help out at local ranches. He spent summers in Dewey, riding and seizing every opportunity to help at cattle roundups and brandings. At the age of ten he met Will Rogers at his grandmother's house when the trick roper and cowboy humorist was in St. Louis for the 1904 World's Fair. The fair is also where De Yong first saw Charlie Russell's art on a billboard for Heptol Splits, a local laxative manufacturer.
In 1910 silent film star Tom Mix, a former livestock foreman for the Miller 101 Ranch in Bliss, Oklahoma, arrived in Dewey to film the silent movie, A Ranch in the Great Southwest. When De Yong heard the movie was being made in the area and that they needed cowboys, he jumped at the chance to meet the western hero. Luckily, he snagged a bit part. In 1912, another film, Life on the Diamond-S Ranch, was shot on the Horseshoe L Ranch where De Yong worked.
De Yong was hit with the idea of acting in moving pictures and followed the film company to Prescott Arizona in January 1913. He got another small role in the latest Tom Mix movie, The Law and the Outlaw. While in Prescott he was stricken with cerebral meningitis. His rehabilitation was long and difficult, and the disease left him deaf for the rest of his life, but it didn't deter him. He seemed destined for a cowboy's life, whether by ranch, film, or art. While convalescing from his infection, De Yong mustered the courage to write to Charlie Russell, asking for advice on art, and included some of his sketches and photographs. In September 1913, Russell responded to his young admirer with a letter and a sketch and advice regarding painting and sculpting techniques.
Joe recuperated by traveling across the West with his parents. In Wyoming they saw a Charlie Russell exhibit. After this experience, he convinced his parents to move to Great Falls, Montana, in 1914 so he could make a connection with Russell.
Charles M. Russell and Joe De Yong had much in common. They were both painters from the St. Louis area who moved to Montana for the cowboy life. Once they made their connection, this powerful relationship would change both their lives.
By January 1916, Joe, nicknamed "Kid Currycomb," was living with the Russells. De Yong worked as an apprentice to Russell in exchange for watching the house and feeding the animals when the Russells were away on their extensive exhibition schedule.
While working for Russell, De Yong's deafness was no longer a disability. He and Russell's use of the Indian Sign Language, at which Russell was an expert, helped create a strong bond of communication between the two and cemented their relationship. Russell and De Yong would hand-talk back and forth about horses, the West, and they also often went to the latest silent Western movies. De Yong was a loyal friend and confidant, and Charlie and Nancy Russell considered him the son they never had.
The relationship continued for about ten years, an experience that helped De Jong hone his art skills painting, sketching, illustrating, etching, and sculpting. De Yong became friends with Howard Eaton, whose family had ranches in Yellowstone and Glacier National Parks, and through this connection he spent much time painting in these locations, going first to Yellowstone in 1920.
He later resumed his travels with Russell, including a stop at Bull Head Lodge on Lake McDonald in Glacier National Park. Stopping in East Glacier Park, they visited the famed, deaf Blackfeet wood sculptor John L. Clarke. De Yong and Clarke would remain close friends for fifty years.
De Yong summed up Russell this way: "I don't know how to push and prod my memory of Charlie Russell to the point where an orderly description or picture will appear. I have so many recollections and he was so many sided; yet strangely enough, when I try to choose one word that will express his most outstanding characteristic I am forced to use Simplicity, with Sincerity running a close second."
De Yong stayed with the Russells until just before Charlie's death in 1926. At Santa Barbara, California, De Yong worked alongside Russell's friends Edward Borein and Maynard Dixon. De Young continued his fine art and illustrations work as a technical advisor in the movie industry.
Borein introduced De Yong to people in his circle which led to a meeting with film producer Cecil B. DeMille. As an illustrator and fine artist who worked quickly, he won over C.B. De Mille and would eventually work on twenty-one feature-length films as a technical and historical advisor in costume and prop design. De Yong's work on these films, including The Plainsman, starring Montanan Gary Cooper in 1937, had a tremendous influence on the lives of other western artists. De Yong would render more than 1,500 costume illustrations.
Joe De Yong stands out as a faithful cowboy, author, and artist who lit the path for many western artists, writers, and filmmakers. By promoting the authentic early western lifestyle and maintaining genuine friendships along the way, he contributed much to the fabric of the cultural West for future generations. After Russell's death, De Yong dedicated his life to making sure the West that he, Russell, and Will Rogers loved would not be forgotten. De Yong wrote this poem in tribute to Will Rogers:
"It's said that up there riders never tire
And so I'll bet that when that outfit's day is done,
—and you look down, and see the settin' sun
your crowd will gather round the fire for one long night of harmless fun."
Joe De Yong died in 1975 in Los Angeles, California, and was buried in Great Falls, Montana, not far from the Russell home. His work can be seen at the National Cowboy & Western Heritage Museum and the Will Rogers Museum in Oklahoma, and the William S. Hart Museum in California.
Source: Joe De Yong, A Life in the West by William Reynolds