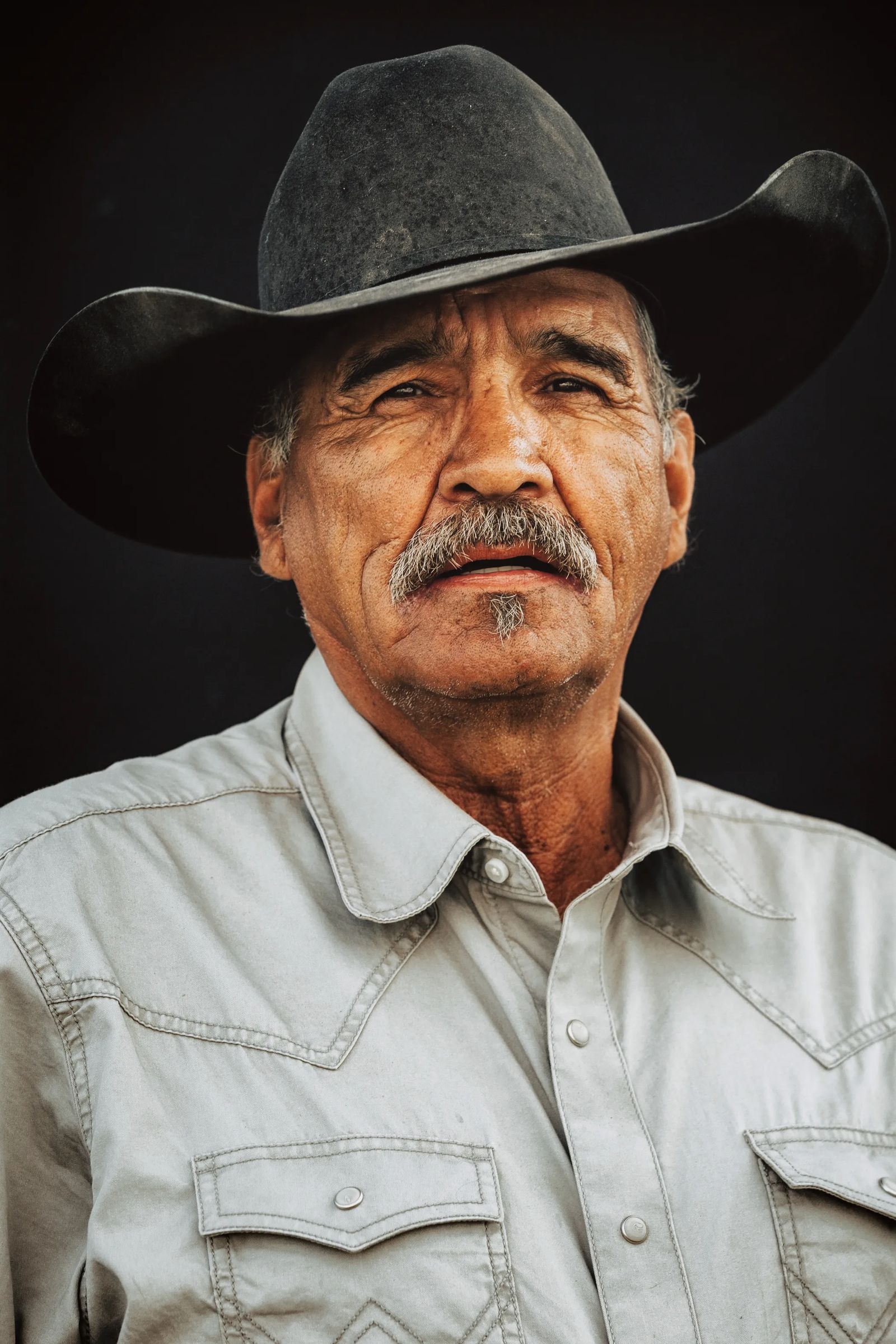 photo by Chris Douglas
MONTANA COWBOY HALL OF FAME Living INDUCTION
ALVIN "DUTCH" LUNAK
DISTRICT 5 - YEAR 2024
Montana history is bursting with stories of Native Americans, cowboys, outlaws and businessmen. The life and times of Alvin "Dutch" Lunak and his family is much the same. Dutch was born December 3, 1952 in Browning, Montana, on the Blackfeet Indian Reservation to Alfred and Elva (Hall) Lunak, of Chippewa and Blackfeet ancestry, respectfully. He descends from the honorable Mountain Chief, of the Blackfeet Tribe and a long line of Montana pioneers. In Blackfeet culture it is customary for an elder in the family to give a child their Blackfeet name. His uncle, Martin Good Rider Pepion, shared his Blackfeet name with Dutch, Maas-to-oh'kitopi, Good Rider, or literally translated as "Looks Good on a Horse." Dutch was destined to become a celebrated Indian cowboy.
Dutch's parents had met at Haskell Indian Boarding School in Lawrence, Nebraska. They married in April of 1946, and made their home in the Browning area where they ranched and welcomed four children. After Alfred's untimely death, Elva married James G. Augare and had two more children, one being Scotty Augare. Elva's parents were William "Bill" and Minnie (Whiteman) Hall, who took Dutch and Scotty to live with them on their ranch on Badger Creek. It is here where they learned to ride horses, work cattle, and enjoy life on the creek. Dutch attended school at Holy Family Mission on Badger Creek, then the Blackfeet Boarding School in Browning, and later Flandreau Indian Boarding School in South Dakota.
When Dutch was a junior in high school, he was kicked out of Flandreau. His grandfather encouraged him not to attend any further schooling. However, a high school teacher and rodeo coach at Browning, Barbara Weathered, knowing of his bronc riding skill, drove to the ranch, and encouraged him as well as Scotty, to go to school in Browning and participate in high school rodeo. This was the beginning of a rodeo career. Mrs. Weathered would turn out to be his mother-in-law, as Dutch married Ann Weathered in August of 1977.
Little did Dutch know that riding colts and exploring the lands around Badger Creek and the Blackfeet Reservation, would lead to a life as a celebrated stuntman in the movie and television business, and where he would wrangle movie horses and teach actors and actresses how to ride.
Dutch's skill with horses not only included riding the rankest of them, but he also had a natural touch when it came to training them. He took his knowledge and used it in riding broncs. He worked for several stock contractors and learned the basics of rodeo production while earning enough money to pay rodeo entry fees on weekends. Dutch worked for the Flying 5 Rodeo Co. in Washington, and McGowan Rodeo Co. in Canada. It is said that he and his Blackfeet bronc riding brothers would get on any horse they ran in the chutes. If bucked off, they would jump up laughing and hustle back to get on another.
Dutch and Scotty followed the rodeo trail in both the U.S. and Canada with Dutch concentrating on bareback riding. It was a wild life in those early days, with booze and partying playing a big role in their lives. With the guidance of their grandfather, Bill Hall, and involvement in Alcoholics Anonymous, they have been sober for forty years.
The first movie Dutch worked on, was with a cleanup crew for "Heaven's Gate," which featured an artificial town, built at Two Medicine Lake. He acquired the job of tearing it down and replanting the film location area. When during the filming of "War Party," in Blackfeet Country, Dutch was roping, and a stunt coordinator asked if he could rent the gray horse, Dutch was riding, for an actor. It was eventually decided not to use the horse, but instead, informed Dutch they needed a stunt and photo double for actor Kevin Dillon, and could he teach the actor how to ride a horse.
Dutch and Scotty went to South Dakota in 1988, wrangling and doing stunt work on "Dances With Wolves." Dutch pulled a paycheck for the most money he had ever made in his life. Dutch took time to think about his life and the direction he was going. He hadn't thought about a career in the movies. It seemed too far-fetched, but it turned out it was just the beginning of Dutch's movie career, as well as Scotty's. Before long, other movie companies found out that up on the Blackfeet Nation, there was a wiry Blackfeet who could ride, was great to work with and had what it took to make it in the industry.
Following Dances With Wolves, Dutch says a cycle began that continues to this day. Whatever film he works on, he meets people who get to know him, and whenever they need Indian wranglers and riders, they go to Dutch.
Over the years Dutch has worked on many big movies, as an actor, stuntman and wrangler. Some notable movies are: Magnificent Seven, Last of the Mohicans, Wind River, Dances with Wolves, A Million Ways to Die in the West, The Jungle Book, Appaloosa, 3:10 To Yuma, Seraphim Falls, The Missing, Hidalgo, Running Free, The Titanic, The Sun Chaser, Geronimo: American Legend, Iron Will, Lightning Jack, and Silent Tongue. Television productions: Comanche Moon, Into the West, Wind River, Crazy Horse, Riders of the Purple Sage, Last Chance, Walker Texas Ranger, Broken Chain, Dr. Quinn Medicine Woman, Geronimo TNT, Tecumseh, Miracle in the Wilderness, Lakota Moon, and Young Riders. In addition to work behind the scenes, Dutch has had acting roles in Iron Will, The Missing, and Buffalo Soldiers.
Dutch has helped many people get started in the movie business. The stuntmen from the Blackfeet Reservation have garnered awards from the Screen Actor Guild and other movie organizations. In 2011, they were awarded recognition for outstanding performance by a stunt ensemble in a motion picture, "Cowboys and Aliens," and Outstanding Achievement in stunts in 2006. The resume of the stuntmen includes around forty features and many television shows.
Dutch is technically "retired" but still owns stunt and cast horses that are regularly used for filmmaking. Most famous of the horses is Crackers, the black falling horse, that is trained to lie down and "die" when shot. At 22, Crackers filmed his last movie in March 2023, and will live out his days on the Blackfeet Reservation.
In recent years Dutch has spent more time on the ranch building his own cattle herd and bucking horse string. In 2007, the Lunak family and the Vince Michael family came together to create Black Eagle Rodeo Co. The entire Lunak family participates in the rodeo production and takes great pride in providing quality bucking horses and roping cattle to rodeos across Montana. With Ann by his side, Dutch now in his seventies, is horseback and working on the ranch with their children and grandkids.
References:
Interviews with daughter, Jimi Champ
Transcript of Candi Zion interview with Dutch Lunak for the Montana History Portal, Montana Memory Project, 2022.
News Story in the Cut Bank Pioneer Press, Jan. 9, 2008, by John McGill, "Wrangling for Hollywood."