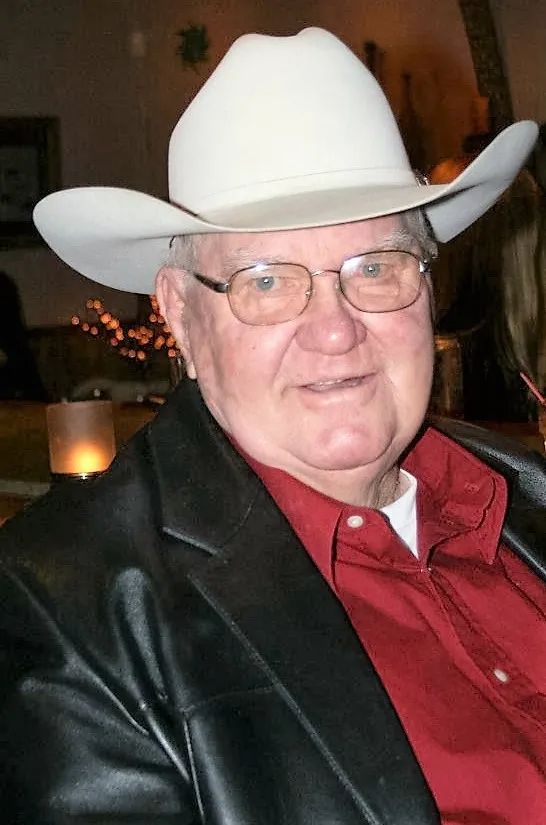 MONTANA COWBOY HALL OF FAME Living INDUCTION
WAYNE W. MORFORD
DISTRICT 3 - YEAR 2024
Wayne Woodman Morford was born on June 4, 1932, in Torrington, Wyoming to Woodman Jacob and Fern Matilda (McClurg) Morford. He grew up on his parents irrigated farm where they raised all classes of livestock and cash crops. He attended school in Torrington for over seven years where he rode a wooden school bus to classes. In 1945, the family moved to Sheridan, Wyoming where they leased a ranch a few miles out of town.
While attending Sheridan High School, he was a student class officer for three years and student body vice president his senior year. He played football, basketball, participated in track and the first high school rodeo to be held in Sheridan. He was captain of the football team his senior year. The coach in neighboring Casper was quoted as saying, "That Morford kid is the best defensive end in Wyoming!"
After graduating high school in 1950, he spent the summer helping out on a ranch and working at the local Chevrolet garage.
In 1951, Wayne volunteered for the United States Navy. After boot camp in San Diego, California and a couple of schools across the country, he ended up stationed at Norman, Oklahoma, where a new base for airmen schooling was being formed. While there, he joined a local roping club, and roped calves three nights a week, for a dollar a night. After the Korean War ended, the Navy closed the school, and he was transferred to a 5,000-man aircraft carrier, the USS Wasp. While serving in the South Pacific, the ship visited ports in the Philippines, Japan, and China. While on the aircraft carrier, Wayne was an Aviation Metalsmith in charge of the maintenance shop for the hanger deck.
After his enlistment was up, Wayne returned to Sheridan and worked construction for a few years before taking a job as a herdsman for a purebred Hereford ranch at Story, Wyoming. Soon thereafter, he leased a small ranch on his own. Later he was offered a job at a large ranch in Decker, Montana and went on to be foreman there.
In 1958, Wayne was offered a job in Gillette, Wyoming with WJ Brown and Son (LO Cattle Company) and stayed with them for over 20 years as their foreman. In 1960, the Gillette ranch was sold, and the entire operation moved to Sand Springs, Montana, where it remains in the Brown family. The ranch expanded greatly in the first five years with the acquisition of deeded and leased ground. At one point, while Wayne was foreman, the ranch was running over 12,000 head of cattle on 300,000 acres. He had 125 water wells to maintain and calved over 500 head of two-year old heifers every spring, which included doing his own cesareans. Given the chance to run some of his own cows, Wayne built up his own herd to about 300 head and experience first-hand the market crash in the early 70s, as did many others.
While at Sand Springs, he served as a 4-H leader for 17 years where he was instrumental in the building of several barns at the Garfield County Fairgrounds. Wayne served as the state director for the Montana High School Rodeo Association 1971-1972.
He has been successful roping calves and team roping in the rodeo arena throughout his life. Wayne made the Old Timers National Finals three different times in both events where he finished in the top 15 in the nation. He was a great influence on many young ropers. Wayne has always been proud that his son won the Montana High School Calf Roping Championship in 1972 riding one of the horses he trained.
In 1978, Wayne left the LO Cattle Company and went to work for the former Attorney General of Alaska, running two ranches at Broadus and Roundup, Montana. After a couple of years, the owner sold the ranches and Wayne was hired by John Scott to be foreman on his Powder River holdings which included four ranches, running 6,000 head of cattle. During this time period, Wayne was first asked to serve as a judge for area horse shows and cutting events in Broadus, Jordan, and Miles City, Montana. He continued judging many of these events well into his seventies.
After retiring from managing ranches, Wayne pursued other interests. He bought a Paddy's Irish Whiskey daughter during John Scott's dispersion horse sale and drove hundreds of miles hauling her around the country and breeding her to some of the best studs in the nation. He would show her prodigy at different horse shows during the summer and offer them for sale in January each year. The mare's colts brought over $40,000 in the Rapid City Stock Show Sales and the mare herself brought $9,000 when she was sold at 16 years of age. Wayne has trained several top-notch horses for snaffle bit and reining futurities. One of them went on to be the Montana Northern Rodeo Association and Montana Pro Rodeo Circuit Calf Horse of the Year twice.
After a few years of so-called retirement Wayne was asked to go to work at the Miles City Livestock Commission where he was the yard foreman for many years and managed the crew for the Miles City Bucking Horse Sale. During the same time, he and his family owned and operated Morford Togs and Tack western store in Miles City.
When the Drive of '85 came to Miles City from Texas in 1985, Wayne was tasked to work the herd so the brand inspectors could identify all the different brands. He, along with some of his friends, set up and cooked an entire meal out of a chuck wagon for over 800 people the first night the herd hit Miles City.
He is an avid supporter and contributor to the rodeo program at Miles Community College in Miles City. Wayne is most proud when someone calls him a "cowboy". His friends and family all agree, with all he has achieved, he has certainly earned the title.
Source: Personal interview with Wayne W. Morford by his son, John; 2016.