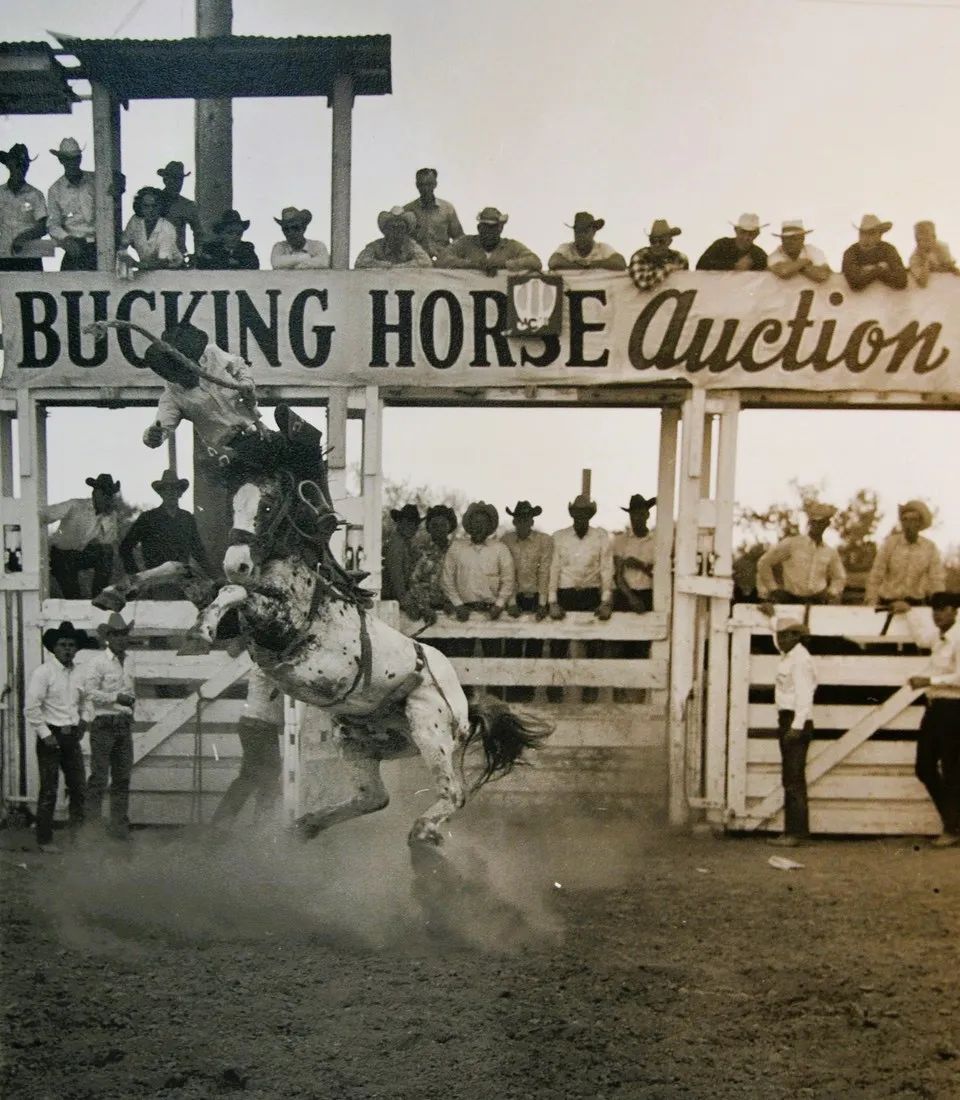 MONTANA COWBOY HALL OF FAME LEGACY INDUCTION
THE WORLD FAMOUS MILES CITY BUCKING HORSE SALE (EST. 1951)
DISTRICT 3 - YEAR 2024
The World Famous Miles City Bucking Horse Sale began as a way to sell some unwanted horses but soon evolved into a famous and iconic Western event.
In 1950, salesyard owner, Les Boe, and his son-in-law, Bob Pauley, purchased steers from Harvey Lester of Ekalaka who threw some unbroken horses into the deal. Boe and Pauley found more horses and decided to hold a sale of bucking stock. Riders were paid $5 mount money to ride barebacks and $10 for saddle broncs.
Paddy Ryan and Bob Askin acted as pickup men. This first unofficial sale lasted three days. In 1951, the sale was made an annual event. In 1952, buyers at the sale included famous contractors like Alice Greenough and Leo Cremer, and soon all the top contractors in the country began attending or had representation at the sale including Gene Autry, Everett Colborn, Harry Knight, Bob Barnes, Feek Tooke, Hoss Inman, Harry Vold, Billy Minick, Irv Korkow, Mike Cervi, Buetler Brothers, and Marvin Brookman.
Many famous bucking horses came out of the Miles City Bucking Horse Sale in the early years including Jake, Big John, Dark Journey, Lemon Drop, Mexico Kid, High Roll, Crazy One, Cherokee Charley and a mare purchased at the sale, #99, was carrying a foal that would become Crystal Springs, the 1977 PRCA Saddle Bronc of the Year.
The sale has also featured classic rodeo announcer Cy Taillon, NFR chute boss Sonny Linger, and pickup men Walt and Ann Secrest.
A match bronc riding between top cowboys began in 1962 and through the years greats like Larry Kane, Tom and Jim Tescher, Alvin Nelson, Hi Whitlock, Denny Looman, Lynne Taylor, Johnny Ley, and Gene Nunn got on horses like Big John, Jake, Sage Hen, General Custer, Grey Wolf, and Trail's End. A match bronc riding continues today sanctioned by the PRCA and including the very best bronc riders in the nation.
The early sale particularly functioned as a training ground for young cowboys with the likes of Wally Badgett, Colin Murnion, Pat Linger, and Bill Pauley competing against veterans like Ronnie Rossen, Doug Wall and Richard Bahm.
Wild Horse Racing, Pari-Mutual Horse Racing, Mutton Busting, and Bull Riding are added features in the Sale which also includes a Saturday morning parade down Main Street in Miles City. During this third weekend in May, motels are filled within a hundred-mile radius and the town more than doubles in size.
With changes in the horse market, the Bucking Horse Sale had to adapt with the times and in 2007 added a Match Bronc Riding on Sundays featuring a $5000 purse and 15 bronc riders. From that early start the Match has grown into one of the largest rough stock events in the country with 32 of the nation's best cowboys vying for $50,000 in added money.
Past winners of the Match Bronc Riding at the Miles City Bucking Horse Sale include JJ Elshere, Cole Elshere, Chad Ferley, Jesse Bail, Isaac Diaz, Sage Newman, Dawson Hay and Jake Costello.
The Saturday events changed in 2012 as a three-horse bronc futurity was added to capitalize on the booming rise of bucking horse breeding programs. The classes are open to three-year-olds and up and entrants must offer at least one of the horses for sale.
Past sale horses in the futurity have include War Bridle of Burch Rodeo Company, $13,000; Twisted Cinches of Burch Rodeo Company, $11,000; J Bar J Rodeo's Twisted Pink, $34,000; and J Bar J's Shady Lounge for $43,000. All four of these horses had bucked at the Wrangler National Finals Rodeo before being consigned to Miles City.
While Cheyenne, Pendleton, and Calgary host famous rodeos every year, the Miles City Bucking Horse Sale holds a unique position alongside them as an iconic Western event that has been covered by news media from throughout the world.
There have been and are other bucking horse sales, but there is only one World Famous Miles City Bucking Horse Sale.
Source: John L. Moore
Miles City Bucking Horse Sale Committee