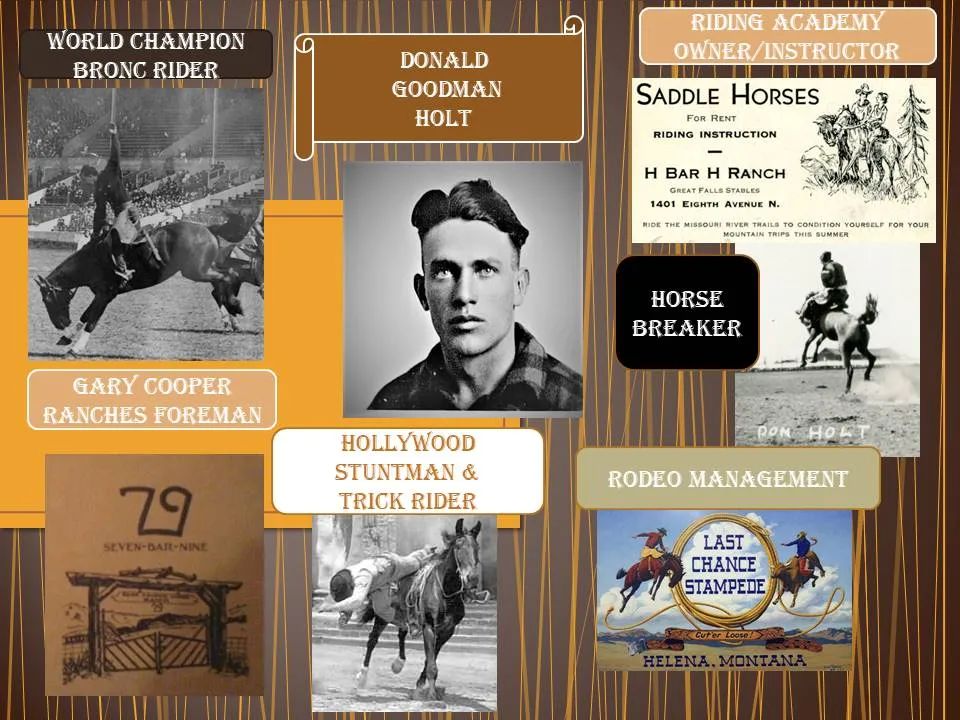 MONTANA COWBOY HALL OF FAME Legacy INDUCTION
DONALD GOODMAN "DON" HOLT (1900-1933)
DISTRICT 2 - YEAR 2024
Donald Goodman Holt was a world champion bronc rider, master horseman and true American cowboy. He was born October 10, 1900, in Cassville, Wisconsin. "Don" was the ninth of ten children born to William Goodman and Anna Amelia (Scharfensteine) Holt. His mother passed away in 1906. The family moved to eastern Montana in 1909. They filed for a homestead on Charlie Creek in Richland County where they built a sod house and later a log home. His father founded the rural community of Mona (named after Don's sister) establishing a post office, school, general store and community hall. Don learned to ride horses and handle livestock while working on the homestead.
"Old Don", as his family called him, was mature for his age. He attempted to join the Unites States Army at age 14 and traveled to Chicago for possible enlistment. When the army discovered he was too young to serve, they assigned him to break horses for the cavalry which was working for the Army Remount Service at the Chicago Stockyards for a short time. After leaving Illinois, that same year, he traveled to Sidney, Montana and entered his first rodeo. This was the beginning of his memorable 15-year rodeo career.
As a teenager, Don had a reputation for being one of the best bronc busters in the country and was often called on to break difficult horses no one else could handle. During this time in which cowboy contests were informal, Don and his friends often held their own contests at one of their ranches on a Sunday afternoon. These competitions were rough and tumble events and prepared Don for a very successful rodeo career where he became a well-recognized competitor.
During the 1920s Don competed on the rodeo circuit managed by Tex Austin, a promoter known as "The King of Rodeo". This was the formative days of organized rodeo which quickly became a popular sporting event across the country. During that time Don rode against the best saddle bronc riders in the largest cowboy contests in the world including the Calgary Stampede, Madison Square Garden, Pendleton Roundup, and Cheyenne Frontier Days. He won a number of bronc riding championships all across the United States, Canada and Mexico. His name was well known and respected in rodeo circles where he also competed in steer wrestling and wild steer riding. He rode in the First International Rodeo at the 1924 British Empire Exhibition in London, England in front of the King and Queen. In the pre-rodeo events, Don demonstrated his other talent of trick riding by displaying his skills around the arena Roman style (standing upright on two galloping horses) and proudly parading his horse in front of Buckingham Palace.
One of Don's rodeo competitors was Yakima Canute, another rider who became famous in Hollywood coordinating horse stunts, acting and directing for western movies. Yakima arranged for Don to do stuntman work getting paid $5 for riding and $25 for a fall. Don was a tall, lean, handsome man making him a good stand-in for actors like Hoot Gibson, Tom Mix and Gary Cooper.
Don met his wife Caroline Marie "Kay" Mikoch at a rodeo in Denton, Montana and were married in 1928 in Sidney, Montana. They had one son, John William "Jack" Holt born in 1930 – now 89 and living in Post Falls, Idaho. Together the family helped establish organized rodeo in Montana by arranging, managing and competing in rodeos. During this time the family resided in the Great Falls area. According to family history, Don won the bronc riding event at a world championship rodeo in 1930.
For a time, he worked as foreman for the 7 Bar 9, actor Gary Cooper's Dude Ranch, near Craig, Montana. The ranch benefited by having a knowledgeable, well known and popular Rodeo/Hollywood Stuntman personality directing the Dude Ranch activities.
Later Don and his friend Frank Henderson founded and operated a successful riding academy called the H-Bar-H Ranch. They taught people how to ride horses in the Gibson Park area of Great Falls.
On the Fourth of July in 1933, Don entered one last bronc ride in Gilford, Montana in hopes of winning enough money to buy a small ranch of his own. Tragically Don's horse fell over backwards landing on top of him and causing severe injury. Thinking he was dead, the rodeo spectators rushed into the arena seeking tokens from the popular rodeo star and had to be fought off by his fellow cowboys. Don's boots, spurs and hat were taken, never to be recovered. He died the following day in Havre, Montana.
You could say "Old Don" grew up quickly and became a man before he fulfilled his boyhood. He made the most of his expert horse skills and was most proud of being a world-class bronc rider during the formative years of organized rodeo which he and his wife helped establish in Montana. He offset the pain of countless injuries with a raw sense of humor and practical jokes.
Donald Goodman Holt's headstone is embellished with a mural painted by Walt Mead, a well-known Great Falls artist. It shows Don riding his favorite horse Angel, waving goodbye, as he rides over the "Great Divide". His gravesite and life story are featured in the annual Great Falls Waking The Dead Tours event.