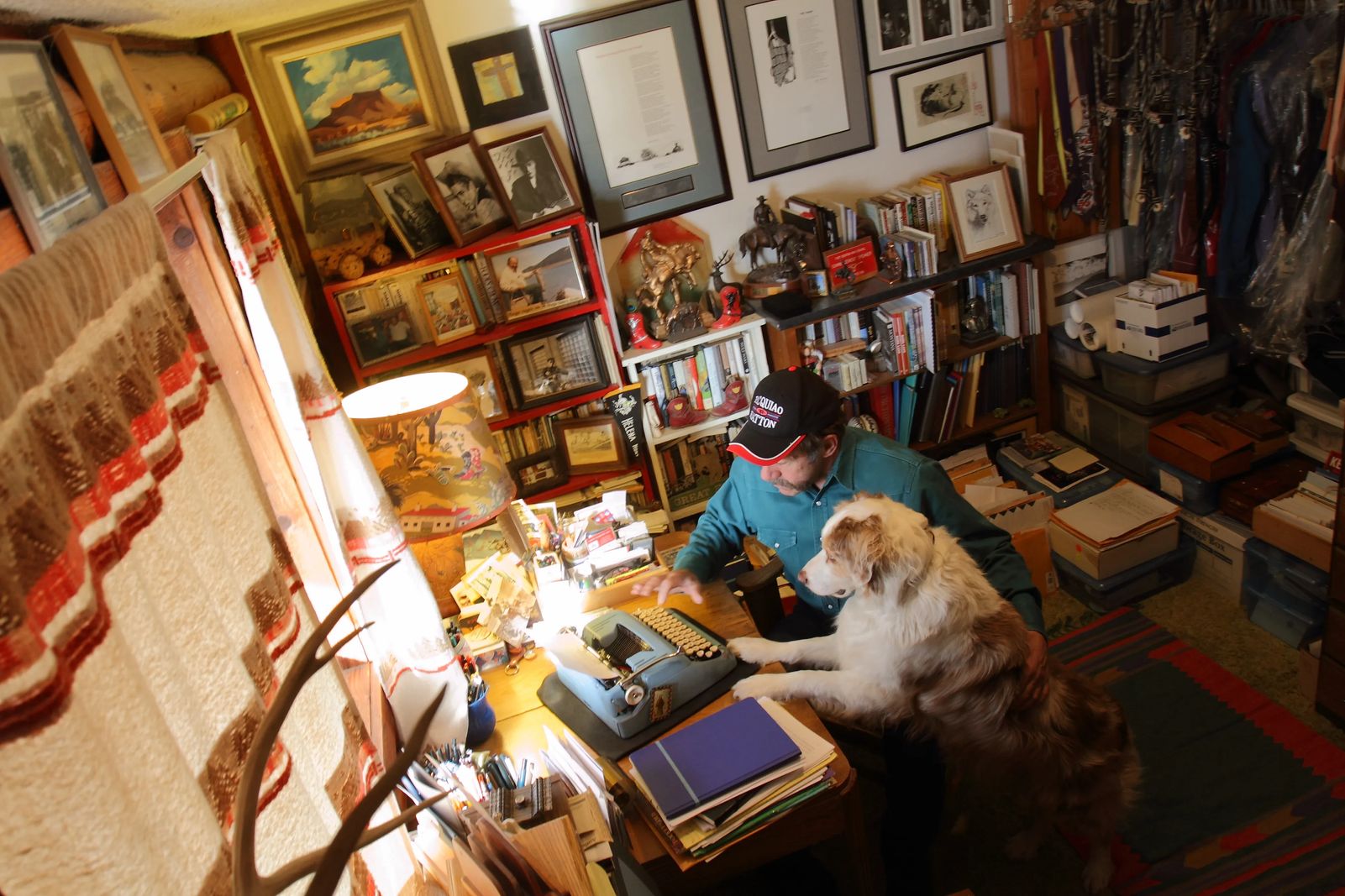 MONTANA COWBOY HALL OF FAME Living INDUCTION
PAUL ZARZYSKI
DISTRICT 11 - YEAR 2024
Upon receiving the news of my MCHF nomination, my immediate response was to respectfully decline on the basis of one of my Great Depression-n-WWII-surviving, hematite ore-miner father's earliest lessons: "Never take anything that doesn't belong to you." The distinction, "cowboy," especially as a verb, does not belong to me. I'm the gunsel you've heard of, who, "when he shows up at a branding, it's like two good hands staying home." To boot, the title to my 1995 poetry collection—a collaboration with Missoula Buckin' Hoss Artist, Larry Pirnie—admits clearly, I Am Not A Cowboy. Finally, I staked claim long ago to the distinction "Rodeo Poet" over "Cowboy" Poet—Rodeo Poet less in reference to my roughstock-riding "skills" than to my knack for spurring the jump-n-kick words wild across the open-range arenas of the blank page.
Furthermore, and as long as I'm tapped into "utmost honesty mode," I showed up in Missoula a half-century ago from Hurley, Wisconsin (spittin' image of Butte, where I won the bareback twistin' twice, as if it was my hometown pitchin') not to study "lariati," but rather literati, poetry—to earn a Master of Fine Arts Degree from the University of Montana's Creative Writing Program. Fueled with gratitude and humility over having been guided here by the blue-collar lodestar, I understood immediately that one does not become a Montanan simply by claiming residency—by buying a piece of the dream and fly fishing the river running through it—but rather one earns the respect, the Friendship, of folks who've spent years, decades, generations venerating and, thus, contributing to, the legacy of this landscape. You bet, we are what we eat—which rhymes with, "we are who we meet," and, thus, I am a Montana aggregate of Wally McRae, Barbara Van Cleve, Ralph Beer, James Welch, Dick Hugo, Ripley Schemm Hugo, Ted Waddell, Kim Zupan, Lyle Meeks, Scotty, Claire, and Candi Zion, Curt Stewart, Ethel Bean, Rand Robbin, Alan Thompson, Wylie Gustafson, et al. and the hundreds with whom I've shared the rodeo fever, including Pat Linger, Benny Reynolds, Bob Burkhart, Allan, Annie, Geri and Norma Pursley, Earl and Lila Mae Stewart…, as well as the thousands of genuine article Montanans who've cheered my poems to the welcome whistle from the bleacher seats. What an honor of the highest order to have repped poetically for their sentiments—much as open-range cowpunchers repped for the brands they rode for—with poems such as "Escorting Grammy to the Pot-Luck Rocky Mountain Oyster Feed at Bowman's Corner," "Partner," "Ain't No Life after Rodeo—The Polish-Hobe-Rodeo-Poet's Commencement Address, to the Chagrin of Every Graduate's Mother, at the College of Buckaroo Knowledge," "The Heavyweight Champion Pie-Eatin' Cowboy of the West," "How the Lord Throwed-in with Mom to Make Me Quit the Broncs," "Long Sagebrush Drives," "Why I Like BUTTE!," "The Hand," "Benny Reynolds' Bareback Riggin," "The Bucking Horse Moon," "The Roughstockaholic's 'Just-One-More-Last-One' Blues," "Luck of the Draw," and on and on.
And then there are the songs, the lyrics, the collaborations with Ian Tyson ("Rodeo Road," "Jerry Ambler"), with Don Edwards ("West of the Round Corral"), with Cowboy Celtic, John Hollis, Betsy Hagar… with Justin Bishop of Horse Sense ("Fanny Sperry Steele") and, especially, with Wylie ("Saddle Broncs & Sagebrush," "A Pony Called Love," "Grace," "Double Wild," "Hang-n-Rattle," "Cravin' 8s—A Tribute to Chris LeDoux," "Cryin' Hole Blues," etc.).
I believe it was rodeo legend Jim Shoulders who proclaimed, "I'd rather have just a little luck than all the talent in the world." I consider myself the poster child for that maxim. Thanks to the good fortune of Montana Friendships partnered-up with the work ethic of my mother and father, I've been honored as the recipient of the 2005 Montana Governor's Arts Award for Literature, The National Cowboy Hall of Fame and Western Heritage Center 1996 "Wrangler Award" for a collection of poetry, All This Way for the Short Ride, accompanied by the remarkable photographs of Barbara Van Cleve, and four Spur Awards for poetry and song lyrics from the Western Writers of America. Moreover, I've shared the Elko, Nevada National Cowboy Poetry Gathering stages for 34 consecutive years with friends, mentors, and maestros, Ian Tyson, Baxter Black, Chris and Ned LeDoux, Don Edwards, Randy Rieman, Henry Real Bird, Gwen Peterson, June Brander Gilman, Tom Eaton, Sandy Seaton Sallee…, and, again, Wally and Wylie.
All of which re-harkens back to the September 1973 genesis of this otherworldly journey—to Missoula, where a rural Wisconsin, Polish-Italian kid earned a Master of Fine Arts Degree in Creative Writing and discovered a companion passion, rodeo. You bet, writin' and ridin'! Yes, Missoula, where I first crossed trails with my nominator, Ramona Holt, and whose son, Bret, not-so coincidentally, sold me my first bareback riggin'. Oh, and then there was Ramona's rodeo-announcer husband, Bill, who, to my chagrin, would divulge, "Our next cowboy is a University of Montana professor," a distinction no-doubt prompting most in the grandstand to pull for the bronc over the roughie.
So, this is my 50-year "Go West, Young Man, Go West" circle—my 1963 Plymouth "skunk wagon" arrival, remotely akin perhaps to Midwesterner Charlie Russell, not knowing a soul in 1880, as he stepped off the train in Red Rock. And, thus, I could not ditto more wholeheartedly and humbly old Charlie's sentiment toward the end of his Montana trail, "Anytime I cash in now, I win."