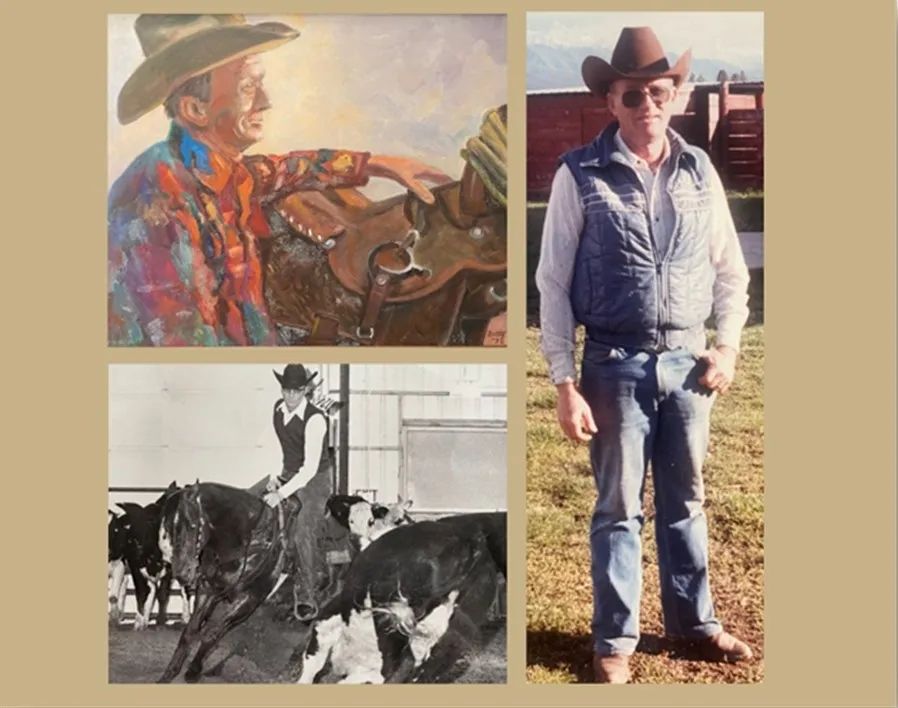 MONTANA COWBOY HALL OF FAME Legacy INDUCTION
ALVIN GARTH "AL" MERRITT (1934 - 2023)
DISTRICT 10 - YEAR 2024
Alvin Garth Merritt was born January 26, 1934 on a cold Rocky Mountain winter morning in Polson, Montana. Along with parents, Alvin Sr. and Lenore and brothers Joe and Rex, he grew up on a homestead in Irvine Flats located on the Flathead Indian Reservation, near Radio, Montana, an early day stop on the official mail route between Polson and Camas. Radio had its own post office and a store run by Al's aunt. Al professed to being a lifetime cowboy. He claimed that before he could walk, he "rode" albeit clutched to the hames (two curved pieces of iron or wood forming or attached to the collar of a draft horse to which traces were attached on the team) while riding horses his father used for plowing.
Al's first school, Green Mountain School, is on display in the Miracle of America Museum in Polson. Its original location sat three and a half miles from the Merritt homestead. Al rode a horse to school every day regardless the weather. He began first grade with his brother and one other boy. He helped their teacher, Etta Garbo, fetch water in pails about a fourth of a mile from the school. During the winters the bucket would have ice forming on it before they got back to the school. He fondly recalled three girls, who he referred to as "lovely ladies", joining the boys in the third grade, bringing the total number of students in his class to six.
While Al was becoming a fearless cowboy, he suffered from a lifetime of claustrophobia from an incident when he was around nine or ten years of age. He and his friend, Georgie Halverson, were coming home from school one cold spring day when they spotted a jackrabbit as it ran into a wooden culvert. They decided to stop to see if they could catch it. Georgie told Al to shimmy into the culvert to catch the rabbit. Al became stuck in the culvert and panicked. Georgie secured his horse Bubbles and took a rope off of Al's horse, tying it to his Al's ankles and pulled him out.
For years Al went between the White School and Green Mountain School every six months until graduating from the eighth grade. Because families in the area were closer to one school than the other, instruction alternated between the two schools to keep the travel distance fair to all. By then there was a school bus route, and he began attending high school in Polson. If the winter weather was too rough, the snow too deep or the roads too icy, he spent the night in a hotel to be able to attend school.
With a sparkle in his blue eyes, Al often told the story of his youth, when one winter he and a few friends, each in one of their parents' vehicles, decided to drive off a dock on Flathead Lake onto the frozen ice. According to Al, they had a good time driving in circles and braking on the ice. Once Al's father found out about it, from someone in town, he gave Al a good chewing out. His father then proceeded to tell him the story of a winter's day when he was coming across the lake with a team of horses to Elmo from the other side. Usually, there were stakes set in the ice to show where air pockets had formed, but on that day a slight snowfall had covered them. His father told the line of people waiting to cross that he had done it enough times, he was sure he knew the way and set out. He lost his team to the lake that day in one of those ice pockets, having to throw the hitch and watch them disappear. Adding to the tragedy of losing his team, he also lost a new set of reins and harnesses that he had just purchased in Kalispell. "That's how it worked back then," Al commented. "They told you stories and you learned from them."
Al's passion for adventure led him to start riding bulls at local rodeos around 17 years of age. In June 1952, just as his parents' ranch got electricity, a phone, and new tractor, Al graduated from high school and left home. He recalled climbing out of the "bowl" of Irvine Flats and looking back toward the homestead, aware of the trail of dust marking his departure. Al moved to Scottsdale, Arizona and began teaching horseback riding lessons at The Judson, a private prep school, which closed in 1999, after 70 years of operation. It was there where he met his first wife, Marcia Labour.
He served in the Army and was stationed in Germany during the Korean War in the early 1950s. After returning from Germany, he continued riding bulls and starting riding bareback broncs. He competed in rodeos across Montana, Idaho, Wyoming, Washington, Oregon and Canada, where he participated as an outback rider in the chuckwagon races at the Calgary Stampede. During one bull riding season, he fractured a vertebra in his lower back. Not wanting to miss any events, he stuffed sponge rubber in his pants and finished the season.
In the 1960s, with the success of his rodeo winnings, he and Marcia bought a ranch in Mountain Meadows near Ronan, which became the Z/J Outfit. They raised cattle, hay and potatoes. Between seasonal ranching chores they would take hunters into the Bob Marshall on pack trips. They were in charge of the mules and horses and often camped near the site of what is now Hungry Horse Dam before it was flooded. Following their divorce, he became a single father to his two children, Cindy and Steve. To help supplement earnings from his farm, Al hayed neighbors' fields and drove truck collecting milk from local dairies.
He began team roping in the 1970s at a local area with friends while also enjoying cutting horse competitions. With his horse Super Bay, Al became successful, winning the 1975 Montana Wyoming National Cutting Horse championship and a proud recipient of the trophy saddle and belt buckle.
In 1985, he sold his ranch and married his second wife, Darlene Olson. They bought a fifth wheel camper trailer and began to travel, looking for a place to live year-round. Because of those broken bones, from his rodeo days, Al wanted a warm climate and restful days. "You should see his x-rays," his wife Darlene commented.
They settled in San Diego where he was active in his retirement, working out in the gym, bowling and "farming" on his small plot of land. Al always had a "roaming" spirit that took him across the United States, South America, New Zealand, Australia, New Zealand, and the Mediterranean, but his heart has always been in Montana.
Reference and Source Directive
Merritt, Alvin. "Alvin Merritt Visits with the Journal." The Hot Springs Journal 14 July
2011, sec. A:1.
"Green Valley School District #50 | The Four Schools of Irvine Flats." Polson School District #23. N.p., N.d. Web. 10 June 2023.
https://www.polson.k12.mt.us/community/community-resources/historical-schooldistricts-of-lake-county/the-four-schools-of-irvine-flats/green-valley-school-district-50