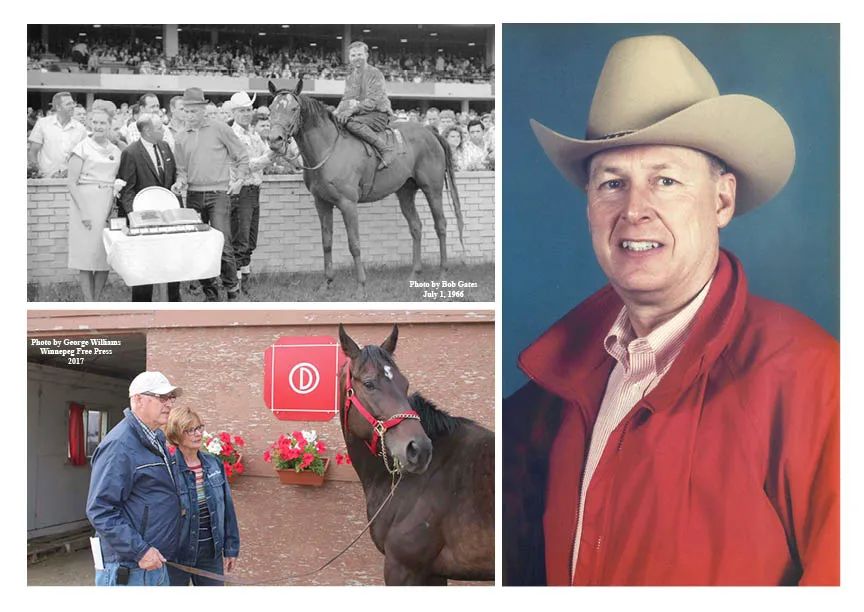 MONTANA COWBOY HALL OF FAME Living INDUCTION
HENRY "GARY" DANELSON
DISTRICT 1 - YEAR 2024
Henry "Gary" Danelson was born on August 28, 1937 to Henry and Hazel (Graff) Danelson. Both Henry and Hazel were descendants of early settlers in the Scobey area. Gary was raised on a farm and ranch north of Scobey and graduated from Scobey schools in 1955.
Gary's father Henry was not only a successful farmer and rancher, but also a respected trainer of thoroughbred racehorses. Henry began his racing career in the Scobey area before expanding to compete in the Northeastern Montana Bush Horse Races. Gary grew up helping his dad around the track, becoming a riding jockey at the age of fourteen. One of Gary's first challenges was to ride Visuvanne, his father's thoroughbred mare. Visuvanne's first race was in Wolf Point, Montana. Gary and Henry tried to put her in the starting gate, but Visuvanne came out bucking. To remedy the situation, Gary rode in a stock saddle. After losing the race they switched to a jockey saddle and went on to win the next five races.
Throughout his high school years, Gary learned from his dad by helping around the barn and galloping horses during the training process. They traveled to races throughout Montana, Washington, Oregon and Canada. After high school, Gray attended college in Havre, Montana, with aspirations of becoming a lawyer. While in school, Gary found himself back on the track helping local trainer Harry Howard. In 1956, Gary traveled to Kentucky with Harry where he purchased Coherence for $400. This gelding kicked off Gary's training career. Over the next four years, Coherence won twenty-four races, holding the most winning record of any horse Gary had trained. Gary had tasted success and made the decision to focus on racing rather than returning to college.
Assiniboia Downs in Winnipeg, Manitoba, has been Gary's summer home since 1959. The day after his twenty-second birthday, Gary celebrated his first win as a trainer at that track. Since then, he has missed only four race seasons, when choosing to run races in the United States and missing the 2020-2021 seasons due to Covid restrictions.
Gary tied for the honor of Assiniboia Downs Trainer of the Year in 1969 and in 1970. He was awarded the title outright in 2003. He has won the Gold Cup twice in his career, won the AJ Speers five times and has trained several stakes winners. As one of the sharpest trainers at the track, his expertise has been sought out by many young trainers. Assiniboia Downs CEO, Darren Dunn, refers to Gary as the "Godfather of the Assiniboia Downs trainers."
Throughout his long career, Gary earned a reputation for purchasing broken down horses and nurturing them physically and mentally into champions. Gary's horses receive special care based on their individual needs. Through his experience and keen perspective, Gary has developed many tricks to help bring out the best in every horse. He holds himself to the very highest standards, and his passion for horses and the racing profession has remained steadfast throughout his entire career.
Gary's knack for knowing how to build a horse into a winner is undeniable, as shown by his work with a five-year-old gelding named Smart Figure that Gary purchased for $1,600. Smart Figure's record was lackluster, earning one second place in five starts in the previous season. Under Gary's training, Smart Figure won seven out of eight starts and took home the 1998 "Horse of the Year" honors at Assiniboia Downs.
On May 26, 2001, Gray became the all-time leading trainer at Assiniboia Downs with a breathtaking 880 lifetime wins. In August of 2004, he reached the milestone of 1,000 wins. In August of 2017, at the age of 79, Gary hit the 1,200 win landmark and continues to grow that number each year. As of this writing, Gary at the age of 85 holds an impressive record of 1,246 wins.
For the past twenty years, Gary and his longtime companion, Bonnie McCrory, travel to Mesa Arizona for the winter months. This enables Gary to visit Turf Paradise in Phoenix where he can catch up with old friends and claim an occasional horse. In the spring, he transports the horses to Winnipeg where he can begin training for another season.
Gary's career has lasted nearly seven decades, spanning nineteen U.S. states from California to New York and four Canadian provinces. Gary estimates that he has five hundred wins at tracks in the United States. In 1990, Gary was quoted by the track's media guide saying, "I'm at an age I'm winding down, but I'll continue to try hard and hope for the best." Thirty-three years later, Gary is still "winding down." He's still active on the track but has taken the number of horses in his barn down from an all-time high of twenty-two to five. Each year, Gary has been known to say that this will probably be his last training season. But every spring, Gary and Bonnie are packing up to head north to do what he loves.
References:
Assiniboia Downs Insider Newsletter
Winnipeg Free Press
Daniels County Leader
Canadian Thoroughbred.com