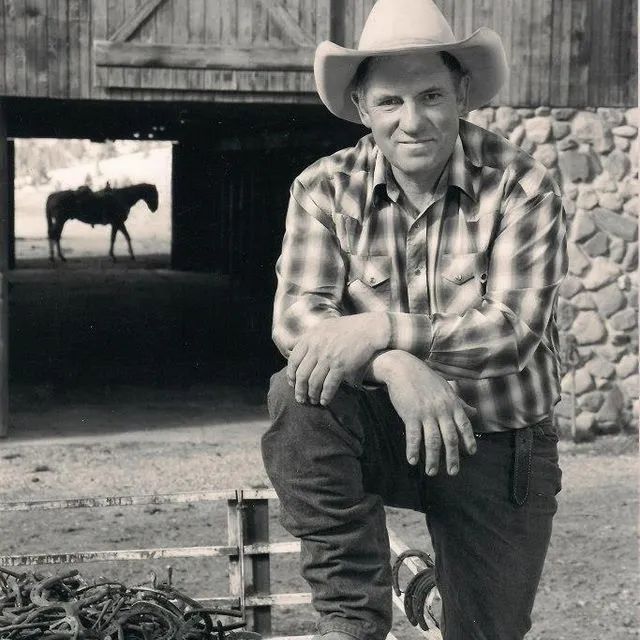 MONTANA COWBOY HALL OF FAME LIVING INDUCTION
WARREN HOWARD JOHNSON
DISTRICT 9 – YEAR 2023
Warren Howard Johnson was born near Yellowstone Park on September 11, 1959, to parents that already had 14 children between them. His father, Vern Johnson, started outfitting in Jardine in 1932, and was in his 60's when Warren was born. Warren was involved from a young age in his family's outfitting business. At age eight, he broke his leg - a compound fracture - while he and his brother were looking for horses in the mountains. The doctor wanted to amputate but Vern Johnson warned him he better not. The boy lay in a double cast on his back for six months daydreaming about the day he would own a ranch, compete in rodeos, and be an outfitter like his dad.
When he was 14, Warren moved out of his family home, which had lacked electricity and indoor plumbing, and made a living breaking horses and hunting elk antlers while completing high school. By age 19, he had his first contract as a packer for the U.S. Forest Service.
At 21 he married Susan Seaton, and they had their son Jeremiah, and daughter Aimee, who was born with multiple heart deformities which required months in a children's hospital. During this time, Warren bought his first property by guiding hunters, selling shed elk antlers, shoeing horses, peeling logs, building fence, breaking horses and packing for the Forest Service. Through the years he has packed everything from beavers, bears, and bridge plank into the remotest regions of Yellowstone Park. He has even packed dynamite, and one year 2500 loads of gravel free of charge to improve wilderness trails.
Warren was the first outfitter to buy big, Tennessee blonde mules to pack into the mountains. In the 1990's Warren saw that bucking horses and dude horses were getting too small, so he bought 50 half-draft horses out of Canada. Seeing the demand for these horses, in 1999 he purchased 1000 head of young stock. He brought them over the border, laid them on a table, castrated them, trimmed their hooves, and turned them out. The next year he brought them in, and broke them to drive, ride, picket and shoe. He cut out any he thought would buck and started WJ Rodeo in Gardiner, a weekly rodeo that ran for two years. At the age of 55, Warren won the stock saddle bronc riding in Gardiner.
Warren ventured into raising broncs when he bought some Reg Kesler mares and bred them to Warrior, a Bradley Brettin stud. The horse market got tough for about 10 years, but Warren and Susan built Hell's A-Roarin' Outfitters into one of the bigger businesses in the state. Thousands of hunters and summer tourists have used their services over the years. Though he has never advertised, Warren has been in on 5000 elk kills. Hunters that came in 1982 are still hunting with him today.
In 2014, Warren bought a Clydesdale stud, Sonoma, to breed big dude horses and got a few bucking horse studs to breed some good rodeo stock. In 2019 he bought 50 Burch Rodeo cows to raise bucking bulls. Through the years, Warren has bought, traded, sold, and raised thousands of horses and mules and has sent five horses to the National Finals Rodeo.
In 2017, he accomplished another dream by buying the mining town of Jardine, where he grew up, and the 600 acres that went with it. He built his own rodeo arena there and has hosted several NRA rodeos, open rodeos, and put on the Hell's A' Roarin' Extreme PRCA Broncs and Bulls.
For a very poor kid who grew up without running water or electricity, his determination and grit have made him a hunter, packer, horse breeder, stock contractor, and legendary modern mountain man, but he has also had a significant impact on the lives of people. Hundreds of young people have learned horsemanship and wilderness skills from Warren. His summer guests have included luminaries like actor Sam Elliot and First Lady Laura Bush. During Memorial Day weekend, his annual Hell's A-Roarin' Horse Drive benefit auction and dance raises tens of thousands of dollars to buy Track Chairs for wounded warriors and disabled first responders.
Today, Warren and Susan are busy growing Hell's A-Roarin' Outfitters along with their children, Jeremiah and Aimee. Asked by many to write his biography, Warren has always demurred because he considers his life far from over. A man of vision and fierce determination, his favorite quote comes from the novel, 'Lonesome Dove,' where Augustus McRae tells Woodrow Call, "It's not dying I'm talking about. It's living."
An equally apt quote comes from daughter Aimee who simply says her pa is "a man to match the mountains."
Sources: Interviews with Warren and Susan Johnson