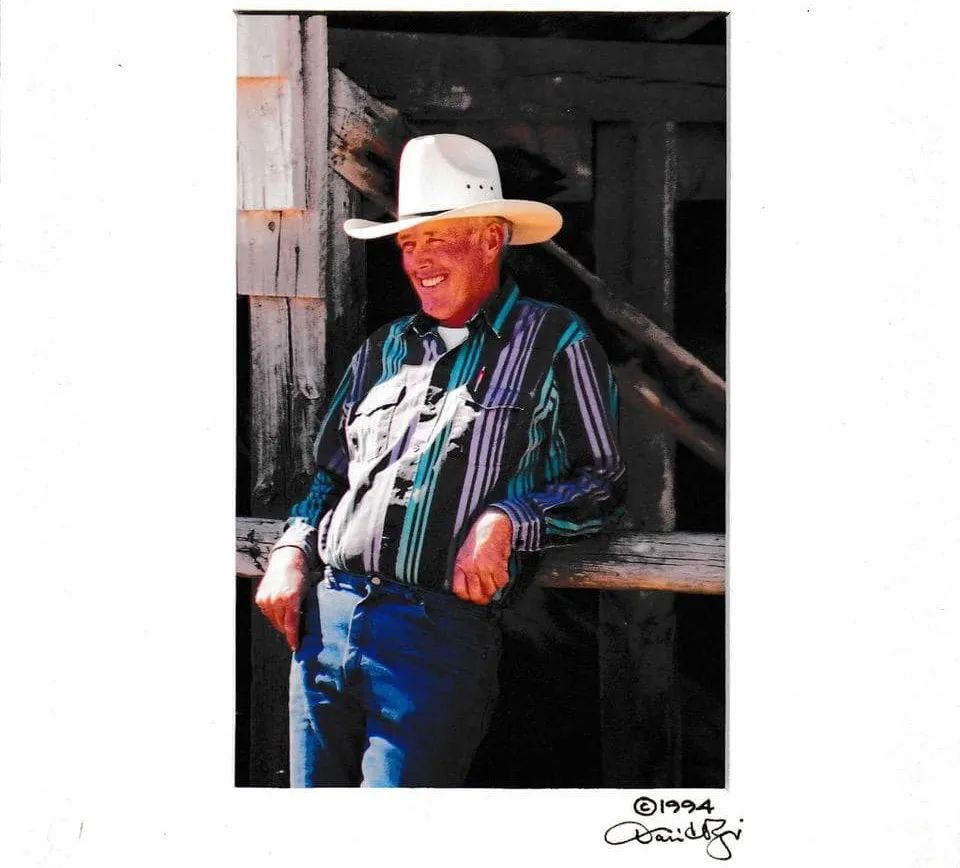 MONTANA COWBOY HALL OF FAME LEGACY INDUCTION
DONALD W. "DONNIE" JOHNSTON (1941-2004)
DISTRICT 9 – YEAR 2023
"So, God made a farmer…." The words of Paul Harvey, and in this case, God made a rancher. Donald W. "Donnie" Johnston was born on April 30, 1941, in Townsend, Montana, to Walter and Beth (McAfee) Johnston.
The Johnston and the McAfee families were homesteaders in the Smith River Valley of Meagher County dating back to the 1860s. In the years that followed Donnie's birth into this ranching family, three brothers – Larry, Mike and Bob - joined him, as did cousins who began their lives on their Butte Creek Ranch 25 miles north of White Sulphur Springs, Montana. In 1949, the Johnston family purchased the Moore, then Ringling Ranch, along the Smith River. Donnie grew up alongside his father gathering and working cattle on the ranch, putting up and feeding hay in the winter with a team and wagon, irrigating, fencing, calving, branding, doctoring cattle and horses and fighting the elements of Mother Nature. Spare time, which was rare, during those early years, was spent breaking wild horses roaming near the ranch – some of which had never seen the likes of a human being presented quite the challenge. He and his brothers could not wait for their parents to be gone for even a few hours so they could let the rodeo begin!
Donnie spent his entire life on this ranch with time out to attend elementary school and graduate from White Sulphur Springs High School in 1959. During his school years, he actively participated in basketball, his favorite sports Donnie attended Western Montana College before enlisting in the United States Army. After military service, Donnie worked for Daily Meats in Missoula, Montana as a meat inspector.
In 1965, he moved back to White Sulphur Springs and went to work with a highway construction crew for a short time. In late fall, when the project was shut down for the season, Donnie, who longed to be back on the ranch headed home to work with his father, Bud. After returning to the ranch, Donnie decided to try his hand at rodeoing and entered the saddle bronc and bareback events on weekends. In 1969, he was granted a re-ride at the local White Sulphur Labor Day Rodeo which resulted in a separated shoulder that ended his rodeo days. Donnie turned his attention to the cattle operation, raising, buying, and training a few horses for ranch work. He rode with ease and possessed a horse-whispering characteristic which allowed him to move and sort cattle, single handedly. He always had a devoted dog beside him as he worked cattle. With a twinkle in his eye, Donnie enjoyed nothing more than a good game of Pitch after a long day of branding, whether at the ranch or the neighbors.
In 1973, Donnie married Rebecca "Becky" Ellison of White Sulphur Springs. They spent the next 31 years together working on the ranch and most noon hours tuned in to listen to Paul Harvey' radio commentary. In 1978, their daughter Elizabeth "Libby" was born and in 1981, daughter, Mari. These were formative years for Donnie's daughters as they joined him in many aspects of the ranching life. Donnie enjoyed playing community softball in his youth. He renewed his passion for the sport when he joined men's team and played league for several years. Once his daughters were old enough to play, he coached their teams. The highlight of these years was bringing home a few well-earned trophies. Donnie was a real fan of Brigham Young University basketball and rarely missed a game on the radio, even if he had to listen to it in the middle of nowhere.
Donnie was a member and officer of the Whitetail Grazing Association, the Meagher County Rodeo Club, Montana and Meagher County Stockgrowers Association, and assisted whenever needed in various community functions. In 1994, he was awarded Outstanding Conservationist for Meagher County by the Meagher County Conservation District. He was a good and trusted neighbor who lent a hand whenever called upon.
In the late 1970s, Donnie became an outfitter. He owned and operated the Camp Baker Outfitting business, on the ranch, as well as on leased property in the Smith River Valley. The Johnstons hosted fishing and hunting clients during the summer and fall months. Guests were bunked in the furnished cabin, built and located on the ranch property.
Tragically, on a spring morning in May 2004, Donnie lost his life doing what he loved most while moving and sorting cattle. At that time, Libby, was working in Billings, Montana as a dietitian and Mari was set to soon graduate from the University of Montana. When both girls decided they wanted to come back home, they partnered with their mother in managing the ranch. The women rolled up their sleeves and carried on.
The outfitting and fishing business that Donnie enjoyed so much, has continued to operate by the Johnston family. He would be proud of this new generation of little ones – Emma and Taya Hamm, who are learning and participating in the daily operations of his beloved ranch. To paraphrase Paul Harvey… "Somebody who'd bale a family together with the soft strong bonds of sharing, who'd laugh and then sigh…and then respond with smiling eyes, when his [daughter] says [she] wants to spend [her] life "doing what dad does"…So, God made a farmer"…or in this case a rancher…… whose legacy continues.
References:
Johnston Family Memories
"God Made a Farmer" – Paul Harvey, Radio Broadcaster