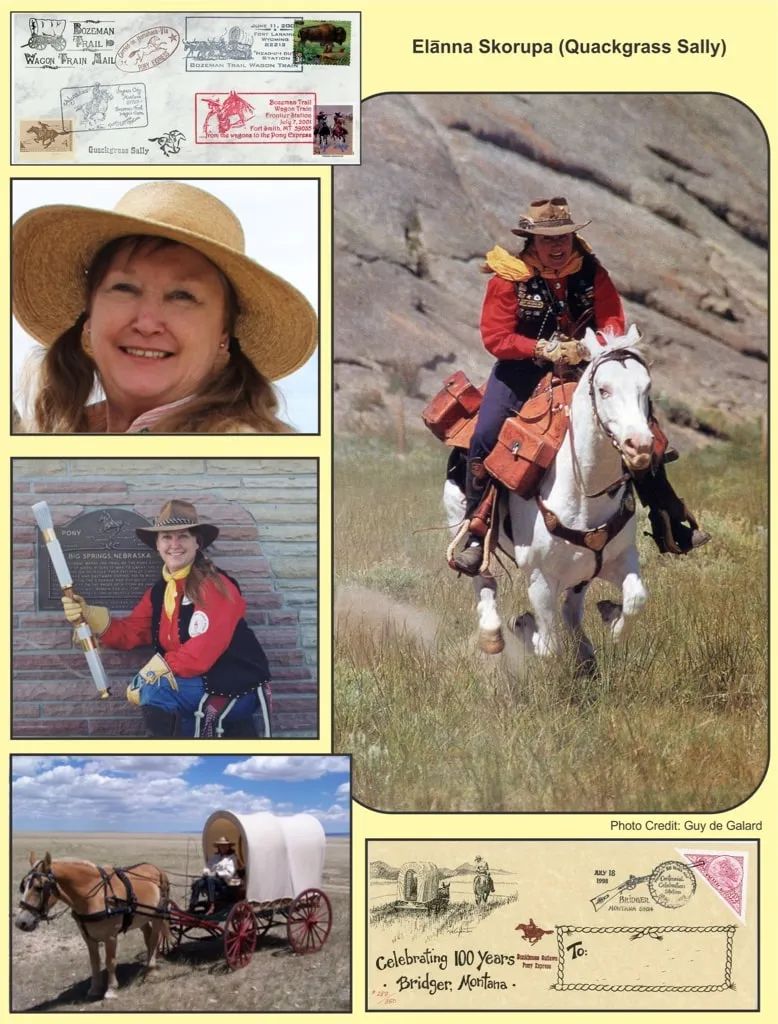 MONTANA COWBOY HALL OF FAME LIVING INDUCTION
ELÃNNA SKORUPA aka: QUACKGRASS SALLY
DISTRICT 7 - YEAR 2023
On a warm June afternoon in 1954, Jack Haley, the Tin Man in the classic film "Wizard of Oz" was sitting in a bar in Hollywood, California and congratulated a new father on the birth of his little daughter. Perhaps this explains a bit of why Elãnna has always been touched by the magical spirit of the "Yellow Brick Road". Whatever the reason, her mother recalls that almost before she could walk, Elãnna declared one day she would live on a cattle ranch, ride horses and work beside her very own cowboy... Elãnna has done just that.
After graduating with honors in choral music and working on her major in vocal music, she met and married her first husband, music teacher David Blood. They moved to Montana for his teaching job and began a true country lifestyle. Surrounded with bum lambs, chickens, goats and her beloved Arabian horse, Elãnna helped build the unfinished house the two had purchased in Bridger. Always free spirited she spent the first year without a working bathroom, using an old outhouse, and all while pregnant with her first son, Zachary. Tragically, life changed in April 1980, when David died in a motorcycle accident, leaving Elãnna a widow with a new son and 120 acres of newly planted grain to tend to.
She always said it must have been her great grandpa's pioneer blood that kept her spirits alive while believing in her dream, when one day a real Montana cowboy came to call at her front door. On a warm August afternoon, Elãnna became the wife of Larry Skorupa and settled on the family cattle ranch along the banks of the Clark's Fork of the Yellowstone River. In May of 1984, their son Flint was born, and he spent many an hour snuggled on pillows behind the seat of her baling tractor, playing with his toys, before he was of school age.
Between calving season, baling hay and raising a family, Elãnna loved riding her horse most of all. In June 1987, as a member of the Wyoming Arabian Horse Association, she rode on a Pony Express Mail reenactment, from the Buffalo Bill Center in Cody, Wyoming to a celebration of the opening of their satellite museum in Livingston, Montana. Twenty riders carried mail via horseback 190 miles, relay style, just as the historic Pony Express had done in 1860. For the next few years, Elãnna organized other Pony Express mail rides in Montana and Wyoming, including one during the Great Montana Centennial Cattle Drive & Wagon Train in 1989. It was during this event, as a member of the Carbon County wagon circle, she met the thirteen cowboys from the North Dakota Centennial wagon. With only her pack, bedroll and horse, Elãnna happily pitched in helping cook at their chuck wagon. She was quickly adopted as their wagon's mascot and they named her "Quackgrass Sally" (a noxious weed that no matter how hard you try, it just keeps coming back), a handle that she wears proudly to this day.
History and horses have always been a passion with Quackgrass Sally, and she has kept her gypsy spirit happy with plenty of adventures. For years, she organized and directed her non-profit organization "The Bunkhouse Outlaw Pony Express", who participated in the Wyoming Centennial Wagon Train and a 650-mile XP Mail Relay for the National Forest Service Centennial. Her XP riders carried thousands of letters via horseback, each receiving commemorative hand-cancellations, designed by Quackgrass herself. She rode several years in the spectacular reenactment of "Custer's Last Stand" in Hardin, Montana, galloping full tilt to escape the native braves who wanted to count-coup on the XP rider.
Quackgrass Sally is a lifetime member of the National Pony Express Association a nonprofit organization that annually reenacts a mail relay along the original XP trail across eight states, Missouri to California in 10 days. She is the only NPEA member to join all eight state chapters and has served as a delegate at their annual conventions. Quackgrass was honored to be one of the members who carried the Olympic Torch via horseback during the 1996 Atlanta Olympic Games and later volunteered during the 2002 Winter Olympics in Salt Lake, Utah at the Pony Express station sharing western history with the millions of spectators. She has been actively involved in the historic trails for over 35 years and was on the national committee who helped designate the Pony Express as one of America's National Historic Trails, including its 150th celebration in Washington D.C. Not only has she ridden her horse hundreds of miles, but she has also wagon-trained in her single-hitch covered wagon over 800 miles across the west, reliving and promoting the pioneer spirit of the west for future generations.
When she was not working into the wee hours in the calving barn or out on the swather cutting hay, Quackgrass found herself involved in numerous television documentaries, feature and interpretive films, a storyline consultant, movie extra, and field producer. In addition, she has multiple published stories and articles about the trails across the West and is an active board member of Western Writers of America. She has worked with the National Park Service, the U.S. Postal Service, Bureau of Land Management, the U.S. Forest Service, Oregon California Trails Association and several Native American tribes. To date, she has contributed to three different historic time capsules and four historical trail markers, as well as helping mark parts of the Cherokee Trail.
As ranch wife she is known to be out driving sugar beet and grain trucks, vaccinating cows or putting up hay. Elãnna has always enjoyed the adventures of living in rural Montana, which includes putting flags up on veteran's graves during Memorial Day, being part of a color guard for the Veterans of Foreign Wars events or giving historic talks and demonstrations at schools. She is a support to ageing parents, a loving mother, a friend to many and never a dull wife. Elãnna has produced an amazing variety of unique western folk art, including custom made beaded Journey Mugs, hatbands, lariat rope baskets, stained-glass art and glass "trade beads". She does beadwork for Double H Custom Hats in Darby, Montana and Wickenburg, Arizona. All of her achievements have been done with the support of her cowboy.
The core of her journey was the motive to inspire others in learning and preserving our western history. Our forefathers commonly did not think of their toils as historic but through the work of Quackgrass Sally and others like her, it is preserved for future generations to enjoy and explore. When asked about her adventures she simply replied, "I'm living my dream... with my cowboy and my horse, out on the trails... keeping an eye out for the ever-elusive magical Yellow Brick Road".