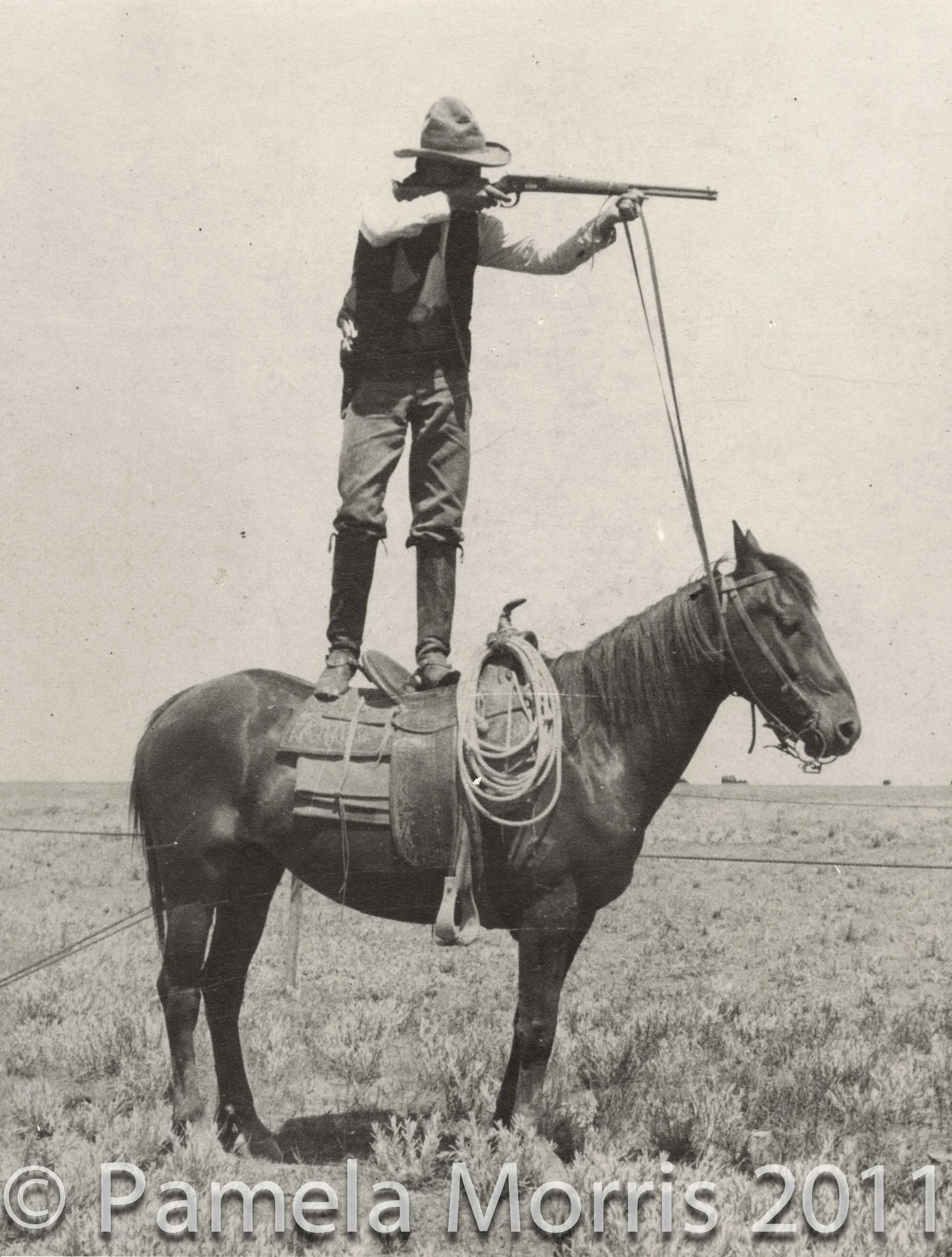 MONTANA COWBOY HALL OF FAME LEGACY INDUCTION
CHARLES EDWARD MORRIS (1876-1938)
DISTRICT 5 - YEAR 2023
"No one had to tell Charlie Morris to love the land, but that emotion was tempered in Morris by his knowledge of how vicious, demanding, and unyielding that land could be in a January blizzard or in a prairie fire in July—a land that could transform the soul, but at the same time sear that very soul by the extremes of its climatic ferocity," writes Gene M. Gressley, Founding Director of the American Heritage Center, in the foreword of True, Free Spirit, a biography of cowboy photographer Charles Edward Morris. "If the cardinal rule of literary expression is always to write about what you know, a similar truism for any photographer must be to always understand your subject before trying to preserve it. Charlie Morris knew his West."
Whereas contemporaries like F. Jay Haynes and William Henry Jackson sought to advertise the West, often on the payroll for companies like the Northern Pacific, Morris hoped to capture life on the frontier with more authenticity.
Much like Charlie Russell, who was twelve years his senior, Morris fell in love with life in central Montana. He, like Russell, came out West on his own as a teenager. But quite the opposite of Russell's charmed upbringing, Morris' home life was one of conflict and neglect. At fourteen, with a few dollars and a six-shooter, he trekked west on foot, subsisting on wild turkeys, berries, and squirrels. He stowed away in boxcars when he could—journeying ever closer to a life on the range.
In the early 1890s, he worked his way north from Texas, serving as a chore boy and wrangler for a number of cattle outfits. While cowboying for the Bloom Company, Morris helped herd thousands of cattle from Wyoming to the Circle Diamond Ranch, six miles north of Malta, Montana.
Writes Bill Morris (son): "To his delight, Charlie found that here in Montana a cowboy could still ride all day and never see a fence . . . Charlie longed for a way to capture it forever, for it was capturing his heart."
By the century's end, motion pictures were coming into popularity. Short and silent at first, movies—as they became more lucrative—advanced the cowboy myth for the purpose of promoting ticket sales. Meanwhile, Charles Morris invested in his first piece of camera equipment to show the West for what it was. As he taught himself by trial and error, it dawned on him that rarely was seen a candid cowboy photo. The subjects always knew the flash was coming. They were posed, and so the photos lacked authenticity.
One day, while riding for the McNamara & Marlow IX Brand, Morris got the nerve to draw his foreman, Sam Miller, aside and ask him for a favor; if Charlie could be privy to the outfit's day-to-day plans, he might be able to arrange his equipment to record the day's action as it occurred. He argued that this would benefit the company as well as himself, for the crew would never know when the pictures were coming and thus be more inclined to stay in peak performance throughout the workday. Miller agreed to Morris' request on the understanding that he was a wrangler first and a lens man second.
Through this technique, Morris developed photographs that were more than portraiture; these were history—a sincere depiction of life in the open West.
Morris met Helen Schroeder in 1899, while he was attending Toland Business University in Wisconsin, and the two were married in 1903.
That summer, the newlyweds toured Montana in a portable picture studio—a $300 double harness buggy. From Big Sandy to Chinook and places beyond, Morris photographed landscapes, ranchers, and Native Americans.
In 1904, Charlie Russell expressed his admiration of their work, advising that they travel to his hometown of St. Louis for Lewis and Clark's Centennial Exposition. There, the Morris's entered into the fair's art show the photo Cowboy on a Bucking Bronco, which depicted Roy Matheson upon a horse mid-bound.
"It's believed to be the first photograph to document a horse bucking with all four feet off the ground," says Pamela Morris, Charlie's granddaughter, with pride.
The rare photo, hand-tinted by Helen, won first prize in its class, thereby associating the name "Morris" with exceptional photography. Cowboy on a Bucking Bronco would become one of Morris' most famous photographs. In 1906 the couple registered its copyright along with several other photographs (now archived at the University of Montana). They even used the image of Matheson's daring ride as a trademark stamp for their burgeoning postcard business.
Charles and Helen then repaid the favor to Charlie Russell with postcards featuring the cowboy artist. Nancy Russell was so pleased with the publicity that Charlie authorized Charles to market a colorized version of Waiting for a Chinook also known as Last of the 5000 on postcards.
"[These postcards] no doubt did more than anything else to give Charles M. Russell the beginning for his rise to fame as one of the greatest of America's Western artists," states Harold McCracken in The American Cowboy.
In his promotion of Russell's work, Morris fundamentally changed the trajectory of the cowboy artist's career, transforming "Charlie Russell" into a household name and helping to elevate him to a touchstone of Western art.
The Morris-Russell collaboration continued when Charles and Helen moved home and business to Great Falls in 1910. Both artists' contribution to Western heritage, including Morris' efforts to photograph the Western frontier with authenticity, serve as invaluable assets to Montana historians and a treasure to those who respect the cowboy way of life.
To this day, collectors of Morris' work delight in his images of cowboys at work and play, Native American traditions, and life on the open range. The postcards of Charles E. Morris are more than souvenirs; they are keepsakes from a time gone by, mementos of the great American West.
Sources:
Morris, Bill. True, Free Spirit. Advanced Litho Printing, 1997.
McCracken, Harold. The American Cowboy. Doubleday, 1973.