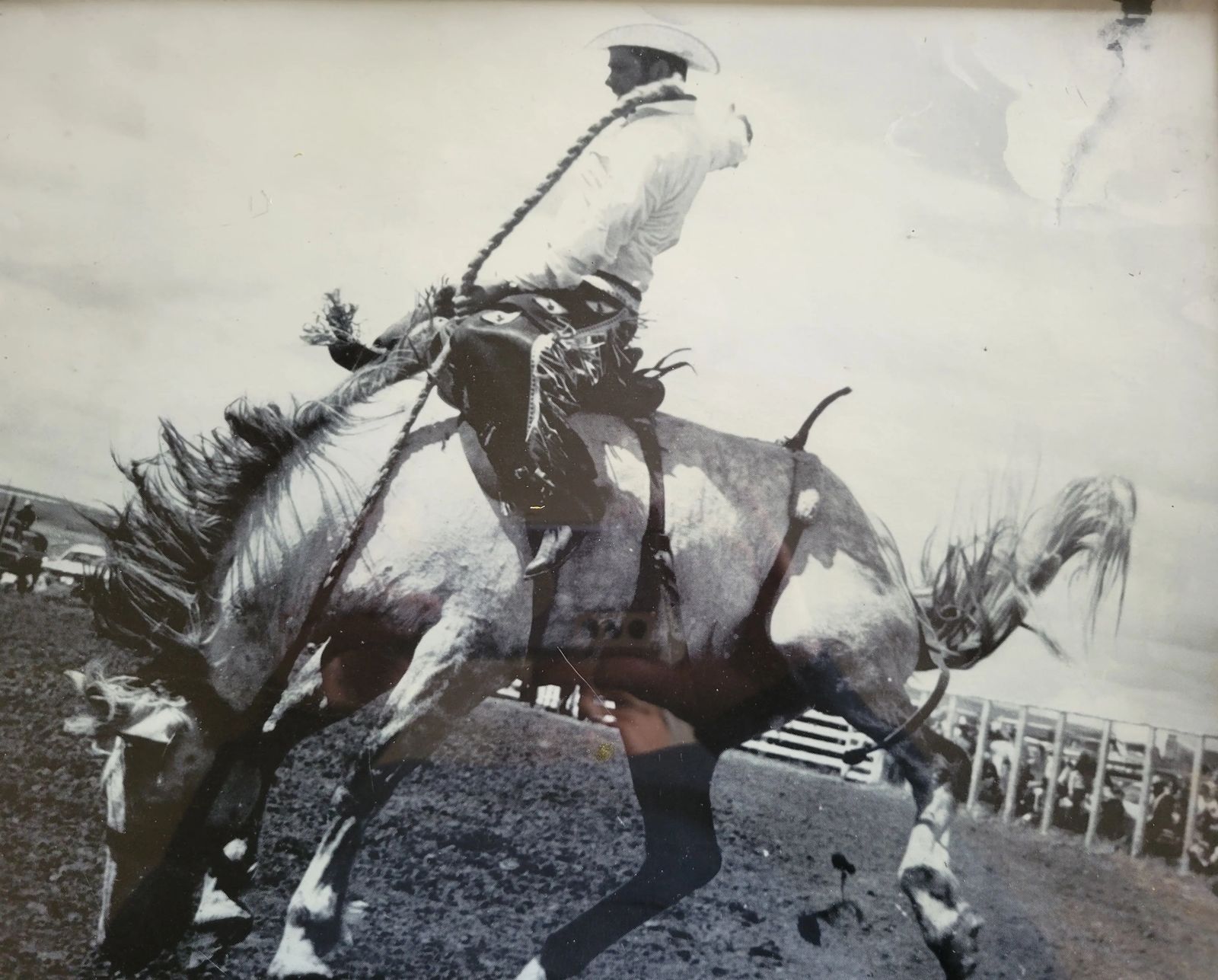 MONTANA COWBOY HALL OF FAME LIVING INDUCTION
RICHARD DALLAS "DICK" GRANELL
DISTRICT 4 - YEAR 2023
Richard Dallas Granell was born in Havre, Montana on October 6, 1945, the oldest of four children born to Emden and Ernestine (Habeger) Granell. He spent his childhood living on the family farm north of Havre near the Air Force Station and Canadian border. Receiving his elementary education at the Miller School near his home he went on to attend Havre High School.
Dick was born with a dream to be a cowboy horseback. Being raised on a dryland farm, made getting a horse a little more challenging. The neighbor's three-year-old quarter horse frequently grazed along the boundary of the pasture. After many fence-line encounters with a bucket of grain, Dick established his trust. He was then able to halter him, climb the fence, and get mounted. After sneaking several rides, he begged his dad to buy the horse. The neighbors had been watching the friendship develop and agreed to sell for $125.00. Dick reimbursed his father by working endless acres of summer fallow in return for payment. He rode bareback for a couple of years at which time his great uncle bought him a Little Wonder youth saddle from Mexico.
When "Dick" was sixteen years old, he established his cattle herd by getting a loan at the bank, secured by his grandfather's co-signature, and purchased his first nine head of bred cows. He built his numbers up to two hundred and twenty. When Uncle Sam called, Dick sold the cattle and spent a short hitch in the Army, rebuilding the herd upon his return to Havre.
Dick's bareback riding years started in 1962, winning second place in Opheim, Montana. His first championship ride was 1963, in Wood Mountain, Saskatchewan. In 1965, Dick placed second in the bareback riding finals for the Saskatchewan Amateur Rodeo Cowboys Association and placed third in the Northern Rodeo Association Year-end Finals. Empress, Alberta was a memorable place for Dick as he won the bareback riding in 1963, '64, and '65, and second place in '66.
Jack Bloxham, Connie Cox, and Merle Boyce had all the practice horses a bareback rider could want. He rode a number of practice horses with more buck-offs than good rides in the early years. As a result of him "flying off" the practice horses Dick acquired the nickname "Dicky Bird". After accomplishing broncs Dick started to ride colts for himself and others to help with the cashflow as rodeo winnings didn't always cover the entry fees and traveling expenses.
Dick was a founding member of the Havre Roping Club that existed from the 1960s through the 1980s. It seems he had hometown luck with his team roping partner, Bill Greytak, winning first place at the Havre Fair and Rodeo in 1972, '73, '74, and again in '77. At the 1973 Warrick Rodeo, Dick took first in bareback riding, second in bronc riding, calf roping, and in team roping. He won several buckles over the years while participating in team roping's in Montana and Canada.
One of Dick's proudest memories was winning the all-around buckle when he placed first in team roping, second in bronc riding, and fourth in calf roping at the 1985 Big Sandy Rodeo . Now, those were some great times with plenty of celebrating on each occasion.
Back in the late 1960s Dick, along with other local cowboys, brought Benny Reynolds and Darryl Brown in to put on a much-needed rodeo judging school. After attending himself, Dick judged many area rodeos. This was not an easy task, especially when a young pup did not agree with your scoring. Luckily enough, no final decision ever had to be made out back behind the arena.
Dick married Marilyn Munson on June 30, 1974, in Chinook, Montana. They raised two sons, Josh and J. Jay. The couple dedicated their life to the Western way of life while farming, cattle ranching, training horses, and participating in rodeos and jackpot team ropings.
Dicky Bird and Wade Bickford were hired as pick-up men at rodeos for a couple years. After a section of bronc riding it was time to team rope. Dick rode in the heeling box with the same horse he had used to pick up broncs. Sometimes you just make do with what's available – he had shortened up the tiedown and won the team roping.
Throughout his life, Dick did custom haying, harvesting, and spraying of noxious weeds. When a local farmer sold his land to the Fish, Wildlife, and Parks (FWP) it became a Rookery for wildlife inhabited by mainly upland game birds and foraging deer. In 1979 Dick partnered with the FWP to raise irrigated alfalfa hay and dryland small grains on a crop share basis. After twenty years the irrigation pump system was damaged from flood waters on the Milk River, prompting the FWP to discontinue farming the land and allow it to return to native habitat. After several years of natural growth and declining wildlife statistics the decision was made to start raising small grains. Once again Dick was back to farming and the wildlife numbers were on the rise.
In 1980, Dick was presented with the opportunity, or should we say the misfortune, to buy the Granell family farm. By 1985, twenty-one percent interest and with waning markets, it seemed it was time to sell the place, market the cattle, and get an off the farm job. As luck would have it, Dick was hired at the Montana State University Northern Ag Research Center (NARC) that same year, as a machine fabricator, mechanic, and hands-on farm manager. He truly enjoyed the people and jack-of-all-trades work at NARC and was grateful for the employment. After twenty-seven years Dick retired and went back into the farming and ranching business. He currently operates a small feedlot and runs a few cow-calf pairs near Havre.
Another make-ends-meet job was horseshoeing. Dick was an accomplished, self-taught farrier who shod horses at rodeos, roping's, and by appointment for over forty years. Another facet of Dick's colorful life has been raising registered Quarter horses. Josh, also a horseshoer, and his wife, Jen, have trained and sold many of his horses as barrel racing and steer wrestling horses. J. Jay is running cattle with his uncle and aunt north of Havre up on the Milk River.
Dick, who has lived life to the fullest, is thankful for the opportunity to have gathered up so many wonderful friends over the years – a true legacy to a life well lived. He is grateful that he has been able to make a living, where he could pass forward the Western traditions, while raising his family.
REFERENCE:
Granell, Richard and Marilyn. Personal interview. February 2021