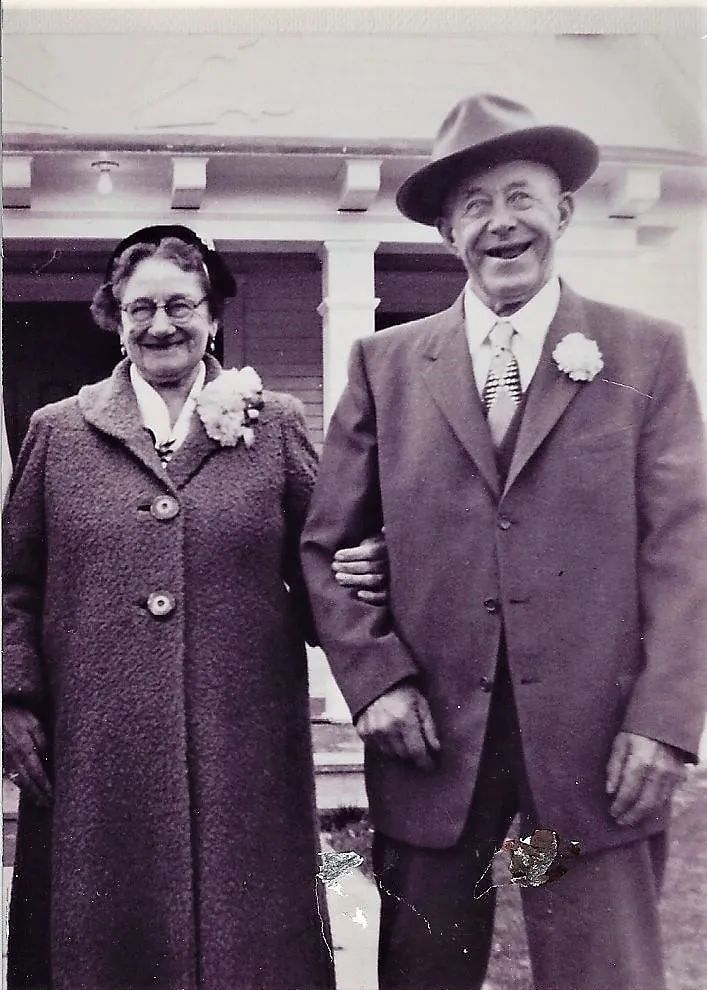 MONTANA COWBOY HALL OF FAME LEGACY INDUCTION
ALFONSE VALENTINE & MARIE THERESA (AMSSOMS) VERCRUYSSEN (1877-1961) (1880-1963)
DISTRICT 4 – YEAR 2023
Alfonse Valentine Vercruyssen took an unforgettable journey across the ocean, with his wife, Marie, and their two sons, Gus, five and Jule, four years old, to the United States in December of 1910. Alfonse did chores on the ship to help with their passage fee, while Marie and the boys were dreadfully ill. He had been in America fourteen years earlier and had worked on the ore docks in the Great Lakes area for 18 months. When his father passed away, he had to return home to take over the family homing pigeon business. Alfonse was born to Leopold and Marie Van Pael Vercruyssen in Kieldrecht, Belgium on January 21, 1877, and was their only son. Marie Theresa Amssoms was born on July 11, 1880 in Antwerp, Belgium to Mr. and Mrs. August Amssoms. She had worked as a maid in France for three years prior to marrying Alfonse Vercruyssen, on October 15, 1904 in Antwerp, Belgium.
The Vercruyssens came to Chinook, Montana, because their relatives and good friends were already settled in the area. The family arrived by emigrant train at midnight on December 12, 1910, when the weather was very cold and the snow deep. Alfonse bought a team of horses and wagon to carry their belongings to his sister's home. On the way, one horse became lame, hence Marie and Jule rode one horse and Alfonse and Gus walked the final seven miles. They left the wagon with their trunk and belongings, going back with the neighbor the next day to retrieve their possessions.
The few dollars Alfonse had left after paying the homestead filing fee, were used to purchase lumber, one cow, three chickens and a rooster. In February of 1911, he built a one room primitive shack for his family. He established residency upon his 320-acre homestead in the Fairview area, 16 miles southeast of Chinook, on March 1st, in an entirely Belgian community. He then went to work on the Millers Brothers Ranch, a neighboring sheep camp, for $40 a month, returning home each spring to cultivate a few more acres for grain and livestock feed. Marie grew a large garden and canned all the produce. She raised pigeons to eat and regularly gave their neighbor, John Tilleman, three shotgun shells to shoot three rabbits. John kept two rabbits, as his family was larger. For heat, the family mined coal from the outcrops in their community.
By 1916, Alfonse had a few good crop years and was able to build a barn, blacksmith shop and a larger home. The strong winds that blew in Montana upset Marie and therefore he built a superior house down in the coulee. Their neighbors would trade labor to help cut and harvest the crops. All of the grain was cut with scythes before they acquired a binder. Marie often told of how raw and bleeding her fingers became when picking up the hay in the field, until they progressed to using pitchforks.
With his expanding sheep, swine and cattle herds, Alfonse had to lease pasture. They were milking six cows and selling butter, cream and eggs in town, which qualified them to obtain a $1,400 loan from the bank to buy grazing land. Then a drought struck, creating a struggle, with poor crops and hardly any feed for the livestock. The milk cows and poultry kept them going financially, however, did not pay off their debt. Alfonse discovered, "The interest on debt works day and night, while I can only work a single shift, as I have to sleep at night." "But always darkest before light, we forgot the hard times." Alfonse was grateful and proud when he received his Certificate of Naturalization on July 22, 1916, bringing opportunities and security for his family.
Alfonse had to amend his homestead application, due to an error in the legal description and lack of evidence of there being no merchantable minerals or timbers, and any known water supply for successful irrigation. Not thoroughly understanding the English Language and having no knowledge of surveys, Alfonse had taken the details given by the man who located him. He learned of his error from a neighbor who gave a corroborated affidavit, clearing the way for Alfonse to receive his patent in 1918.
Marie made her own lace and knitted the families' socks, mittens and caps with wool from the Karakul Sheep she raised. On the rare occasions she went to town, Marie had a hard time getting her wishes across while she was learning the English Language. The family was elated to be blessed with a daughter, Rose, in 1920. Marie had planned to visit Belgium, with her daughter, but Alfonse refused to let her take Rose along, thus she never visited her homeland.
The boys attended summer school at the sheep camp where Alfonse worked, until a school was built. Gus had to stay home often to work after Jule came down with polio. Alfonse and Marie helped establish a church at Fairview, where the children and grandchildren were baptized and confirmed. They assisted in organizing the Fairview Chester Whites 4-H Club, to provide the youth with opportunities for developing life skills. Gus and Jule thrived in the activities, with Gus earning a four-year scholarship to any Montana State Institution of higher education for his excellence in 4-H club work.
In 1924, Alfonse won a Blaine County purebred Holstein bull calf from the Carnation stock farms at Seattle, Washington, presented by the Great Northern Railroad to boost the quality of dairy stock in the area. The oats and corn Alfonse raised placed first and second for Blaine County at the North Montana Corn and Seed Show in Plentywood. He successfully experimented with trench silos and was able to secure sweet clover seed for pasture and hay crop on his dryland farm. After several favorable crop years, Alfonse and Marie were able to purchase land for each of their children.
The Fairview School and Blessed Fairview Sacrament Church burnt down in the devastating prairie fire of October 1991. In honor of the settlers and pupils, historical signs were placed, where the buildings once stood, along the Barney Olson Road.
After 37 years of ranching, Alfonse and Marie worried if they would enjoy retirement. They rented their homestead to a neighbor for two years, before selling to their daughter and son-in-law, Rose and Jerome Conrad. Later the land was purchased by their grandchildren, Alice and Butch Shockley. The couple moved to the Bitterroot Valley in 1947, buying a small place one mile from Corvallis to raise chickens and garden vegetables. In downsizing to care for themselves, they moved to Woodside for their final years. Alfonse passed away on October 12, 1961, and Marie on February 6, 1963. The couple are buried at the Riverview Cemetery in Hamilton, Montana.
Like other Montana pioneers, Alfonse and Marie represent the early Western lifestyle, immigrating to Montana without being able to speak a word of English, embracing a life filled with hard work, low pay, little sleep, and very few possessions. The Vercruyssens were very resilient, quite innovative and made many sacrifices to help shape our culture. Their homestead on the Montana prairie was held in the family for 101 years, supporting their brood who ran livestock and kept the cowboy legacy.
Resources:
Ancestry.com: New York, U.S., Arriving Passenger and Crew Lists, Year: 1910; Microfilm Serial: T715, 1897-1957; Line 3; Page Number: 152.
National Archives and Records Administration, Washington D. C.; Land Entry File No. 622712.
Fire in the Wind: An Account of the 1991 Blaine County Fire; 1994; The Milk River Genealogical Society.
The Unyielding Prairie: Stories of Homesteaders in Northwest Blaine County; 2008; The Milk River Genealogical Society.
Family records of Alfonse and Marie Vercruyssen.
Great Falls Tribune (Great Falls, MT) 1924, October 3, Page 3.
Dillon Examiner (Dillon, MT) 1925, April 1, Page 12, Image 12.
The River Press (Fort Benton, MT) 1925, November 11, Page 3, Image 3.
Great Falls Tribune (Great Falls, MT) 1927, November 4, Page 3.
Great Falls Tribune (Great Falls, MT) 1928, April 30, Page 3.
Havre Daily News (Havre, MT) 1929, April 30, Page 3.
The Mountaineer (Big Sandy, MT) 1929, December 26, Page 2, Image 2.
The Missoulian (Missoula, MT) 1954, October 24, Page 28.
Ravalli Republic (Hamilton, MT) 1959, Page 4.