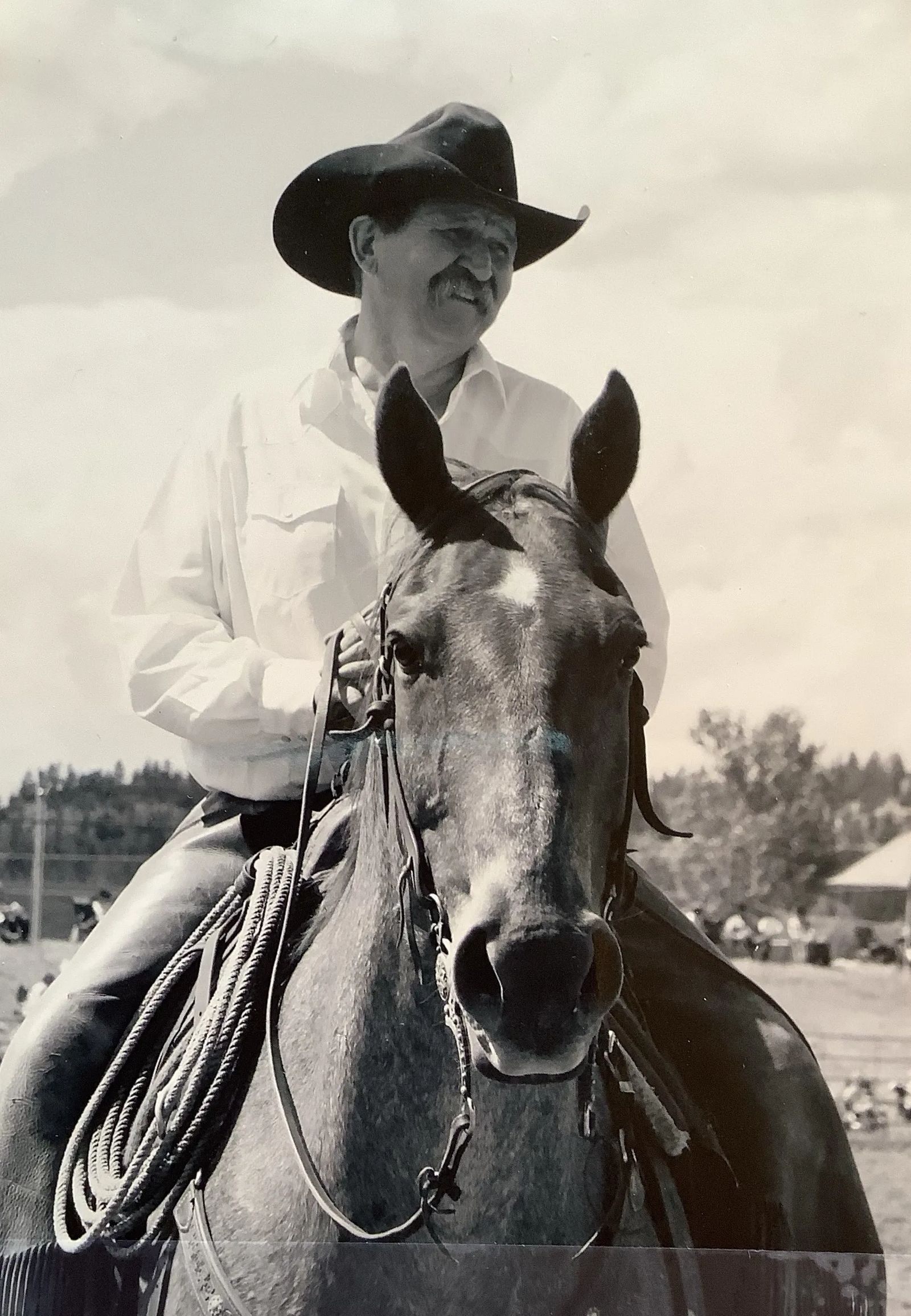 MONTANA COWBOY HALL OF FAME LIVING INDUCTION
ROBERT J. "JIM" WILSON
DISTRICT 3 – YEAR 2023
Cowboy. Rancher. Pickup Man. Pilot. Sheepman. Neighbor. Friend. It doesn't matter how you describe Jim Wilson, but most people who know him will say that he is a true example of the Western way of life. He always said that starting at about six years old, he knew he wanted to be a cowboy, and he wanted to be the best cowboy.
Robert J. Wilson was born in Broadus, Montana, on May 15, 1945, the eldest of three boys, to Bob & Betty Wilson. At that time, they were employed by Bob's uncle Bob Ormesher. Jim started cowboyin' while riding with his Dad and uncle as a small child. He doesn't ever remember not being able to ride. Riding horseback, Jim attended several one-room country schools during his elementary education. Oh, the shenanigans that took place on those rides back and forth to school! Jim graduated from Belle Fourche High School in 1963 and returned to the ranch to work full time for Uncle Bob. Shortly after that, he married the neighbor girl, Donna Harris, and they started a family. Bart was born in 1967, and Boni Jo was born in 1969. Jim's father passed away in 1972, followed by his Uncle Bob in 1976. Since Bob had no children, he left the ranch land to Jim. Several years of financial struggle ensued to pay off the IRS inheritance tax bill and to re-stock the ranch. Jim & Donna later divorced, and he married Louise Hanson in 1989.
For many years, Jim picked up at local amateur, high school, and college rodeos. He loved the adrenaline rush of waiting for the first horse out of the chute and said if he ever quit getting butterflies that he would quit picking up. That did not happen for another 50 years! In the early 1990's, Jim joined the PRCA, and added pro rodeos to his travels. He worked mostly in North and South Dakota, Montana, and Wyoming. He picked up at all the big rodeos in the Badlands Circuit and was selected six times to pick up for the Badlands Circuit Finals. He was proud of the fact that he was always well mounted, that he was never badly injured, and that, to his knowledge, while picking up, he never caused any injuries to a cowboy. He worked for Korkow Rodeo, Sutton Rodeo, Mossbrucker Rodeo, and for Burch Rodeo when they joined the PRCA. He still believes the reason he was able to pick up as long as he did was due to two things - good horses and the ability to read livestock.
When Jim and Louise were married, they opted to have a little jackpot roping with a potluck supper instead of a formal wedding reception. The roping was followed by a barn dance. It was all so much fun that they decided to do it again the next year. By then, they had added a bucking chute to their arena, so they included bronc riding in the mix. The year after, they bought and installed five chutes. That was the beginning of Wilson Rodeo, which ran for 10 years. It's pretty amazing to look back at the paperwork and see how many guys that rode broncs in the back yard went on to compete at the National Finals Rodeo.
In the mid 1980's, Jim purchased and learned to fly a Brantley B-2B helicopter. He loved flying and hunting coyotes with it. To this day, he comments on "good snow for hunting." The helicopter met its demise while being used to chase wild horses, but Jim survived to tell the story. Now, you can say you know of a guy that has survived helicopter, plane, train, automobile, motorcycle, and horse crashes. But those other crash stories are for another day.
Jim has always been very handy with both saddle horses and teams, and so, he enjoyed helping small local wagon trains for many years. He also ran a branding wagon in the Ridge, Montana area, where he would gather up the neighbors who traded help. They would head out with the wagons and brand for about a week. They usually branded about 4500 calves and traveled a distance of about 20 miles before they were done. It gave local ranchers young and old alike an opportunity to get a taste of what branding was like back when the West was a lot more wild. There are lots of stories from those days!
In 1989, Jim was selected to be the Carter County representative to help wrangle horses and trail cattle on the Montana Centennial Wagon Train from Roundup to Billings. He had the time of his life being involved with handling such a large number of horses and cattle. Later, he was part of the Powder River Wagon Train and Cattle Drive as the Horse Boss. It was a week-long destination vacation, on which they hosted anywhere from 25-80 guests from all over the world. In 2012, the final drive rolled out on that adventure and operations ceased, a victim of rising insurance costs and a lack of well-broke horses.
Another big adventure for Jim was going to Arizona to rope wild cattle. His comment was that there's nothing more exciting than dropping a loop on something that has never seen a human! He not only roped wild cattle, but he also roped most anything that moved, like deer or antelope, for the sport of it. He still carries 60 feet of rope just in case he needs a big loop or a long reach.
For the past 59 years, he has served as a local brand inspector for the State of Montana. He has always gone horseback and helped to gather, as he feels it gives him a better look at the cattle he is inspecting, and a chance to spot livestock that might be in the herd from neighboring ranches. That job is slowly being handed down to his grandson, Travis Kuhbacher, who now ranches with him.
All in all, he is sure he has had the best life possible, and pretty much lived it like he wanted to, with good cattle, good sheep, and most important, good horses! He has made some of the best damn friends along the way and has the stories to match!