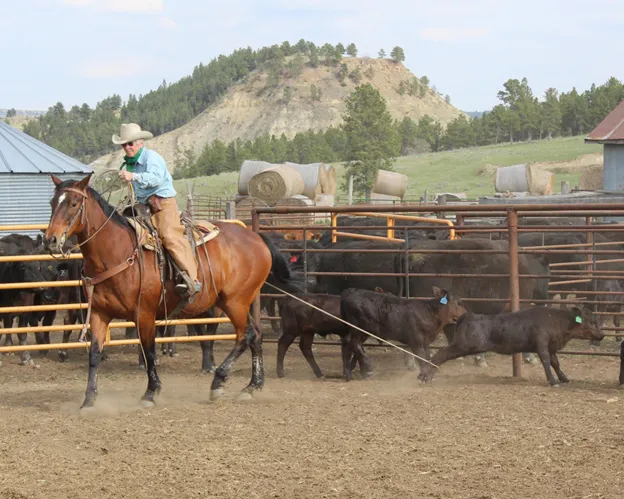 MONTANA COWBOY HALL OF FAME LIVING INDUCTION
GLENDA S. (CHILDERS) REYNOLDS
DISTRICT 2 – YEAR 2023
Glenda S. Childers was born January 4, 1941, in Jordan, Montana to Glen and Marjorie Ruth "Peggy" Childers. Glenda lived with her parents and younger brother, Ross, at the 7 Bar V Ranch in the Brusett area of northeastern Montana. She learned everything she knew about ranching and taking care of the land from them. Her only companions before Ross joined the family were her horse and a dog.
Glenda learned from her dad that the words "back up" or "quit" should never be used. Therefore, she doesn't give up on anything. Ever. Glenda is well-known throughout the Jordan area as "Hurricane." Fast and wild, just like the wild horses she would catch. She could rope just about anything in sight.
Glenda's passion for "cowboying" came at a very young age. To this day, she can vividly tell you how, when she was 12 years old, she broke her first horse and named him Buck. You can see the excitement on her face and sense her joy as she shares her life story. Glenda loved every minute of her time spent in the Missouri River Breaks with her horses, dogs, and, on occasion, Ross.
Glenda graduated from Garfield County High School in 1958. She went to college at Eastern Montana College of Education in Billings and at the University of Montana at Missoula, earning a degree in teaching. She paid her way through college by breaking horses at night. During the summer, she worked with her family on the 7 Bar V Ranch. In the fall of 1960, she was hired as a teacher at the Sheldon School in Garfield County. Glenda also taught at the Benzien School in Sand Springs, Montana and at Beaver Creek School in Lewistown, Montana. When she wasn't teaching, she worked on neighboring ranches in Fergus County.
Glenda had two children. With her husband Hue Mack she had her first child, a daughter, Vesper, born in December 1962. After they went their separate ways, Glenda met Bill Reynolds of Polson, Montana, who worked for the U.S. Forest Service. They married in 1965. Bill adopted Vesper as his daughter and shortly after, James "Jim" Reynolds, was born in April 1968.
While the family was living in Idaho in the 70s, she ran a dude string and guided trail riders. She competed in endurance races throughout Idaho and Montana on a Standardbred horse she herself conditioned. Glenda competed in four races in Idaho and won two. She has forever loved horses. They, in turn, have always been a big part of her ranching career. When winter rolled around she often preferred to use a sled and a team of horses, rather than a truck, to feed livestock.
Glenda moved to Winnett, Montana, in 1976, with her children in tow, working as a ranch hand on several different ranches while also shoeing horses and tending bar, all to provide for her children.
Glenda was hired on at the 7W Bison Ranch in 1984, where she cared for the bison, cattle, and horses. She was also responsible for all the haying, taking care of the equipment maintenance, and just about everything else it takes to run a ranch. At one point, she managed around 600 head of bison. Glenda could often be found sitting on the wooden front porch, scanning the horizon for predators. That would be the only time you would see her stop moving for a few moments in her day.
After working for four years on the 63,000-acre ranch, Glenda was promoted to foreman. She also became an outfitter, providing quality hunts for bison, elk, deer, antelope and mountain lion. She enjoyed the rugged Missouri Breaks country and riding her horse to Curry Point, when she felt she could spare a couple hours away from her responsiblities. In this scenic place, she was at rest with the world, overlooking the ranch and coulees. While at the 7W, she was featured in the documentary "One Helluva Hand," directed by Lori Joseph, and in multiple videos and documentaries about hunting and ranching.
Her grandkids, Nick, Nathan, Alex, Boston, and Ryan, had the privilege of growing up on the 7W Ranch, where Glenda shared her passion for ranching with them. They enjoyed their summers working the land with their grandmother. Glenda worked for the 7W Ranch for 27 years, before moving to her quaint home in Brusett, Montana. Glenda is raw and honest in her dedication to the ranching industry. She can shear sheep with the best of them and manages a Cesarean section when needed.
Even in retirement, she doesn't let the dust settle under her boots. Glenda is a supporter of high school rodeo contestants and is always willing to spend whatever time she has helping young people. She compassionately fostered troubled kids, at the ranch, who needed strong guidance and a loving home. She is a dedicated member of the Garfield County Search and Rescue and a wildland firefighter with the county rural fire department. In addition to all this, she enjoys visits from her grandchildren and two great-grandchildren, Theodore and Watson.
Life hasn't always been easy for Glenda, but she wouldn't have had it any other way than being a cowgirl through and through. Beyond that tough exterior, you will meet a woman who would do anything to help another in need. From sunrise to sunset she is still out working on the land and helping other ranches in Garfield County. She often remarks, "One day, the horse will come home without me. That's the way I want to go."