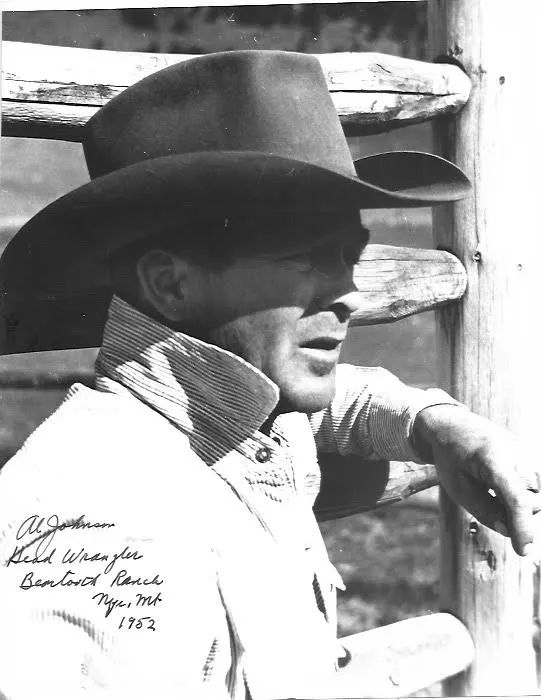 MONTANA COWBOY HALL OF FAME LEGACY INDUCTION
ALFRED HENRY "AL" JOHNSON (1923 – 1997)
DISTRICT 2 – YEAR 2023
Alfred Henry Johnson was born October 9, 1923 to Lars and Guri Johnson, who had immigrated from Norway with the last name Brekhus, later changed to Johnson. They homesteaded on the high plains of northeast Montana by the Little Muddy River near Plentywood. It is here that "Al" grew up with his parents and six siblings.
He had no formal training in the cowboy way of life or as an artist but was born with a natural flair for both. He began painting when he was very young and developed a style of his own.
Al spent a greater part of his life on horseback. If a task wasn't horse related, he simply didn't do it. With his saddle, bedroll, and other gatherings, loaded in an ole clunker of a pickup, he ran the carefree life of a drifting cowboy, riding his horse to work in the 1940s and 50s, traveling throughout Montana, Wyoming, Texas, and Mexico.
He was fortunate enough to ride and work for some of the last of the big outfitters and ranches in Wyoming and Montana, such as The Pitchfork, Antler, Padlock, Will James, Double Arrow, and Stovall and for good friend Benny at the Binion Ranch. He moved to Seeley Lake, Montana, in 1959 and went to work for C.B. Rich at the Double Arrow. It was a combination dude and cattle ranch that ran three hundred fifty head of cows and ninety pack and saddle horses. Al guided hunting parties into the Bob Marshall Wilderness in the fall while breaking broncs along the way. This is where Al met Betty McNeiley. She had purchased a Double Arrow guided trail ride, and Al just happened to be the guide on the trail that day. They soon married. As Betty put it, "I married a 'real' cowboy just like my Daddy. Al was 100% cowboy from the tip of his hat to the point of his boots. He was 10-foot tall in my eyes and could do no wrong! He wore many hats, and they would all be cowboy hats." Betty had three children, Vickie, Wes, and Bob, from a previous marriage. Al took them in to love. In 1962, Skip was born to Al and Betty.
C.B. Rich published two books with Al: Memories from the Mountains and The Life, Times and Poetry of C.B. Rich, documenting and illustrating their cowboy stories. Al's original oil painting "Running the CBC'S" was used to illustrate the book, Cows, Cowboys, Canners and Corned Beef and Cabbage by Robert W. Eigell, along with his documented accounts of his time gathering cannery horses for the Chappell Brothers. C.B. Rich was inducted into the Montana Cowboy Hall of Fame in 2015.
Al published several articles and paintings in the 1950s, 60s, 70s and 80s in such magazines as True West, Western Horseman, The Frontier Times, Bit and Spur, Montana The Magazine of Western History, and Guides Magazine along with numerous newspaper articles. He illustrated calendars, post cards, brochures, and holiday cards. He would doodle on napkins, letters, envelopes, inside of books, whatever was within reach. In the 1950s, with ties to the prairie landscape, Al dubbed the name "The Sage-Brush Illustrator" for recording on canvas the cowboy way of life for future generations.
Yearning to return to the prairie, he moved his family to Jordan, Montana, in the 1970s. Al and Betty bought The Old Leuschen Log House that was built in 1931. This unique cabin inspired them both with a feeling of the Old West. They built a log studio off the cabin where they both painted, created, and shared their love of art. Al handcrafted twenty-two Western saddles that are owned by local horseman. To this day you can find his cowboy hat hanging off his easel in the studio surrounded by his paintings as well as one of his final saddles, hanging over the rafter logs in the studio.
Deeply rooted in Western and Native American heritage, his paintings have been exhibited in museums and galleries throughout the state and are held in private collections in Montana and across the nation. One of the last commissioned paintings he completed was "Custer's Final Moments." This painting draws from original Native American and U.S. Army accounts to recreate a pivotal event in history. His work portrays a reality that transcends realism. This painting was displayed many years ago at the Stagecoach Gallery in Great Falls, Montana, and is now owned by a private collector.
Al's son Skip shares this memory, "The kitchen table was never empty, the door was always open for coffee, a meal, a place to park and throw your bedroll down. You were always welcome." On holidays and parades, you could stop by the Johnson's yard for a chuck wagon cowboy breakfast. Al and Betty drove a horse drawn chuck wagon in many cattle drives and prepared many meals out of the wagon. Skip recalls, "The man that we knew and loved had a handshake that was his word. We were well aware, that his honor and integrity were reflected within that handshake. We knew a kind, soft spoken, storytelling, cartoonist jokester that made us laugh. We just simply called him Dad."
Al was deeply involved with the Garfield community. He served as Deputy Sheriff for several years and taught art classes at Jordan High School for eight years. Al shared with his students his talent for taxidermy and leather working along with his love of painting. Skip remembers, "It was history hour, comedy hour and story hour. The students were engaged with Dad no matter what they decided to explore that day. To this day, his past students share endearing stories and memories of Dad and art class." Al and Betty left a legacy with the community when together they painted a dinosaur mural on an exterior wall at the Garfield County Museum. Al's paintings that tell the story of Garfield County history still hang at the Jordan VFW. You can also find one of his paintings displayed in the Garfield Bank president's office.
In 1996, Tom Eaton, cowboy poet from Nye, Montana, nominated Al to receive an honorary Doctorate of Fine Arts, from Rocky Mountain College. He was humbly recognized in January 1997. The Academic Vice President of the college Susan McDaniel stated, "In a lifetime of painting, Al Johnson has drawn on his experience of the West to depict the land, people and wildlife of his native Montana. From landscape to cowboys, horses, and historical events, he has recorded a life in the colors and the light unique to this region, creating a legacy for generations to come."
Al passed away on March 23, 1997. The VFW recognized Al for his many contributions to the community. He was a genuine cowboy, self-taught artist who recorded the cowboy world he knew and painted his own trail along the way.


References:
BOOKS
Memories from the Mountains By C.B. Rich
The Life, Time, & Poetry By C.B. Rich
Cows, Cowboys, Canners and Corn Beef and Cabbage By Robert (Ike) Eigell
Cowboy Poems By Mick Dundom
The Old Time Way By Mick Dundom
It's Hard to Kill a Cowboy By Claire and Sharon Boyce
Mostly Looking Back By Elliott Miller
Garfield and Northwest Rosebud Counties 1975 Brand Book
Ranch & Rodeo Rhymes By Ann Secrest 1997
Al Johnson's Leaves from a Cowboys Sketch Book By Al Johnson
MAGAZINES
Horse Lover's Magazine September 1963 – Cover
Horse Lover's Magazine September 1956 – Article
"As Long as The Grass Shall Grow" By Al Johnson
Montana Recreation Directory Spring 1974 – Cover
The Bit and Spur September 1951 – Cover
The Montana Outfitter Spring 1967 – Cover
The Montana Outfitter Fall 1961 – Cover
The Montana Outfitter Summer 1961 – Cover
The Montana Outfitter Spring 1963 – Cover
Western Horseman Magazine August 1989 – Article
"Will James and the Rocking R" By Al Johnson
Western Horseman Magazine September 1975 – Article
"Binion's Wagon" By Al Johnson
Western Horseman Magazine (Date Unknown) – Cover