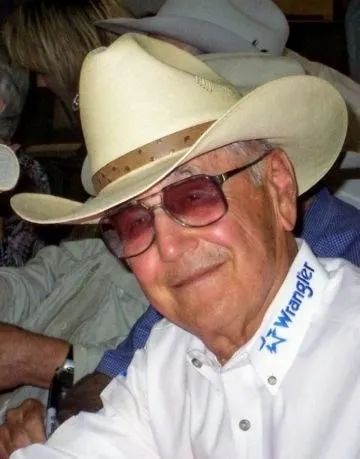 MONTANA COWBOY HALL OF FAME LEGACY INDUCTION
WILLIAM M. "BILL" HOLT (1930-2022)
DISTRICT 11 - YEAR 2023
William M. Holt, son of Helen Mettler, was born May 12, 1930, in Great Falls, Montana. His early childhood was spent at the St. Thomas Orphan Home. Around school age, he was placed with the Owen and Elsie Holt Family of Great Falls. Upon graduation from high school, he joined the United States Marines and served in the San Diego area on the equestrian team. After mustering out, he attended Montana State College, in Bozeman where he received his BS in Animal Science. This is where he met his lifelong partner, Ramona Denton. He was a member of the MSC Bobcat Rodeo Team that competed at the first National College Rodeo Finals at the Cow Palace in San Francisco, California. Learning that rough stock was really not his best event in rodeo, he moved into the field of announcing, believing that would be more to his liking with a guaranteed paycheck at every performance.
Bill became a member of the PRCA (Professional Rodeo Cowboys Association) and the CRCA (Canadian Rodeo Cowboys Association) and announced professional rodeo throughout Montana, Idaho, Washington, North and South Dakota and Western Canada. Bill's last pro rodeo performance was in 1999 at Belt, Montana, but continued to announce numerous local charitable auction events. Bill Holt is a name that has been associated with professional rodeo, horse racing, horse shows, movies, and TV for over a quarter of a century in the Pacific-Northwest and Western Canada. He also announced races and equestrian events in Mexico and narrated the documentary "Agriculture in Australia" which was filmed ln Queensland and New South Wales. Bill announced equestrian events of the Pan American Games in Winnipeg, Manitoba as well as the Canadian Indian National Finals Rodeo. He was also selected to announce the Olympics in Mexico City. Some of the more notable shows he announced were the Washington State Fair, North Dakota State Fair, Edmonton Rodeo, Calgary Stampede, and the World Finals All-Girl Rodeo in Calgary. He was fortunate to produce and announce a mini-rodeo for Queen Elizabeth and assisted in naming a park in her honor in northern Alberta - "Queen Elizabeth Park."
Holt produced the OZ Rodeo from 1969-1992 claiming it to be the largest one-day rodeo on a private Montana ranch. This was at the same old Miller Creek site where the famous KO Rodeo was once put on by Cowboy Hall of Famer Oral Zumwalt. The ranch was home to hall of famer, Trail's End and had become famous for raising great pro rodeo rough stock.
Holt stepped away from the announcer's stand after 40 years behind a microphone. He is an inductee into the Montana Legends of Rodeo in Great Falls and the Montana Pro Rodeo Hall and Wall of Fame in Billings. Bill was a board member of the Montana Historical Society of Helena for 20 years and was active in the acquisition of Virginia and Nevada Cities for all of Montana and her visitors to enjoy,
How often can you be the first to do anything today? In 1986, Bill, was the first to export Longhorn Cattle to Australia where the Government sponsored shows honoring their arrival for being the "First".
Bill and his wife Ramona, of 67 years, built The Holt Heritage Museum on the grounds of their Lolo Ranch. It is dedicated to "Cowboys and Indians: Rodeos and Pow Wows". It contains a lifelong collection of rodeo, Western memorabilia and authentic Indigenous artifacts.
A second museum building was donated to Travelers' Rest State Park and the State of Montana as a visitor center. Holt's registered Texas Longhorn cattle roamed next door to the State Park entertaining Lolo's visiting tourists.
The museum will continue to operate into the future as The Holt Heritage Center. There is a planned major expansion which will house more exhibit rooms, artifacts, and a multi-use area for the community and guests to enjoy for historic research and education.
Bill passed away on February 21, 2022 … and yet, Bill's story lives on and will be celebrated annually at "The Holt Heritage Center Annual Roundup".