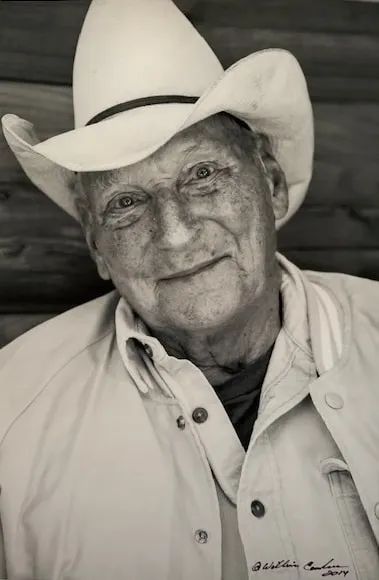 MONTANA COWBOY HALL OF FAME LEGACY INDUCTION
HOLLISTER "PAT" MCVAY (1920 – 2020)
DISTRICT 10 – YEAR 2023
Hollister Pat McVay was born March 14, 1920, in Tonkawa, Oklahoma to a farming family. His family returned to his mother's home state of Montana when he was two years old. The McVay family moved to the state of Washington during the Great Depression. His father passed away in 1933, leaving behind Pat, three siblings, and their mother. He called these "hard times" and moved out of the house when he was 16 to find work. Pat finished high school, worked at a lumber mill, and at other odd jobs. He enlisted in the U.S. Army Air Force and served from 1942-46 as a machinist in the Pacific Theater. When the war ended, he returned to Washington and found work at the Grand Coulee Dam with the Bureau of Reclamation. In 1952, when the Hungry Horse Dam located in Flathead County, Montana, was constructed, he transferred to the Hungry Horse Dam and never left the Flathead Valley. He continued to work on the dam as a powerhouse shift operator and supervisor, retiring in 1975. The family lived in Hungry Horse for five years, moved to Coram for another five years, and then moved to his 40-acre farm in the Lake Blaine area. He died peacefully at his home May 18, 2020 at the age of 100 years.
On paper Pat's life wasn't much different than other men of his generation and era. As his family settled into Coram and Lake Blaine, he became involved with the local community organizations including the Cayuse Prairie school board. He was president of the Rocky Mountain Riders Saddle Club, held offices in the Montana Saddle Club Association, and on the Flathead Employees Credit Union board of directors. Because of his activities, Pat was referred to as a legend, a visionary and a pioneer; however, the word that best describes Pat McVay is volunteer. He became involved with the hunting, shooting, and outdoors community. In addition to spearheading the state's hunter education program and teaching it for six decades, he hunted for more than nine decades, beginning when he was six years old. He logged thousands of miles in the Bob Marshall Wilderness and never tired of the mountains. McVay accomplished many things, but his greatest achievements were those done in the spirit of contribution. He dedicated his life to serve others.
There are very few men who touched as many lives as Pat McVay in a lifetime. He lived his life with enthusiasm, wonder, caring and mentoring. He had an abounding love of the outdoors, nature, hunting, fishing and hiking. As well as a love of family and the land. "Pat was an icon for so many people," said John Fraley, the former information and education manager for Montana Fish Wildlife & Parks (FWP), Region 1 who oversaw the hunter education program for 27 years. "He had a way about him that made people feel they were special and that he cared about you, and that really translated to kids. McVay's stories aren't legends. They're verifiable records of fact; affirmations of a life fully lived. They are the stories that make him a legend."1 Working with the kids has been the most rewarding thing," McVay said. "I get the feeling that you never wasted a minute you spent with a kid."2
Career Highlights
● Dam Operator: Pat left the Grand Coulee Dam in Washington for the Hungry Horse Dam where he was an operations supervisor. In 1952 he had the honor of flipping the switch on the first working generator.3 Pat retired from the Hungry Horse Dam in 1975. Retirement gave him more time to roam the mountains in pursuit of wild game and fish, and to travel.
● Hunter Education and Safety Program: When Pat moved to Hungry Horse, he was very interested in a local indoor shooting program. The kids were shooting but receiving little instruction, and because he had some training in the service, he was asked to take over the shooting program. His decision to lend a hand led to a lifetime of volunteering which launched his legacy of service to others.
+ At the age of six, while living on the homestead, his grandfather gave him a .22 caliber rifle, with little instruction other than to be careful.4 He shot his first deer at age eight. He shot a trophy elk in the Missouri Breaks at age 88.
+ By the 1950s, hunting had become very popular and there were increased hunting accidents, often involving firearms. At that time, Montana had no formal education or training programs for hunters. Pat learned of other states implementing training programs and wrote to the National Rifle Association for materials to implement his own gun safety program. He used the NRA materials to instruct his youths in a small-bore shooting group the program for his Junior Indoor Shooting Program on the safe and ethical use of firearms.
+ In 1957, the Montana Legislature passed a law creating the hunter education program. According to the FWP, Pat was the first official hunter's education instructor and the first to certify students in hunter's education. He volunteered his time and expertise teaching more than 1,600 persons, certifying both youth and adults in hunter's education, as well as training new instructors. With his love of the outdoors and his passion for safety, he taught generations of hunters the safe and ethical use of firearms. For 62 years he taught hunter education, retiring in 2014, at the age of 92.
• Not only was Pat Montana's first hunter education instructor, but he was also the first to hold an in-the-field course with live shooting rifles and shotguns.
● Montana 4-H Shooting Program: In the early 1960s, Pat also served as a 4-H leader in Flathead County, as a volunteer, where he taught youth about hard work and dedication to their 4-H projects. He served as beef barn superintendent for the Flathead County Fair, helping youths in showcasing their 4-H beef projects.
• In 1984, he developed and implemented a 4-H shooting program in Montana. He traveled across the state training adults as instructors in 54 of Montana's 56 counties and spent many years on the firing line instructing approximately 2,000 4-H youth on shooting fundamentals and safety.5
• McVay's teachings are rooted in a fundamental philosophy; the more kids learn about and handle firearms in supervised settings, the less likely it is they'll have accidents.
Achievements, Honors, and Recognitions (Among many others)
● Inducted into the Montana Outdoor Hall of Fame, 2016.
● First inductee into the 4-H Shooting Hall of Fame, 2017.6 This award is named the "Pat McVay Award."7
● Inducted into FWP's Montana Hunter Education Hall of Fame, 2007.
Resources
● Daily Inter Lake, Longtime Hunter Ed Teacher Turns 100 , March 13, 2020.
● Daily Inter Lake, Hollister "Pat" McVay - 100 , November 11, 2020.
● Flathead Beacon, The Legend of Sportsman Pat McVay, April 7, 2010.
● Flathead Beacon, Legacy Pat McVay, June 1, 2020.
● Helen Air, Pat McVay, Nov 23, 2016.
● Hungry Horse News, Pat McVay Noted Hunter and Educator Dies at 100, May 27, 2020.
● KRTV.com, Montana's 1st Certified Hunter Education Instructor Dies at 100, Legacy Lives On, May 29, 2020.
● Lives & Landscape, Montana State University Extension, Pat McVay, Fall 2020.
Notes
1. John Fraley, Information and Education Manager for Montana Fish, Wildlife and Parks, Region 1; retired.
2. Flathead Beacon, June 1, 2020.
3. Daily Inter Lake, November, 11, 2020.
4. Hungry Horse News, May 27, 2020.
5. Montana State University Extension, Fall, 2020.
6. Montana State University Extension, Hill County 4-H Happenings, September 2017.
7. For further reading about Pat McVay, John Fraley's two books ("Heroes of the Bob Marshall Wilderness" and "Rangers, Trappers and Trailblazers") both contain chapters on Pat's exploits into the Bob.