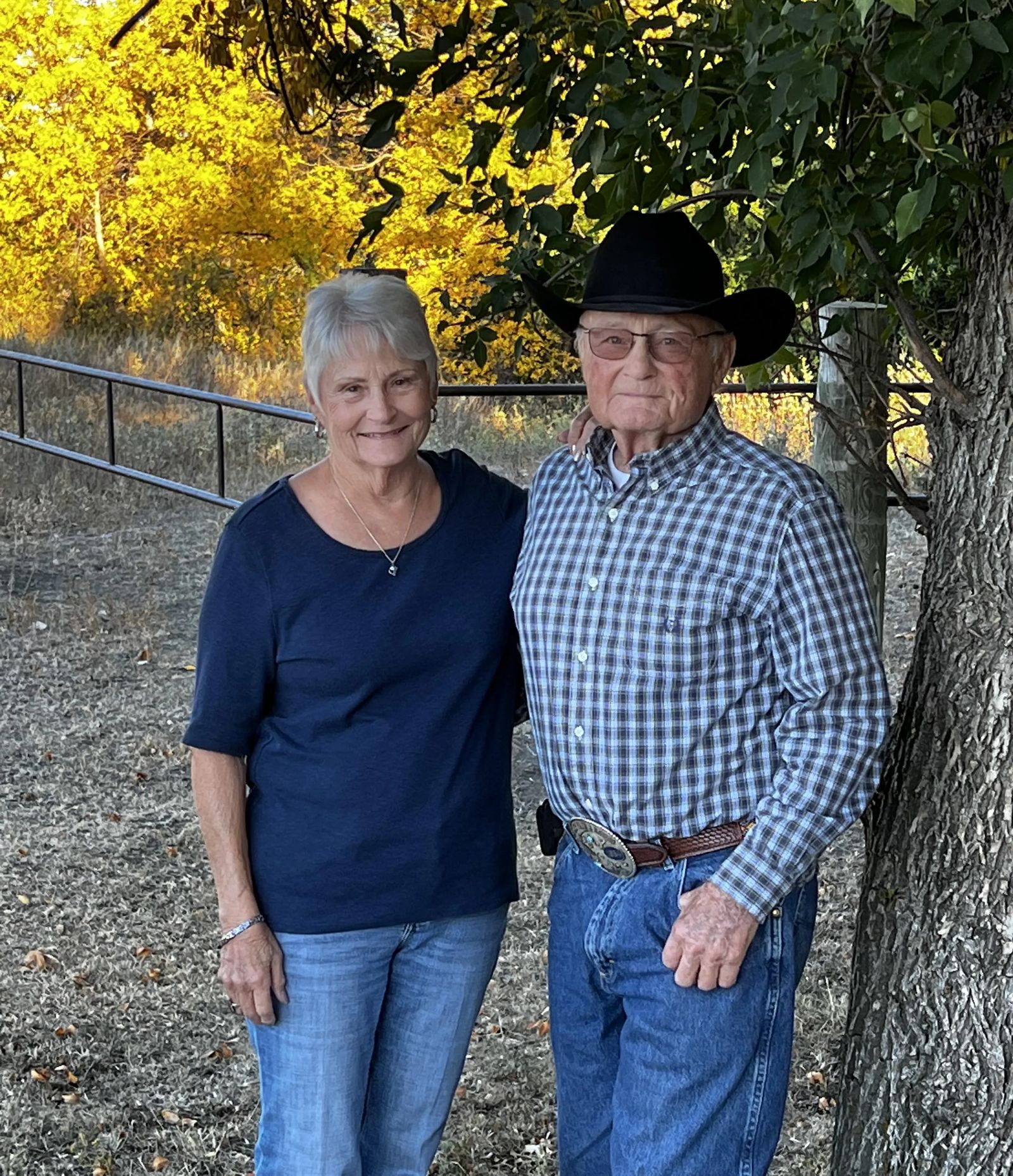 MONTANA COWBOY HALL OF FAME LIVING INDUCTION
JACK AND ANDREA BILLINGSLEY
DISTRICT 1 – YEAR 2023
Jack Billingsley was born November 25, 1943, in Glasgow, Montana, to parents Jim and Dorothy (Carlson) Billingsley. Jack became the third generation to live in the little white house on Antelope Creek. He attended Tampico Grade School, where he was taught by his mother, and graduated from Glasgow High School in 1961. Jack was an active participant in the Tampico 4-H Club, FFA, and the Montana High School Rodeo Association. He attended Northern Montana College in Havre, Montana, where he received an AG Business Degree and was also a member of their college rodeo team. After college, he worked as a brand inspector for the state of Montana, while ranching alongside his father, Jim.
Andrea "Andie" Burger was born June 24, 1949. At an early age she lived in Two Dot, Montana, and later moved with her family to Nashua, Montana. Her father, Fred, and mother, Leona Burger, raised Andie and her sisters Freda, and Jebbie, on a ranch just outside of Nashua. Andie has been involved in agriculture her entire life and enjoys living the Western way of life.
On October 3, 1969 Jack married the love of his life, Andie. They had two children; Scott, who later married Suzanne Schumacher and J., who married LeeAnne Labatte. Along with raising a family, Andie and Jack have had a busy life promoting the livestock industry. Both have been involved with the Valley County Stockgrowers and the Montana Stockgrowers Association. Jack served on the MSGA Brand and Theft committee for many years, and Andie served as the President of the Montana Cattlewomen's Association in 1984 -1985. She was also the first Montana Cattlewomen's President invited to sit on the MSGA board of directors.
After Jack's father passed away in 1976, Jack and Andie along with their boys began operating the ranch as a cow/calf and yearling operation. Jack was one of the first in this area to breed Black Angus cows to Charolais bulls. The Billingsley family is proud of their Charolais cross calves produced each year.
In 1980, Jack and Andie started Billingsley Ranch Outfitters. The business started by guiding a handful of mule deer hunters each fall and evolved into offering a variety of different hunts throughout the years. Business boomed when clients learned of the Milk River and the Missouri River Breaks and all they had to offer. Jack and Andie have booked hunters from all over the world. In sharing their love of the outdoors, they have gathered in some great friends along the way. Jack's sons, Scott and J, are both actively involved in Billingsley Ranch Outfitters and spend some of each Fall guiding hunters. Scott also helps to keep the ranch going as he is an outstanding mechanic.
As well as working day in and day out on the ranch with Jack, Andie established a small sheep herd in the early 1980s. Over the years she has expanded her herd and cherished her closed herd for over 40 years. Andie has always had a few milk cows on hand. During calving season, any twin calf would quickly be graphed on to one of her milk cows. Three of Andie's granddaughters are now continuing the milk cow tradition at the ranch. You can find them all in the calving barn together early in the morning or evening during calving season.
Jack competed in the sport of calf roping and was a member of the Rodeo Cowboys Association (RCA), which later became the Professional Rodeo Cowboys Association (PRCA). While taking care of the ranch, he managed to compete at many of the biggest and best rodeos across the United States and into Canada. Andie was always supporting him and willing to help drive those endless miles to the next rodeo. Jack is a current gold card member of the PRCA and continues to support rodeo while cheering on his son J, and J's three girls, Brooke, Bailey, and Blaire, on their rodeo trail as well.
Jack has always had an incredible eye for good horses. He has trained, bought and sold some great ones over the years. Baldy, Little Buck, and Whisper were three of Jack's well known calf horses in which he mounted many cowboys over the years. Jack was also lucky enough to have great friends who would mount him when he needed a competitive calf horse.
Over the years, the arena and corrals at the Billingsley Ranch have always been open to rodeo friends near and far. It doesn't matter if they need to rest, practice, tune horses, wait for the Canadian border to open, or just visit, they are always welcome. Jack has willingly helped numerous kids excel in the rodeo arena and always has a bit of advice for anyone there.
Western heritage runs deep in the Billingsley family. Beginning with running livestock on the open range in 1907, watching homesteaders come and go, experiencing the Taylor Grazing Act, and witnessing the gathering of wild horses. With fencing of allotments, livestock water development, rest-rotational grazing practices, and monitoring of riparian areas, their rangelands have not only nourished their livestock, but also enhanced the wildlife population.
Jack and Andie have shared their love of the ranch and the Western way of life along with the sport of rodeo with many. They feel very blessed to have lived in Eastern Montana where their family roots run deep and will continue to expand with the next generation on the ranch.