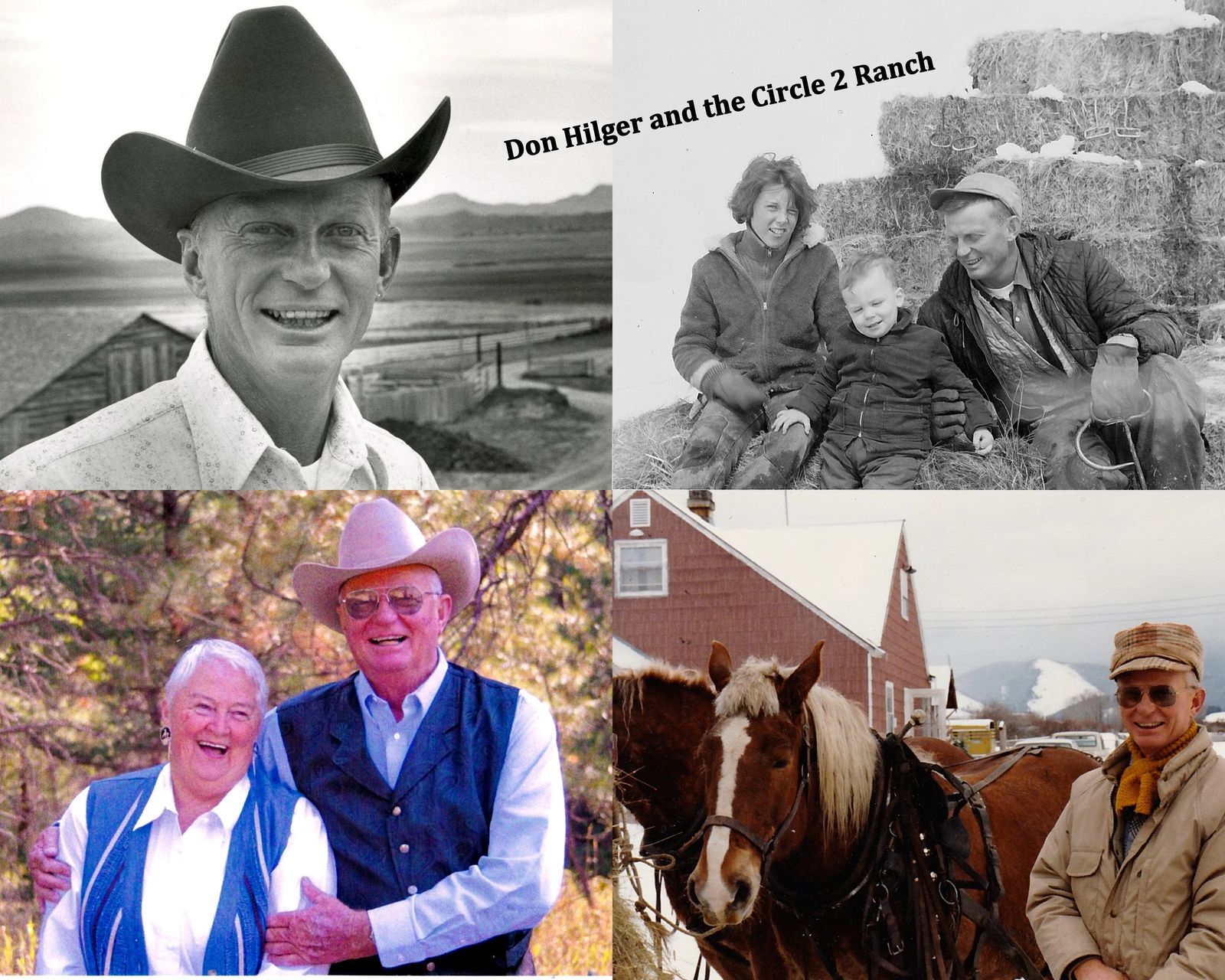 MONTANA COWBOY HALL OF FAME & WESTERN HERITAGE
Donald W. "Don" Hilger (1932-2016)
DISTRICT 8 – YEAR 2022
Donald W. Hilger was a husband, father, grandfather, great grandfather, friend, stockman, cowboy, businessman, and community leader. Friends would say "Don" could have been the Marlboro Man, as he was indeed the image of that tall and ruggedly handsome cowboy.
Don was born February 27, 1932, to Earl & Grace (Lamb) Hilger and grew up on a small farm along Ten Mile Creek in the Helena Valley with two older brothers, Lewis and Bob. He worked dozens of odd jobs as a youth, including a newspaper route that covered the entire valley. Don enjoyed hunting, fishing and raising farm animals for 4-H projects. His most laborious memory of the farm was picking potatoes by hand with a 50 pound size gunny sack strapped to his belt. Don was an outstanding athlete who ran track for Helena High School and played basketball for the 1950 state AA runner up Bengals; famously called "The Swish Kids."
Six months after graduation, he married his high school sweetheart, Sara Brown. It was no secret growing up that Don wanted to be a rancher. He never gave up on that dream. Don often announced that he was extremely lucky when he met Sara, a beautiful cowgirl who knew "a-thing-or-two" about cattle and horses. The couple borrowed money and committed to the purchase of the Circle 2 Ranch near Wolf Creek, Montana, located 50 miles north of Helena, along the Dearborn River. Don was 21. Framed by the Rocky Mountain Front, this land was homesteaded by Sara's grandfather, Thomas Gibson, in the 1880's. Don and Sara worked to expand the cattle operation with properties in southwest Montana allowing ranch opportunities to future generations.
Sara's parents, Helen and Don Brown, were involved with Little Britches and High School Rodeo. They participated in hosting the 4th Annual National High School Rodeo Association (NHSRA) finals at Augusta, Montana in 1952. Sara's uncle Edgar Brown became the NHSRA President in 1958, guiding the finals to Lewistown, Montana. Don would carry on Sara's family tradition of supporting the sport of rodeo. It was during this time that Don became known to many in rodeo simply as "Hilger". He served as a district, state and national director for the NHSRA for many years and ascended to serve as the National President in 1977. Hilger was instrumental in bringing the NHSRA finals to Helena in August of that same year. The venue was billed the "Biggest Rodeo in the World'' at the time. Over 10,000 fans from 29 states and two Canadian provinces traveled to Helena. Hilger recruited and mobilized a superb group of volunteers, sponsors, and rodeo friends to organize and run the event known as Helena '77. There were over 1150 contestants in 13 performances that ran for seven full days. Five thousand fans filled the stands on day one with Governor Thomas Judge presiding. Hilger was honored as "Man of the Year'' during the ceremonies and was brought into the rodeo arena in an old wheelbarrow to the delight of the audience. Thanks to Hilger's leadership and many others behind the scenes, the finals put Montana on the map and boosted the local economy.
Don was dedicated to a successful ranching life and spent 50 years riding for the Circle 2 brand. Just a nose ahead of the ranch, was family. He took huge pride in hauling Beth, Pam, Donnie, Tom and their horses to rodeos. Don volunteered in the arenas while the kids excelled and won their fair share of buckles. But it was more than winning - it was about spending quality time with family and friends. Don and Sara traveled the high school rodeo circuit in spite of a heavy load back at the ranch. Sacrifices had to be made. Ranch duties came before rodeo. Fortunately roping and riding were part of the work, keeping the kids' skills sharp. Don, being a Dad, proudly painted the family horse trailer when Beth became MHSR Queen in 1969. Another showing of his big-hearted personality.
Hilger was a pretty good hand in the arena himself. He and son Donnie team roped at many local Jackpots and PRCA Rodeo events during the 70's. Their most memorable win came at the Augusta Rodeo in 1973. The current PRCA world champion and future hall of fame Camarillo Brothers came in from California heavily favored to win the team roping, but the local father-son Hilger team upset the California duo and took home first place. The crowd went wild as they cheered for the local cowboys who could compete with the best of them. It was a good day as Don's daughter Pam was in the stands with her boyfriend. She nudged her future fiancé and suggested this was the best time to ask Dad for her hand in marriage. Hilger said yes and drove away from the rodeo grounds with a buckle and soon to be son-in-law.
Outside of his ranching duties, Don was a member of the Montana Stockgrowers, served as a Montana Livestock Department Brand Inspector in Lewis & Clark County, and was an advisory board member for the Production Credit Association. The Circle 2 kitchen often served as the gathering place for the Dearborn community. Don was a rural ambassador who taught many to appreciate the effort put into a ranching lifestyle. Brandings were well known for welcoming city folks who enjoyed the experience of working cattle and wrestling calves. Local ranch kids polished up their heel loop skills dragging calves to the branding fire. At day's end, Sara's chuck-wagon-style meal was the reward to everyone who came. Generosity was always on display and Don was known to share many tall tales to the amusement of guests.
Don donated ranch acreage and helped with construction of a new Dearborn School and Dearborn Chapel in the 1950's. He lent his heavy equipment and skilled operator talents whenever needed for projects and emergencies saving property from floods, forest fires, and grass fires. Don also assisted with digging graves at the Dearborn Cemetery.
Don and Sara made the perfect team in life and kept their marriage promise for 66 years. Grateful for every day he lived, Don passed away on March 12, 2016, leaving a legacy for telling larger than life stories, radiating a sense of humor, and sharing some down to earth cowboy philosophies.
References:
Hilger, Donnie, Personal interviews by phone, 8/18/21, 8/24/21
Hilger, Sara, Personal interview, 8/21/21
Brown, Tom, Personal interview, 8/19/21
Synness, Curt, Sports Writer, Independent Record, Research interview, 8/2/21
Sources and references:
Synness, Curt, Sports Writer, Helena Independent Record
June 23, 2004 (Hilger' Bright Idea)
Pace, Roy, Sports Editor, Helena Independent Record:
June 26, 1973 (Augusta rodeo local winners)
July 25, 1976 (Installed as NHSRA President)
August 14, 1977 (Hilger Completes Busy Year)
August 16, 1977 (Surprising turnout)
May 1980 (Don Hilger portrait, dance photos)
Moes, Garry, Associated Press Writer, Great Falls Tribune:
August 13, 1977 (World's Biggest Rodeo starts in Helena)
August 14, 1977 (Biggest Rodeo in the World)
Looney, Douglas S., writer for Whoops and Saddles and Sports Illustrated:
September Edition, 1977 (Whoops and Saddles in Helena)