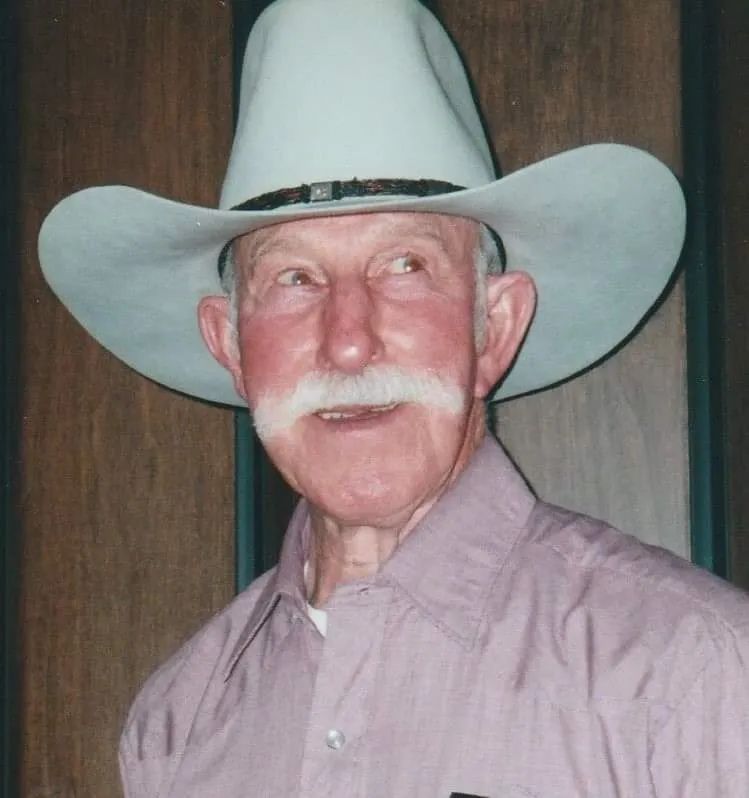 MONTANA COWBOY HALL OF FAME & WESTERN HERITAGE
Everal Eugene "Sonny" Butterfield (1929-2019)
DISTRICT 6 – YEAR 2022
Everal Eugene Butterfield was birthed by his grandmother at the family home on December 21, 1929, on their farm near Hunter, Kansas to parents Fred T. and Edna Mae (Francis) Butterfield. He was the oldest of four children and was nicknamed "Sonny" at the age of six by an old bachelor. Sonny remembered hanging wet blankets on the windows to keep the dirt out during the depression era. The dust literally drifted into sand banks. His father earned fifty cents a day stacking thistle which was fed to their livestock. Sonny, along with his grandfather and uncles sold eggs and creme in town on Saturdays and on occasion was awarded a quarter. He lived on the family farm until he was twelve. His daily chores were milking the cows and feeding the hogs. The Butterfield's never went hungry as they raised everything they ate. The depression took the farm and they moved into Hunter. In the dirty thirties you couldn't buy a job. Sonny attended schools in and around the area until the age of seventeen, at which time he decided to leave home and pursue his dream of becoming a cowboy. He hopped on a bus and traveled to Arizona where he was hired on with a cattle ranch earning $90 a month. Leaving Arizona, he made his way to New Mexico and another ranch job earning $75 a month. Not liking the south, he headed north. At the age of nineteen he found himself Sheridan, Wyoming harvesting alfalfa seed making roughly $100 a month. On the side he put up hay and broke horses for a widowed woman.
In 1949, Sonny moved on and landed near Wyola, Montana. He soon found work with JP Boyd in the Big Horn Mountains. The ranch ran sixty-five head of saddle horses and three hundred mother cows. Sonny and the wranglers trailed the cow-calf pairs to the Big Horns in the late spring and moved them back in the fall. The yearlings, were trailed to the railhead in Aberdeen, Wyoming and shipped by boxcar for sale to Omaha, Nebraska. Sonny would take four-pack horses, load them with two hundred pounds of cake and head out to the open range. In the fall he and the wrangler's broke colts to ride. Sonny's home base was thirty miles from the ranch, trips to headquarters were made on horseback. Contact with the outside world was a squawky old radio. A secondhand store in Sheridan served as Sonny's library. He could pay twenty cents for a used pocketbook, return the book for five cents and buy a different book. His sideline work was taking doctors and lawyers into the Big Horns to hunt and fish. Sonny was hired as a guide and horse wrangler and occasionally had to wrangle up a client or two. A part of the cowboy way of life usually left out of the big screen movies is the reality of the wages. He was earning $100 a month at the Boyd ranch and after four years of dedicated work, drew $175.
While working at the JP Boyd Cow Camp near Wyola, he met his future wife Josephine Stockhouse who was working as a cook at the Padlock Ranch in Sheridan, Wyoming. They were married on July 28, 1952, in Billings, Montana.
Sonny was drafted into the Unites States Army in 1954, and stationed in Fort Eustis, Virginia. He was honorably discharged in January of 1956, and headed back west to Josephine and his passion of living the cowboy way of life. He and Josephine soon found work on the Jim Brown Ranch near Lodge Grass where Sonny was hired on at $200 a month. In late April, the young couple was located to the Chandler Ranch east of Roundup, Montana also owned by Jim. In 1959, Sonny and Josephine moved back to Kansas to the Harper Ranch cow-calf operation, south of Sitka where he would earn $50 more. During that time, he was entering competitive rodeo when he could, riding saddle broncs. Entry fees were most often around $20. When he won the bronc riding in Wichita, Kansas he received a championship buckle, but was most humbled by his take-home winnings of $200.
He quit rodeoing in 1962, after the birth of his first daughter, Tina – he was 32.
Sonny and his family returned to the Roundup area in November of 1963, and went to work for the Johnson-Ekern, Snowy Mountain Ranch making $250 a month as a ranch hand and breaking colts.
His second daughter, Teresa, was born in 1964.
In 1965 Sonny hired on as foreman of the Pronghorn Ranch, south of the Snowy Mountain, for Ray and Bill McNeill.
Daughter Twyla, was born in 1966 and daughter Justine, in 1967.
The first summer on the Pronghorn, Sonny looked after 3500 head of yearlings and broke horses. The next spring, he calved out over a one thousand head of heifers and attended to 3900 mother cows. While on the Pronghorn, he raised some of his own King bred colts. When ownership of the Pronghorn transferred, Sonny was directed by the new owner to supervise the surveying of the ranch property and the fencing crew hired to rebuild the perimeter fence around the ranch. Many cowhands passed through the ranch in those days, several of whom became life-long friends.
In 1997, he retired after working 32 years at the Pronghorn and moved into Roundup. He'd come a long ways since the days of earning $250 a month. Sonny became a member of the Morning Coffee Crew to catch up on the news and a part time brand inspector to stay in touch with the ranching community. Sonny, who was a self-taught gun smith owned and operated the Custom Rifle Shop while on the ranch and re-opened its doors when he moved to town. The gun shop became a local hang out in the afternoons and on Sunday, fondly becoming known as Sonny's Church.
Sonny loved his girls more than anything else in the world, well, besides his Copenhagen, as he had chewed a pickup load of it in his lifetime. Sonny, passed away on March 9, 2019. He was a well-known icon in the Roundup area and will be fondly remembered as "one hell of a cowboy."