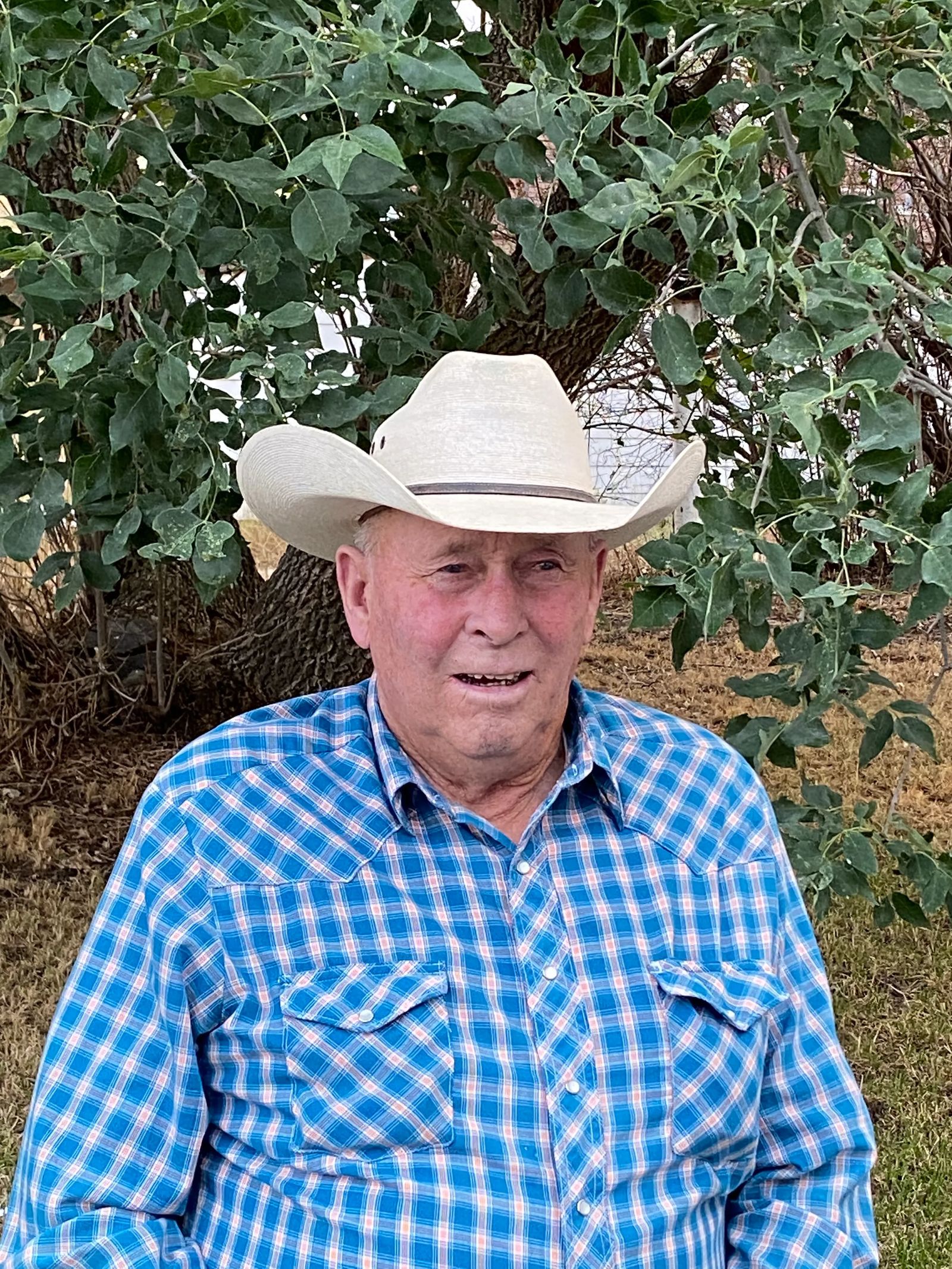 MONTANA COWBOY HALL OF FAME & WESTERN HERITAGE
John W. "Jack" Young
DISTRICT 4 – YEAR 2022
John W. Young is a true Montana cowboy who embodies grit and a deep passion for rodeo and ranching. "Jack" was born March 10, 1943, to William Winfield "Bill" and Una (Barber) Young in Havre, Montana. His family lived in the Bears Paw Mountains and raised Hereford cattle along Clear Creek south of Chinook. Jack and his five siblings worked right alongside their parents. He remembers bitter cold winter mornings feeding by team, dragging calves to the fire at spring brandings, long hot summer days haying, and crisp fall mornings shipping cattle. Jack and his brothers enjoyed practicing their "bronc skills" by riding the milk cows and calves around the corral. As they grew older they would saddle up and ride the mountain behind their house to gather wild horses which they used for bronc riding practice.
Jack and his siblings attended the one-room Ada School which was miles from the home place until his father and a local rancher headed up community support to raise funds to construct the future Bear Paw School. Jack was one of the first students to attend the school that opened in 1951, eliminating the endless miles to and from the Ada School. Jack graduated from Chinook High School in 1960.
Jack won the Montana High School Rodeo District 1 All Around Cowboy award his senior year. He went on to place at the Montana High School Finals in the saddle bronc, earning himself a spot to compete at the National High School Finals in Hot Springs, South Dakota, placing fourth in both the bull riding and the saddle bronc. In his heyday, one of Jack's favorite rodeos was the historic Warrick Rodeo during the Fourth of July. He also frequently competed in the wild horse races at many different rodeos.
After high school, Jack married Helen Labuda in 1963, in Big Sandy, Montana. They bought the Mundt homestead located just east of the homeplace. Over the next 44 years, the Young's worked cattle and raised a family. They had three sons: William W. "Bill" Young, John Nicolas "Nick" Young, and Gordon Michael Young. Jack and Helen started out with 300 cow-calf Hereford pairs and later switched to Black Angus cattle which he continues to run today. Jack and his family used horses on a daily basis as they were a vital part of the ranch's operation.
Jack stopped traveling the rodeo circuit after twenty years. He continued to be involved in passing on rodeos tradition, dedicating his time and resources to run the annual Blaine County Kids Rodeo every summer during the county fair. For thirteen years, Jack and Helen enjoyed giving back to their community. To this day, Jack can be found sitting in the stands at local rodeos showing his enthusiasm for the sport. He isn't afraid to throw some money down at the Calcutta in hopes that his favorite riders will win big.
Jack has been able to influence many young cowboys over the years, including his nephew Kevin Keller, a Montana Pro Rodeo Circuit contestant. When asked about Jack, Kevin talks with high regard, "Jack Young defines the word "cowboy" in every shape and form. He has lived the lifestyle to the fullest. One of his greatest attributes is his ability to read cattle. He could sort cattle quietly and efficiently whether he was riding a green broke colt, a fifty dollar old nag, or a fifty thousand dollar cutting horse because he knew how the cattle would respond. I've watched him sort cattle during branding and shipping with ease, never getting the cattle excited and always getting them to work for him. There was nothing more impressive than sitting horseback with Jack, the smell of him smoking a Winston in the air, overlooking a field of cattle and listening to him explain how we were going to ride the field and how the cattle were going to move. Uncle Jack isn't flashy, but his work ethic and passion for the true spirit of the cowboy way is what defines him."
Jack was actively involved with the North Central Montana Stockgrowers Association (NCMSGA) for eight years serving as a director, vice president, and president. Jack has continued to support the agricultural community through NCMSGA for the past fifty years by attending annual meetings and events put on by the association.
Jack and Helen divorced in 2007. He moved to the Cooper place; a small piece of land inherited from his father located southwest of the Mundt place. In order to have enough grass to run his cattle, Jack leased summer pasture on the Fort Belknap Reservation. At this time, Jack could have slowed down and retired, but in true cowboy spirit he took on an even bigger challenge. In the spring of 2013, he leased the Anchor Ranch in the Missouri River Breaks on the southern edge of the Bears Paw Mountains, about seventy miles south of Chinook.
Jack, Merla Hamilton and two of his three grandsons now run over 800 cow-calf pairs in one of the roughest expanses of Blaine County just north of the Missouri River. Over the years, Jack has ridden across 90,000 acres moving cattle, fixing broken wires, and checking reservoirs for water. He is proud to have his son Gordon and his three grandsons, Merle, Kevin and Casey, carry on the ranching tradition. Jack's son Bill passed away in February 2021 and Nick lives and works in Nashville, Tennessee. Eyeing that great-granddaughter of his, Jack has high hopes that a sixth generation will live and work in the Bears Paw Mountains.
Jack now feeds cattle with the pickup, gathers livestock with his trusty steed, also known as his John Deere Gator, and gives roping advice to the up and coming ropers in the branding corral. There is no slowing Jack down as he continues to cowboy each and every day at 78 years young.
Works Cited
Young, Jack. Interview. By Devyn Young. 9 August 2021.
Young, Gordon. Interview. By Devyn Young. 13 August 2021.
Keller, Kevin. Interview. By Devyn Young. 17 October 2021.