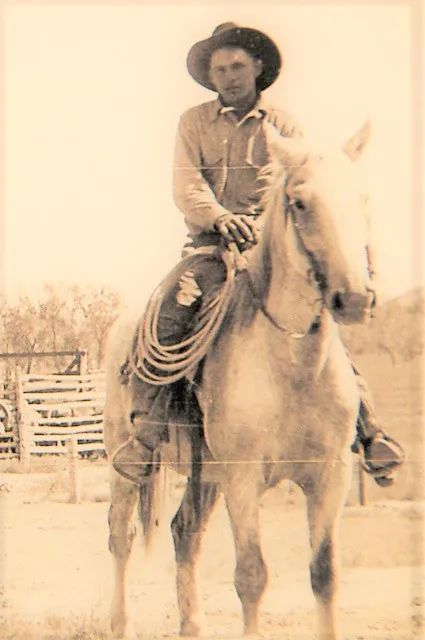 MONTANA COWBOY HALL OF FAME & WESTERN HERITAGE
John W. "Johnny" Moore
DISTRICT 3 – YEAR 2022
John W. 'Johnny' Moore was born in Allen County, Kentucky, on December 26, 1909, to Thomas and Mary Moore. On January 8, 1916, he arrived with his parents and three brothers in Miles City. The temperature was forty below zero when the family stepped off the train. Thomas ran The Long Barn, a large livery stable on Seventh Street that primarily serviced the freight teams that traveled the old Jordan Freight Road. His father was known locally as a horse trader, a trait that would carry on through Johnny's life. The Moore's moved finally into a homestead on North Sunday Creek. The house was not designed for a family, and the first winter, the oldest boys slept outside under cowhides and buffalo hides. On frigid nights, their father shoveled snow on top of the hides for insulation.
After finishing the fifth grade, Johnny left school to work for Smokey Nichols as a horse wrangler. Nichols and his sons, Bub and Dutch, were well-known cowboys who ran a rough crew. In one photo of this outfit, six mounted cowboys and one little boy posed for the camera. The small boy was Johnny Moore.
After Smokey's Nichol's Rafter T Ranch folded due to drought and the horse market collapse, Johnny worked various jobs until joining the CBC (Chappel Brothers Cannery) operation about 1928. The CBCs became a famous horse operation that ran up to 63,000 horses, in Eastern Montana, Wyoming, and South Dakota. Johnny worked for the Sunday Creek division of the CBC, where his primary wagon boss was Sid Vollin. The CBC roundups were wild affairs, and their cowboys were the best of the best. Moore's long-time friend, Bob Pauley, believed Johnny Moore was maybe one of two cowboys who rode every year of the CBC's existence. Johnny's adventures riding for the CBCs included swimming the Yellowstone with a day herd of nine hundred horses, riding sixty miles in the dark to turn a stampede, waking one morning to find a rattlesnake curled on his chest, and often riding one hundred miles a day gathering wild horses. Bill Mathers, a long-time neighbor to the Moore's, once asked Johnny what the CBC cowboys ate when they were far from the chuckwagon. Johnny said it wasn't a problem because two cowboys would rope a range stallion, castrate it, roast the testicles over a fire, and brew up "cowboy coffee" in the little pot they carried rolled up in a coat behind their saddles.
Bobby Kramer, the wife of Johnny's friend, Bud Kramer, and a member of the National Cowgirl Hall of Fame, remarked she couldn't remember when she first met Johnny Moore because it seemed like "he was always there." Louis Niedge, a past curator of the Range Riders Museum, said Johnny was eleven years old when he first met him gathering horses on a Lockie Ranch roundup crew. Johnny stuttered when he was excited, and older men teased him some, but they also took him under their wings and mentored the boy. Young Johnny Moore had dreamed of becoming a professional boxer and trained at the YMCA in Miles City. "Johnny would run up Yellowstone Hill, down Sheffield Road to the Fort Keogh Bridge, then back to the YMCA and work-out on the heavy bag," Bob Pauley once noted. Bob's wife, Laverne, said Johnny once told her he would ride from his folks' home on Sunday Creek to Cohagen, sixty miles away, in cold weather to attend a dance. Laverne said she was surprised that Johnny liked dancing that much, and Johnny told her he didn't like to dance; he liked to fight. Bare-knuckle boxing, at that time, was considered a sport.
When the Chappel Brothers operation left Eastern Montana, thousands of loose horses remained. Johnny would jump a saddle horse into the back of a pickup truck, unload at Cohagen at daybreak, and gather loose horses and corral them on Sunday Creek by dark. Along with Vollin and the Lockie Brothers, he sold hundreds of range horses to rodeo companies. Moore developed a strong bond with rodeo producer Everett Colborn and several horses Moore sold Colborn bucked at the Madison Square Garden Rodeo in New York City. These horses included Little Tyhee, Little Indian, Wasp, and Singing Canary. Well-known rodeo stock contractor Bob Barnes credited Moore with helping him get a start in the rodeo business. "I met Johnny in 1948," Barnes said. "Over the years he bought me a lot of good horses including Lemon Drop, Cherokee Charlie, and Dark Journey. He was one of the best bronc buyers there ever was. Johnny bought me a mare at the Bucking Horse Sale for $90. That mare raised Crystal Springs, the 1977 Bucking Horse of the Year."
Dan, Johnny's youngest brother, said Johnny always enjoyed seeing his horses buck off world champions, especially if it was one of the famous Linderman brothers. Johnny was an excellent trapper who could catch coyotes that evaded others. For years, he rode a two-day trapline during the winter. He was also a teamster. Using horses and a Fresno, he helped build the highway up Yellowstone Hill and helped dig the Kinsey Irrigation Project homes' basements.
In the 1940s, Moore began went into the ranch business with his parents and brothers. There were seven Moore brothers: Tommy, Johnny, Tol (Simmons), Charlie, Bob, Bill, and Dan. They eventually formed Moore's Sunday Creek Ranch.
In 1937, Johnny had married Pearl Herem, and they moved into the Krutt place on Sunday Creek, a mile down the creek from Johnny's parents. Mr. Krutt was a part- time musician and owned a dance hall there named The Waltz Inn. Moore later sold this building, and it is now the Brusett Community Hall.
Johnny worked with his parents and brothers, developed his own ranch, and was known for breeding good horses. Along with Benny Binion and Bud Kramer, he was one of the early breeders of registered Quarter Horses on the Yellowstone's North Side. When Shetland ponies became popular, he traded Quarter Horse foals for Shetlands with the Miner Brothers of Moose Jaw, Saskatchewan. Moore also raised Pony of the Americas and Appaloosas but always had a good bunch of Quarter Horses. Many of those horses went to Canada, where they helped start the fledgling cutting horse industry there. Johnny and Pearl had six children: Mary Ellen, Jimmy (who passed away from pneumonia when he was four), Carol, Patricia, John L., and Debra.
Johnny Moore passed away from a sudden heart attack on November 11, 1978, after digging a deep hole and setting a large gate post that day. The following day, one of the worst winters in recent Montana history started. Moore was an iconic North Side cowboy who rode almost every inch of ground between the Redwater and the Musselshell and the Yellowstone and the Missouri Rivers.