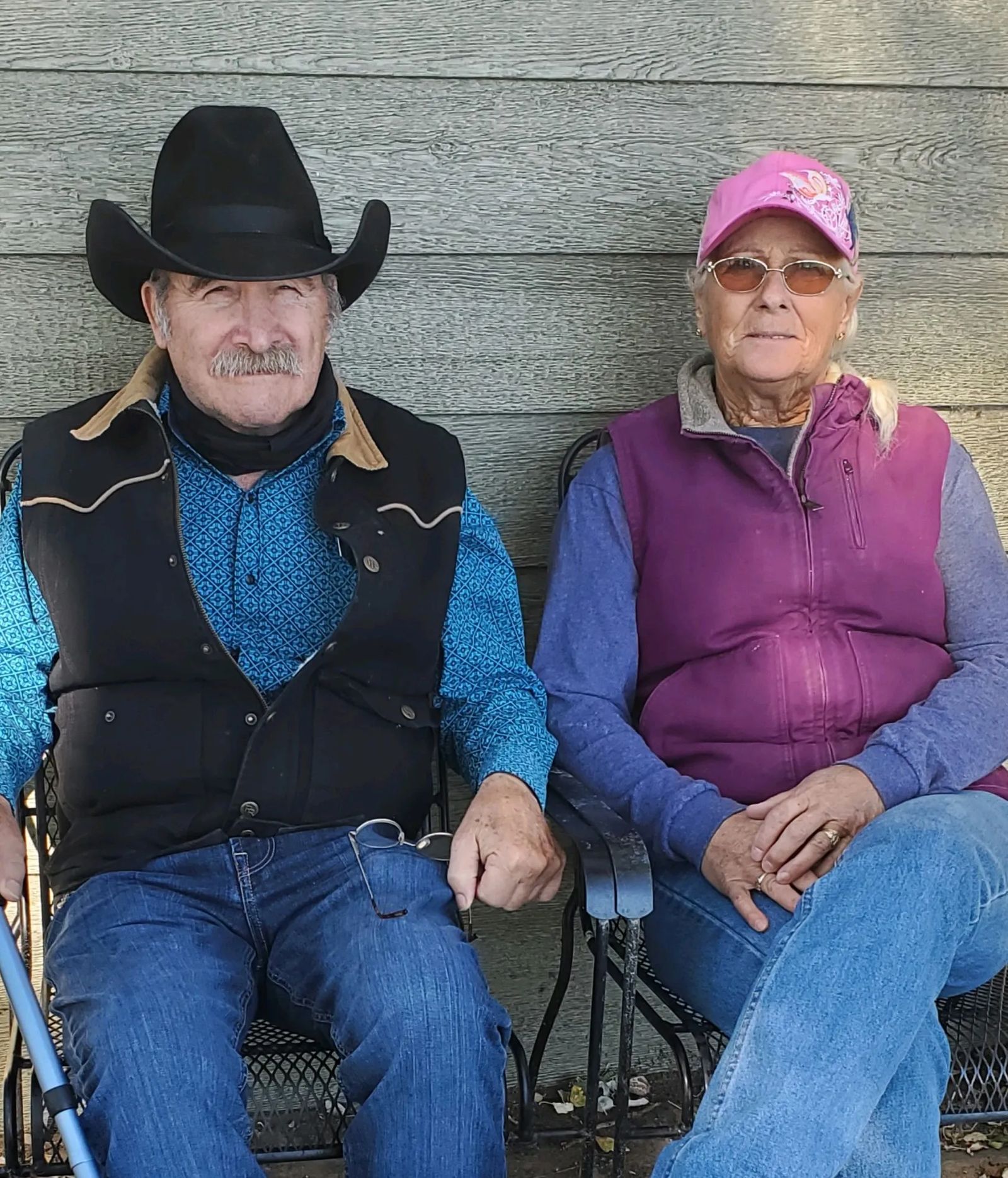 MONTANA COWBOY HALL OF FAME & WESTERN HERITAGE
Jack Rodney & Deborah Gaye (Walton) "Debbie" Hinnaland
DISTRICT 2 – YEAR 2022
Two notable bucking horse dynasties became one when Jack Hinnaland and Debbie Walton married.
Jack Rodney was born a twin, the fifth of seven children, to Daniel S. and Gerturde M. (Kerr) Hinnaland October 8, 1949, in Jordan, Montana. He was raised on a third generation ranch northwest of Brockway, Montana and has lived his entire life on the home place. Jack's father "Dan" contracted rough stock for northeast Montana rodeos - Glasgow to Cohagen.
Jack's maternal grandparents came to Montana from Scotland and his paternal grandfather came from Finland, making his way to Montana by working on the railroad.
Jack's elementary education was completed at the Coal Creek School where his mode of transportation was riding a Shetland pony the two miles to school.
When Jack was four years old his brothers roped a wild pony, threw Jack up on him bareback, and headed for home. He made it a mile before falling off and breaking an arm – one of many broken parts over the past 70 years. That little pony may have won the battle that day but lost the war as he became Jack's constant companion until he out grew him.
Deborah Gaye Walton was born on a mid-January day, the youngest of six children. You never ask a lady her age, but she is younger than Jack. Debbie's parents, John E. and Ethel Gwendolyn "Gwennie" Walton were long time Eastern Montana ranchers.
Although the family lived in different locations from summer to winter, they rarely crossed the boundaries of Valley and McCone Counties.
From Debbie's perspective, growing up a ranch kid with older siblings and coming from a family that raised bucking stock and horses that were in constant need of breaking, you had to be tough. At 14, Debbie had a big grey horse named Grey Tail that thought it was great fun to take the bit in his mouth. On one particular occasion, Grey Tail, at a great rate of speed, was approaching the banks of the Missouri River. Not wanting to go for a swim, Debbie steered him head on into a tree. It definitely stopped him and at the same time knocked them both stone cold. She didn't remember how long they lay there but it was close to dark when they both came to. What Debbie does remember, she says with a good natured laugh, is that was the last time Grey Tail ran off with her.
Jack and Debbie were both raised in families with long histories of leasing and selling bucking horses as well as putting on rodeos themselves. The bloodlines of the Hinnaland/Walton bucking horses run strong in many of the horses being bucked across the U.S. today. Their stock came from established and well known bloodlines. Some of the best ever bred came from Feek Tooke, Max Burch, Marvin Brookman, and Larry Wertz. Notable Hinnaland horses were Cloud Nine, Empty Saddles and Spider who bucked at the Wrangler National Finals four times.
In 2010, the Montana Fish and Game made the decision that feral horses on the CMR (Charles M. Russell Wildlife Area) were overgrazing wildlife habitat. Because Jack and Debbie were well-known as knowledgeable wild horse people they were asked to coordinate the gather. Together with friends, they gathered eighteen head of feral horses from the CMR.
Jack grew up following the family tradition of rodeo life. He started at the Little Britches level and went on to ride saddle broncs in the Montana Rodeo Association and the Northern Rodeo Association while also working as a pickup man. With a drawer full of buckles, his favorite to wear is the Wild Horse Race team champions buckle won at the Wolf Point Wild Horse Stampede many years ago.
Jack's father, Dan, contracted with the Brockway Dairy Days rodeo managing the local high school and open rodeos. Jack was placed in saddle bronc riding and his Wild Horse Race team placed in the top five, almost every year at the annual event.
This was the beginning of a long career as a pickup man on two of his favorite horses, Bump and Brownie. In addition to working numerous other rodeos for various stock contractors, Jack picked up primarily for Bud Geer for many years. Jack has a million memorable stories, including those as a teacher, coach, and mentor to a multitude of young men learning to be bareback and saddle bronc riders. Jack always took the time to help them out. One hopeful rough stock rider was having a great deal of trouble staying in the middle of his bareback horse. Jack was riding along beside him, reaching over and setting him back in the middle, from one side and then the other. Chuckling, he finally said to him, "Done yet kid?"
Jack and Debbie continue to raise cattle, bucking horses and some of the finest saddle horses around. They do most of the chores the traditional way, specifically using a team to feed livestock. Blondie and Dagwood are their main feed team with Rough and Ready and Bill and Betty their wagon train teams. Hinnalands have hosted several wagon trains and thoroughly enjoy participating with others. But you can set both your clock and calendar by the fact that they will be attending their good friend Morris Ware's wagon train in Ingomar, Montana every fall.
The Hinnaland's have one of the finest wagon and buggy collection. Their pride and joy is the enclosed buggy with doors and windows and roll-up curtains bought at auction. One of the most functionable features is opening the windshield to slide the lines inside on a rainy day.
The future can be unpredictable and the legacy of the Hinnaland line of bucking horses may end here, and one might say, marks the end of an era. But what a ride it has been!
When asked what is the one thing they are most proud of, Debbie spoke up and said, "being a wife, mother and grandmother." With a twinkle in his eye Jack just smiled.