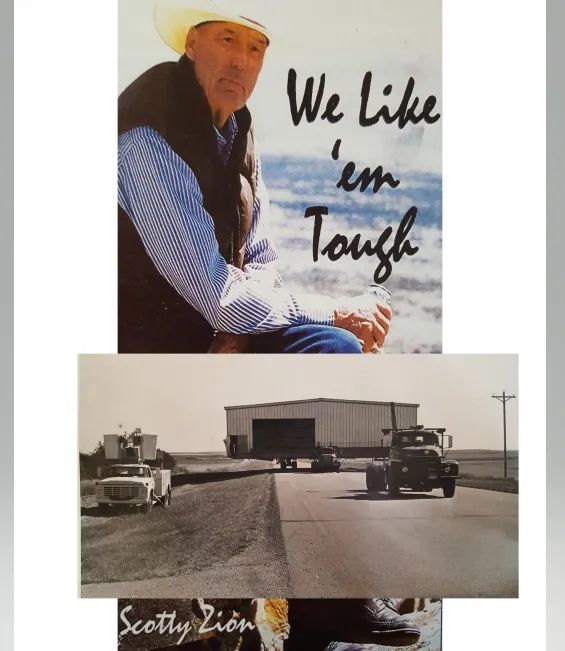 MONTANA COWBOY HALL OF FAME & WESTERN HERITAGE INDUCTEE
Forrest "Scotty" Zion (1916-2010)
DISTRICT 5 – YEAR 2020
Forrest "Scotty" Zion, was born December 14, 1916 to Frank and Nancy (Bucy) Zion on their place north of Carter, Montana. His father, an innovative homesteader and accomplished builder, imparted his skills to his four children. Scotty, passionate about construction, worked for the Monarch Lumber Company after graduating high school, later remodeling a spliced together building in Fairfield, at 50 cents an hour.
In the 1940s, Scotty started a career based in Great Falls establishing Montana's largest housemoving business. He had moved a few small structures with his father and jumped at the chance to buy and relocate a house to a Great Falls lot. He traded his 1928 Model A Ford pickup for a White Motors boom truck and bolted together 40 foot long stringers from a boxcar to function as moving timbers. He used borrowed railroad jacks from the Great Northern Roundhouse to load the house and place it on a foundation at the new location. As time went on, he taught himself the engineering skills required to figure and plan a job, becoming very adept over time.
Over 50 plus years, Scotty constructed or moved several homes, Standard Oil service stations, commercial and multi storied buildings, schools, and bridges. His moving business offered alternative housing options, preserved historic properties, and recycled buildings by reuse. Along the way, Scotty, who wore a cowboy hat true to his agricultural roots, forged friendships with just about everyone he met.
Scotty's moving career altered townsites like Maiden, Meaderville and Nevada City, Montana. In the 1980s, a real estate broker offered 23 three-bedroom ranch style houses and attached garages from Maiden Radar Base near Lewistown in a bankruptcy sale. Scotty purchased the buildings for $4500 apiece, selling and moving them for $23,000 each.
He marketed half of the buildings within one week locally and sold the others to Zortman, Malta, Cascade, and Sunburst, Montana. He relocated a portion of Meaderville before the Berkley Pit swallowed the town and helped create Nevada City for its founder, Charlie Bovey, by bringing in most of the buildings and all of the railroad cars and engines. Some of those buildings included the Post Office of Iron Rod and the White Sulphur Springs Carriage Barn used for hangings. Scotty's wife, Claire, flagged the hanging-barn move, stopping at the local saloon in Silver Star, Montana for a beer break with the crew and building hot on her heels. That building was featured in the 1976 movie "Missouri Breaks" as were five log cabins Scotty transferred for the film director, Arthur Penn, to Pryor Creek south of Billings, Montana. To Scotty's horror, one of the cabins caught on a utility guide wire hanging lower than the required height of 18 feet, tearing down lines and shingles the length of the roof. He offered to repair the roof before shooting, but Penn capitalized on the opportunity filming actor Jack Nicholson patching the shingles in an opening scene.
Scotty's career was prolific. He repositioned the grandstands at the Great Falls fairgrounds where he additionally moved the restored Zion School from Carter, Montana. He relocated several grain elevators, A.B. Cook's mansion, Anaconda Copper Mining houses, the Glocamora, several bridges, the 50 by 150 feet, two-story Hibernation House at Big Mountain, advised in the stabilization of the Many Glacier Hotel, moved and established the Wagon Wheel West Motel at Augusta, raised and realigned the Gardner Gorge Bridge, relocated the Charles M. Russell house, conducted preservation work on the C.M. Russell studio and Kohrs Ranch, halved buildings for transport including the University of Montana President's house, forded the Missouri River with the Fort Benton "Shep" statue's massive granite base and transferred the Centennial Bell from Power to Helena for the 1889-1989 Centennial. These represent just a thumbnail of his accomplishments.
Scotty led Montana housemovers in a 30 year battle opposing the utility companies who fought to charge fees whenever they raised lines for a building to pass underneath. It began at the end of WWII when returning military created a housing demand for vacant mining and homestead houses to be relocated and reused. Utility companies illegally charged housemovers for raising the numerous utility lines that crisscrossed Montana at that time, but a few of the housemovers banded together with Scotty refusing to pay. The utility companies responded by taking turns introducing wire raising bills through the state Legislature. Scotty and the housemovers appeared at the committee meetings in their working clothes; representatives of hard laboring Montanans making it difficult for the legislators to vote against them. The proposed wire raising bills were continually defeated in committee, the floor of the Senate and House, and once by the veto of Governor Aronson, a retired housemover. His role as the lead voice against wire raising charges allowed housemovers to keep their costs down, affordably providing a service to the people of Montana and saving reusable structures statewide.
Scotty moved buildings until he retired in his 80s, a time of self-discovery in finding his muse as a writer. As a child, Scotty lost most of his hearing from rheumatic fever, a condition that went un-diagnosed. Failing Senior English, the teacher assigned him the task of writing a story for his final grade. He angrily wrote of his learning problems explaining his hearing loss to his teacher which in turn fostered a love for writing stories. His books, Been Any Bigger I'd Have Said So, Piece of Cake, Scotty, Piece of Cake, and We Like 'Em Tough, named after his 1950s advertising slogan, are poignant slices of his past, steeped in the Homestead Era, the Depression, housemoving days, and life after. He wrote in the colorful language of the old timers, boldly and without apology, bearing his heart and soul to the reader in a manner stripped of self-propriety. His fourth and last book Sledge Hammer Kid, was finished just months before he passed on May 24, 2010. In his typically humorous manner, Scotty asked for one thing to be included in his obituary. That he was… "All Balls".