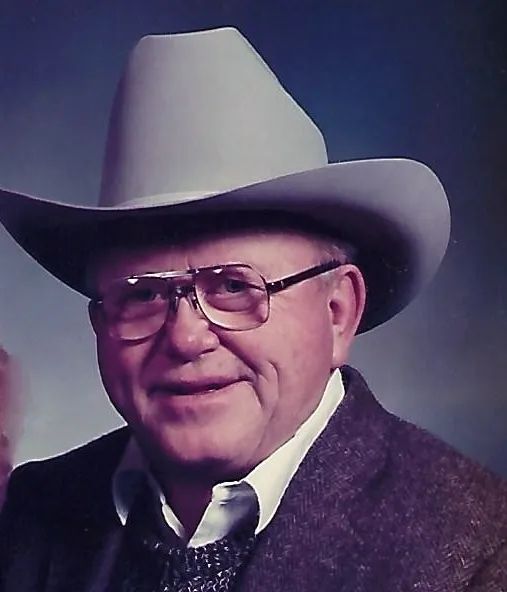 MONTANA COWBOY HALL OF FAME & WESTERN HERITAGE INDUCTEE
Duane Daniel Werk (1935-2004)
DISTRICT 4 – YEAR 2020
Duane Daniel "Wieners" Werk was born July 12, 1935 in Malta, Montana to Charles and Calista (Barrett) Werk. His father was foreman for Miller Brothers E Bar Y Ranch and his mother cooked for the hired hands. His father taught him about ranching and livestock. Duane's first wages were earned at age eight, driving a team of horses and pulling a buck rake on the E Bar Y. At a young age Duane developed a good eye for cattle confirmation and could eventually look at a pen of calves and tell you within five pounds what they would average in the fall. His mother taught him responsibility, thrift and insisted he take four years of piano lessons, which he hated at the time. In later years he would reignite his musical talents, occasionally playing and singing country music in local bands.
His parents bought a ranch on Clear Creek, west of Chinook when he was fourteen. While attending Chinook High School, he joined Future Farmers of America. His after-school chores left him unable to compete in sports even though he was known to have an accurate throw and unmatched speed. In later years that natural ability would come in handy when throwing a loop or dodging a bull in the arena.
Duane was first and foremost a cowboy. His rodeo career began at age thirteen when he won the cow riding at the rodeo in Warrick, Montana. His practical mother took his $50 winnings and used it to purchase a life insurance policy for him. He transitioned into riding bulls, occasionally horses and even a bull fighter when called upon. His arena experience led to judging local and college rodeos, where he was known to be honest, direct and fair.
In 1955, as the youngest brand inspector hired by the Montana Board of Livestock, he was sent to St. Paul, Minnesota for the fall season to inspect incoming cattle being shipped by rail from Montana to Minnesota.
Duane worked as a dude wrangler at the Roosevelt Lodge in Yellowstone Park guiding trail rides for tourists and riding in nightly rodeos at the lodge during the summer of 1957. On September 5, he enlisted in the United States Army and was sent to Fort Leonard Wood, Missouri to be deployed to Korea. When inoculations were given, he had an allergic reaction, was hospitalized and then given a medical discharge on December 31, 1957.
In the spring of 1959, while working construction in Shelby, Montana he met the love of his life, and future wife, Peggy Wilson. They were married that same year and had four children, Debbie, Allan, Chuck and Sandy. He was proud of his children and their accomplishments, but those grandchildren were the icing on his cake!
The Werk family moved to Great Falls, Montana in April 1961 while he worked on the Intercontinental Ballistic Missile silos. He was active in his local Ironworkers Union No. 815, elected president in 1970, and served four years.
In May 1970, the family moved back to Shelby where the rodeo bug resurfaced. He joined the North Central Montana Rodeo Association and began team roping (or as they say "the old man's rodeo sport") with his longtime friend, Merle Boyce. He later served on the Board of Directors and sponsored the Champion Team Roping Heeler saddle for several years. His dedicated roping horses Duke and Blue gave him years of weekend rodeoing where the Werk's were part of a close-knit rodeo circuit family. Duane retired his rodeo career when Blue developed arthritis.
In 1973, Duane stopped working iron. He and Peggy sold the Tea Garden's bar that they had purchased in 1970. The Werk's moved to Chinook and purchased a ranch in the valley that Peggy managed while Duane oversaw the cattle operation for Kuhr Land and Livestock until1977 when it was sold.
In 1978 Duane and Peggy purchased Bear Paw Livestock in Havre, Montana and moved to a new facility they built in Chinook, with the grand opening held in 1979. Duane attended auctioneer's school in Billings, Montana and when asked after graduation to share what he learned, he replied "I am sure not going to go home and fire my auctioneer!" A lifelong supporter of 4-H, Duane purchased livestock from numerous surrounding county fairs each year. The use of the building was donated to various non-profit organizations. When the sales yard sold in 1984, Duane continued in contract cattle buying and went to work for Agri Basics selling feed, earning top salesman award.
In 1988, when the 163,000-acre fire in Blaine County erupted, Duane and Mick Morris headed south of Chinook to cut fence lines to free cattle and horses. Hours later in the darkness they could not tell that a bridge they had previously crossed had burned, and when they crossed again, the weight of their truck collapsed the bridge. As fire flared up around the pickup, trapped inside, they kicked open a door. Bucking high winds, they walked for miles hearing crackling from live electrical wires but were unable to see where they had fallen. By daylight they had miraculously made it back to a road more traveled and were picked up by a passing vehicle. Once back in town, Duane was transported to the hospital for treatment of a fractured collar bone.
Never losing interest in good horse flesh, he purchased futurity fillies and had them trained for barrel racing. His love of watching them race was a source of teasing from his buddies having turned from a bull rider to a barrel chaser.
Duane started golfing in his later years and when his league won first place, their championship photo showed him wearing his blue jeans and cowboy boots. He and Peggy were members of and participated in the annual International Cowboy Golf Association where they golfed and volunteered cooking breakfast for other cattle buyers, auctioneers and ranchers.
Duane also loved his family, friends, horse racing, cards, fishing, hunting, bowling, dancing and a good joke. He had a wicked sense of humor and was always ready with a quick retort. One never wanted to ask for his opinion unless you were ready to hear it. He always said, "I've never left a room with anyone wondering what I was thinking." His life was lived as that of a true cowboy, always involved in some manner with livestock and a ranching lifestyle.
The final chapter of Duane's life forced him and Peggy to relocate to Belgrade, Montana for healthcare. After a brief but brave battle with cancer he passed away on March 18, 2004 and was buried in Kuper Memorial Cemetery in Chinook with military honors. In June 2004, the Silver Spurs Rodeo in Chinook, was dedicated to Duane. A rider-less horse was led around the rodeo arena while memories of his life were shared.