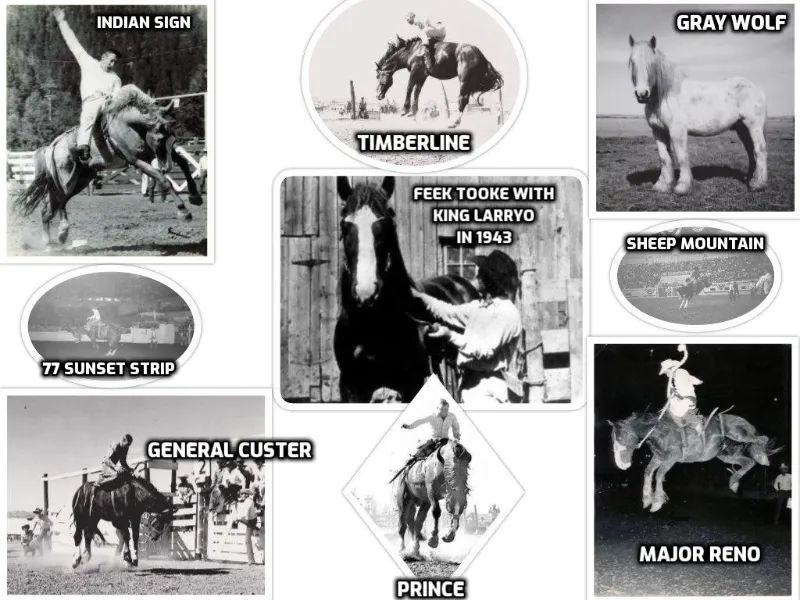 MONTANA COWBOY HALL OF FAME & WESTERN HERITAGE INDUCTEE:
Tooke Bucking Horses (Est. 1943)
DISTRICT 3 – YEAR 2020
On a ranch thirteen miles west of Ekalaka, Montana, roam nearly sixty head of horses that are direct descendants of a rodeo dynasty bloodline. These horses are the result of Chandler "Feek" Tooke's desire to create a new bloodline of horses, bred specifically to buck. They are the Tooke Bucking Horses.
Earl and Bessie Tooke raised six sons named Frank, Fay, Chandler, Granville, Dick, and Bill. The Tooke brothers were interested in rodeos, and therefore built an arena at the ranch where they held their first rodeo, Memorial Day, 1931. Headed by Chandler, nicknamed "Feek", the Tooke brothers branched out and produced rodeos in Ekalaka, Baker, and Miles City, Montana; Belle Fourche and Deadwood, South Dakota; Dickinson, Hettinger, and Bowman, North Dakota. They leased bucking horses to other rodeo producers placing Tooke broncs in arenas from Salt Lake City, Utah, to Chicago, Illinois, and New York's arena - Madison Square Garden.
Feek was a horseman. Plain and simple. He broke horses to ride and work; bought, sold and traded. To his way of thinking, any work worth doing should be done with a horse, even on those that other cowboys couldn't handle. His biggest vision was to breed horses to buck, providing a continuous source of rodeo broncs for years to come, despite the general consensus from the public that it couldn't be done.
Pat O'Kane, a Powder River ranch foreman, developed a horse breed in the 1920's he thought would have the agility, size, and stamina to stand up to the necessary hard riding in the rugged badlands. He crossed a Shire stallion to Thoroughbred mares. The colts grew to be ideal for what Pat had in mind, but they all had bucking horse mentality and only a handful of cowboys were able to ride his rough string. Feek bought those horses when Pat retired in 1936. No one had raised horses solely to buck in rodeos, but Pat's Shire-Thoroughbred cross was showing a bucking horse bloodline and Feek's ambition was to create top-of-the-line broncs.
Feek's first Shire stallion was purchased from General Marion Sweeney. General and his brother William worked for the Hashknife Cattle Company on the Texas to Montana trail drives in 1938. His second Shire stallion, King Larrygo, was purchased from the Fox Chemical Co. in Iowa in 1943, having been a massive 2,000 pound blue ribbon winner at the Iowa State Fair. Feek had high expectations for him when tragedy occurred as a bad tempered mare kicked him making him useless for breeding. There was hope on the horizon, however, as King Larrygo had earlier sired one sorrel colt that later stood 17 hands and weighed 1700 pounds. Feek named him Prince. He had a bad disposition inherited from his mother, also a Shire. Feek bred Prince to a select group of mares sired by Snowflake. Snowflake was an Arabian Albino that was owned by Pat O'Kane and had an unruly disposition. Pat wanted him gone, so Feek brought him home. He would be an important part in the Tooke story. Feek bred Snowflake mares to Prince stud colts and the outcome was hot-tempered, big-boned, agile, colorful, long-tailed, feather-footed horses with a long roman nose, more than usual mane, known as the 'Tooke-look'. Tooke genetics were established with Prince - now considered the number one bucking horse stallion in rodeo history.
Prince sired General Custer, Timberline, and Casey Tibbs' "Born to Buck". Results from the Bucking Horse Breeders Association and Dr. Greg Veneklasen's DNA testing of Gray Wolf and General Custer's bones, it is estimated that roughly 90% of Professional Rodeo Cowboys Association (PRCA) bucking horses trace back to Tooke bloodlines. At the 2019 Wrangler National Finals Rodeo 10th go-round, Dr. Veneklasen noted that of the 30 horses that bucked, both saddle bronc and bareback, 29 of them were linked to Tooke Genetics.
The most productive stud to be born and raised on the Tooke Ranch has been Gray Wolf who was sired by General Custer. The story goes that Harry Vold brought six mares to the Tooke Ranch to be bred to this great stud. General Custer chased three mares off, and, as a result, Ernest placed those mares with Gray Wolf. "Wolf" chased off a lone mare, therefore he put this mare with Timberline. The colt out of Timberline would become Harry Vold's great stud, Custer. Harry in turn later sold Custer to Ike Sankey, PRCA Stock Contractor, which would become the foundation to the Sankey string. This was confirmed when Sankey exhumed Custer to test his DNA. Gray Wolf sired countless horses on the ranch but was taken to Calgary Stampede in Canada, for one breeding season, by World Champion Saddle Bronc Rider Winston Bruce, who was in charge of bucking stock. There, Wolf would throw 30 colts that are the foundation of the Calgary operation. Gray Wolf was inducted into the Pro Rodeo Hall of Fame in 2016. He was the first animal enshrined strictly on genetics and not for his arena performance.
Bucking horse breeding has become a lucrative business across the United States and Canada, and most breeders are using the proven Tooke bloodlines. Past awards won by Tooke horses and various other contractor's herds are numerous and continue to this day.
To name a few of the greats: Major Reno, Sheep Mountain, Paleface, War Paint, and the extraordinary Timberline, who has become a legend in his own right. In 2018 it was discovered that he could be the greatest sire in rodeo history through DNA findings from the Bucking Horse Breeders Association. Other award winners are 77 Sunset Strip, Bald Hornet, Ekalaka (aka. Frontier Velvet), Indian Sign, Desolation, Custer; Vold's Bobby Joe Skoal, Calgary's Cloud Gray, Guilty Cat and Grated Coconut; Burch Rodeo's Lunatic Fringe; Sutton's Chuckulator; Powder River's Miss Congeniality and Craig at Midnight; and Beutler's Challenger, Killer Bee, and Commotion.
Famed rodeo announcer Clem McSpadden was quoted as saying, "Without Feek Tooke and his broncs, we wouldn't have bucking horses. He was years ahead of his time."
Resource: Toby Tooke