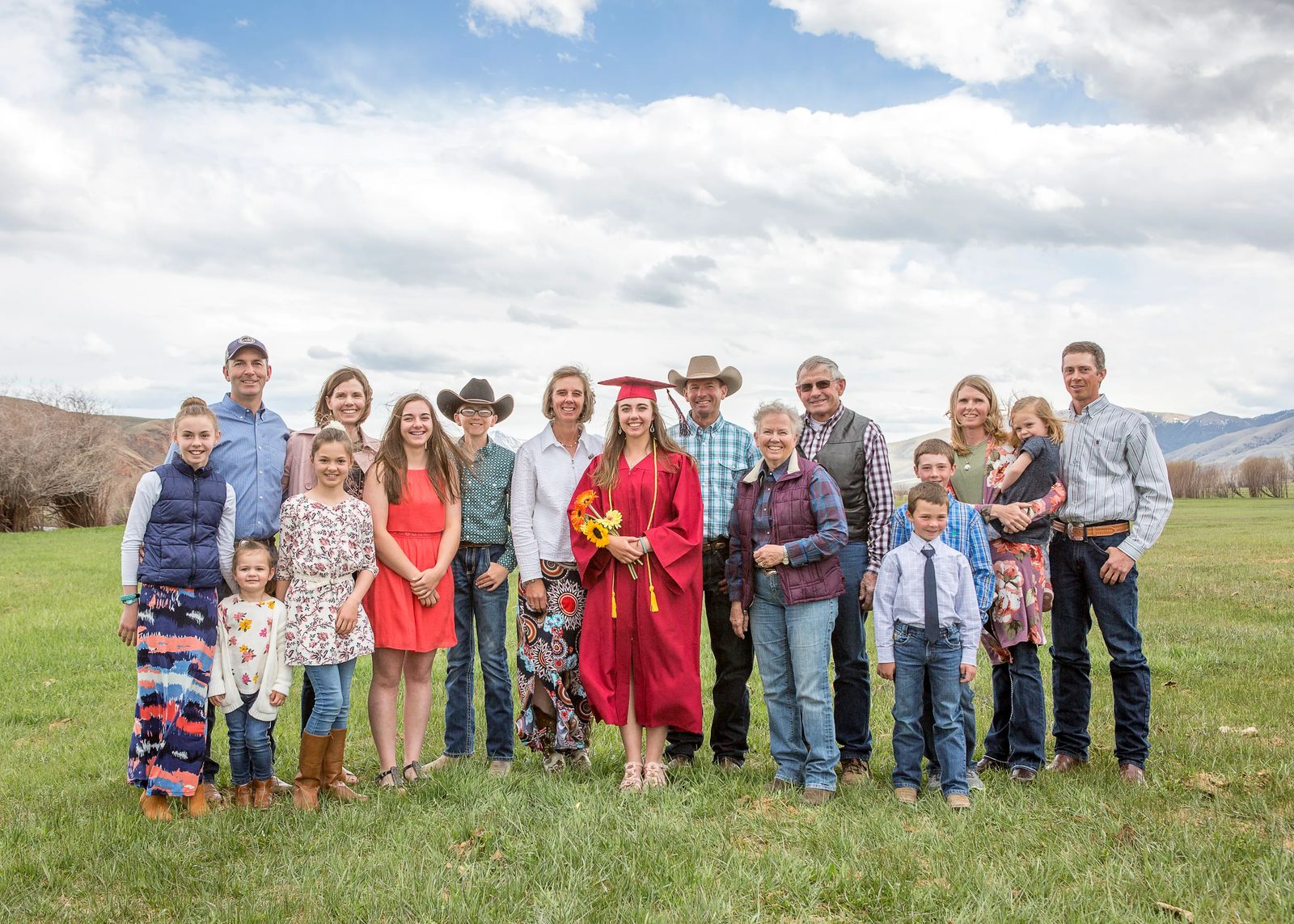 MONTANA COWBOY HALL OF FAME & WESTERN HERITAGE INDUCTEE
Lee Martinell Company(Est. 1961)
DISTRICT 12 – YEAR 2020
Elmer Martinell was born December 8, 1868, in Chicago, Illinois, and adopted at a young age by Anthony and Margaret Martinell. He traveled west by rail, stepping off the train north of Dell on November 8, 1889, the very day Montana became a state. Elmer went to work for Al Young on the Red Rock River near Dell. He married Addie Calvert in 1893 and soon thereafter purchased their first homestead. It was near the river and included a muslin lined log cabin with a dirt roof on site.
Elmer and Addie welcomed eight children: May, Harry, Ethel, Ray, Earl, Paul, Bertha, and Lee. All were born at the family homestead. Sadly, Harry, Earl and Bertha died in infancy. The surviving children grew to help with the daily ranch work. Growing and selling hay was their early source of income. In 1895, they started the cattle business. The Club brand, such as on a deck of cards, was purchased in the 1890s and remains in use today on all ranch cattle. In 1931, 1,700 ewe lambs were acquired, introducing sheep as a major part of the operation until 1975. The ranch expanded around 1919 with the purchase of property in the Big Sheep Creek area for summer pasture.
Paul married Dorothy Hayman in 1928. They had two sons: Everett and Gordon. That same year, Ray married Grace Garr, and they welcomed two children: Lois and Wendell.
On December 19, 1934, Elmer died from a blood clot in his leg. It was at this time that Ray, Paul, and their families, along with Lee, began operating the ranch under the name Martinell Brothers.
Lee married Ethel Hansen on January 14, 1942. They had four children: Byron, twins Carol and Janice, and Allen. Addie lived with them until her death in 1948.
Ray retired in 1960. Lee and Paul divided their holdings. While Lee and his family stayed on the land near Dell, Paul and his family settled into the Big Sheep Creek property.
On April 1, 1961, Lee and Ethel formed the Lee Martinell Company. With the change in family and business dynamics, it was necessary to gain more acreage for summer and fall grazing. They purchased land on Shineberger Creek roughly six miles above Lima Dam in the Centennial Valley, from P.C. "Pinkney" and Mary Mayberry. In 1963 they bought the Gobel place, formerly owned by George, Julia and Robert Melton. Bordered by the forest, it laid next to the West Fork of the Madison River with Landon Ridge running through it. The Buck place, east of the Gobel property, was purchased from "Babe" and Mary in 1973 and included the Handy Homestead.
The Barney Green holdings were acquired a decade later. It tied the other two properties together as it lies between the Gobel and Buck places. The Monte Kent, in the valley floor, is also on the north side of the Centennial Valley across from Lakeview. It was part of that transaction as well. Both parcels were purchased from Dave Ferris of Dillon. In 2000, Lee and Ethel acquired a large state lease in the Centennial that had been part of Gilbert Livestock. Respect and appreciation of the land along with commitment to sustainability for future generations is the backbone of the Martinell legacy. It takes patience, time and fortitude, to feed a nation and beyond.
All four of Lee and Ethel's children graduated from Montana State University, as had Lee, when it was named Montana College of Agriculture and Mechanic Arts. Allen and Byron's spouses and children also graduated from MSU.
Allen and Byron chose to return to the ranch. In 1973, Allen married Yvonne Maberry and they had three children: Heath, Carlen and Kristen. In 1983, Byron married Kathleen Perry and they had one son, Jonathan.
Lee and Ethel moved to Dillon in 1977, returning to help with work on the ranch and to enjoy their grandchildren. Lee died in 1983 and Ethel in 2002. In 1993, the Martinell Family hosted a grand 100-year party. It was attended by friends and family far and wide.
Allen and Byron, with the help of their families, continued the ranching operation. Then, in 2010, Byron's family sold their interest in the ranch to Allen and his family which now includes Heath and his wife, Kiley. They have been at the ranch since 2001 along with their children: Macie, Taryn and Kalen. Kiley works part-time as an Embryologist for a veterinarian and manages a farm flock of sheep. Carlen and her husband, Brett Keaster, reside in Belt with their daughters Maren, Blaire and Sybil. Carlen is a Certified Public Accountant. Brett is a financial advisor with Farm Bureau as well as an insurance agent. They assist at the ranch whenever possible. Kristen and her husband, Ryan Bailey, returned to the ranch in 2014 along with their children, Rowen, Keegan and Aleeya. Kristen is a Veterinarian Technician and works with live animal carcass ultrasound and assisting at the clinic when shorthanded. All the children and grandchildren help out on the ranch and whole-heartedly enjoy knowing "the ranch could not operate without them."
The house Allen and Yvonne live in today was built in 1898 by Elmer's father. Today, the Lee Martinell Co. is a cow/calf operation maintaining spayed and breeding heifers. Most of the cattle are trailed to and from the Centennial Valley for grazing.
The Martinell's endeavor is to take care of their land and livestock. They have been blessed to live in this beautiful landscape with a strong desire and solid commitment to maintain it for future generations. Living in a rural community has responsibilities beyond making a living. Participation on community, county and state boards is a necessity. Their local church and school are important parts of their life - all part of being a good citizen of this magnificent state named Montana.