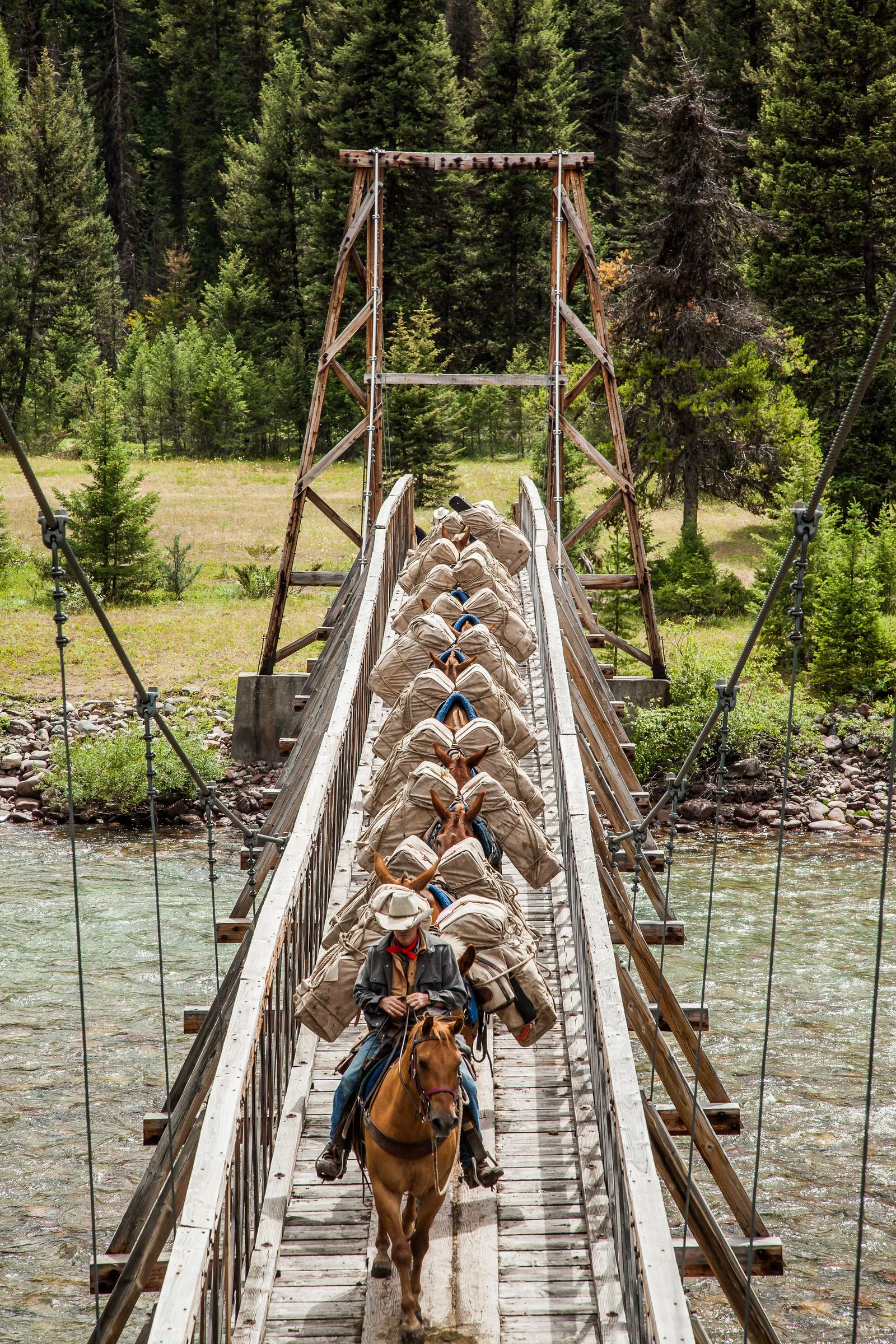 MONTANA COWBOY HALL OF FAME & WESTERN HERITAGE INDUCTEE
Workman's Wilderness Worn – a Government Packers Legacy (Est. 1913)
DISTRICT 10 – YEAR 2020
William "Bill" Arthur Workman was born in Kalispell, Montana, on St. Patrick's Day 1956, to Harry and Claire (Biegler) Workman. The family initially lived in Grandfather "Charlie" Workman's bunkhouse at the family homestead on Pinkham Creek, 15 miles west of Eureka, founded by Great-Grandfather Will Workman. Will moved from West Virginia in 1903. The wilderness homestead consisted of 160 acres of timber and brush. Son Charlie later bought the homestead from his father Will.
In 1913, at age 20, Charlie, got his first job as a packer for the Forest Service in the Libby District. In the Fall of that year he married Alta Kinney. Charlie packed for the Forest Service from 1913 to the mid-1950's, the only exception being one year during the First World War. In 1918, he packed out of the Coram Ranger District, which later became the Hungry Horse Ranger District, following completion of Hungry Horse Dam. Charlie's Forest Service packing career exceeded 40 years.
Harry was born in 1933, the seventh of nine children. During high school, he worked in the summer as a packer with his father on the Rexford Ranger District. He graduated from Lincoln County High School in 1951, then packed for the National Park Service on the east side of Glacier National Park, for three years. He then worked for the Forest Service at the Ant Flats District near Trego until drafted into the Army in May of 1956. After his discharge in 1958, Harry hunted on the South Fork of the Flathead River in what is now the Bob Marshall Wilderness. This was the beginning of a nearly 60-year career packing and outfitting in "The Bob" for outfitters as well as establishing his own outfitting business. With eight years of Park Service, Forest Service and 55 years of commercial packing, Harry's packing career spanned nearly 65 years, spent mostly on the Flathead National Forest, Bob Marshall Wilderness.
Bill had his first experience on a pack trip at the age of seven with his father. Later, while attending high school, Bill took his first of several ten day, full-fledged pack trips into The Bob. During his sophomore and junior years, he packed and wrangled for his father on the South Fork. During the summer and fall of 1974, Bill packed for the Spotted Bear Guest Ranch. During this time, he entered competitive saddle bronc riding, competing until 1988. In 1975, Bill attended Western Montana College, participating in both rodeo and wrestling. This was the only time he was not actively packing between the early 1970s and 2020. From 1976 to 1978, he went to work for George O. Smith at Canyon Creek Lodge near Melrose in the Pioneer Mountains before returning to the Spotted Bear Ranch for fall hunting camp. In 1980, Bill was hired as a U.S. Park Service packer on the east side of Glacier, working with his uncle Artie Biegler, a packer who had been trained by Bill's father. That fall Bill went to work for the USFS at the Spotted Bear Ranger District on the Flathead National Forest. During his first 20 years with the Forest Service, he was a seasonal packer. He then became a permanent employee, now marking more than 40 years packing for the USFS. Bill's Forest Service career at Spotted Bear Ranger District has covered nearly 50,000 miles. At three miles per hour, that is well over 15,000 hours on the trail while saddling over 32,000 mules and packing approximately 4,800,000 pounds or 2,400 tons of supplies for trail, fire, timber, and weed management crews. Bill has packed longer than any USFS packer on the Flathead National Forest. With Bill's private, commercial, Park Service, and Forest Service packing, he has accumulated almost 50 years of packing.
In addition to groceries, propane tanks, horse feed, gear, garbage, lumber for cabins, scaffolding and bridges, tanks, fire pumps, hose, ladders, and trees, one construction project alone had Bill packing 45 tandem loads on two mules linked together. One of the smelliest jobs was packing bear lure, a concoction of cow blood and rotten fish, mixed together and fermented. In 2011, Bill packed 65,000 trees for the Rexford Ranger District. A few memorable events have included Bill roping and freeing a moose that was caught up in old number 9 telephone wire and re-enacting the wreck in the "Man from Snowy River," with his horse and nine mules coming out of the incident unscathed. For 20 years, Bill has taken his string to the annual Family Forestry Expo in Columbia Falls to demonstrate forestry to Flathead Valley students and families. December and January finds him working at the National Finals Rodeo and the Denver Stock Show.
In the late 1970s, Bill met Gail Cole from Columbia Falls through high school rodeo where she competed in several events. Gail was born in Whitefish in 1961 to Ray and Ruth Cole and raised on a small farm and ranching operation in Columbia Falls. After high school, Gail graduated from Flathead Valley Community College but declined a basketball scholarship at the University of Montana Western in favor of marriage to her beloved Bill. Following a 20 year hiatus, she returned to MSU-Billings to obtain a BA in Elementary Education with a minor in Special Ed. Her twenty-four year career in teaching and coaching basketball allowed her to work as a packer's assistant at Spotted Bear during the summer season where she just completed her thirty-ninth year. Daughter Chelsea was born in December of 1987 and became a member of the resident Workman packing crew the following summer.
Bill and Gail have earned Certificates of Merit and Spot, Safety, and Extra Effort Awards during their work with the Forest Service. In 1984, they trucked stock from the Spotted Bear Ranger Station to Miles City for the 100th anniversary of the Montana Stock Growers Association parade. Bill's string earned the Grand Champion trophy.
The Workman's careers covered countless miles requiring thousands of mules. Looking over a mountainous pile of leftover shoes and picturing their link to the nearly 90 years of the Workman family packing history, Gail decided to share their legacy through "Wilderness Worn." Life has a way of coming full circle, and, after learning to weld, Gail began using the shoes to create works of art. These creations give honor to the heritage of three generations of packers and outfitters - thousands of pounds of goods transported into the forest by horse and mule, trail and fire crews and back country personnel supplied with materials, Montana communities educated and the continuing development of our National Forests.