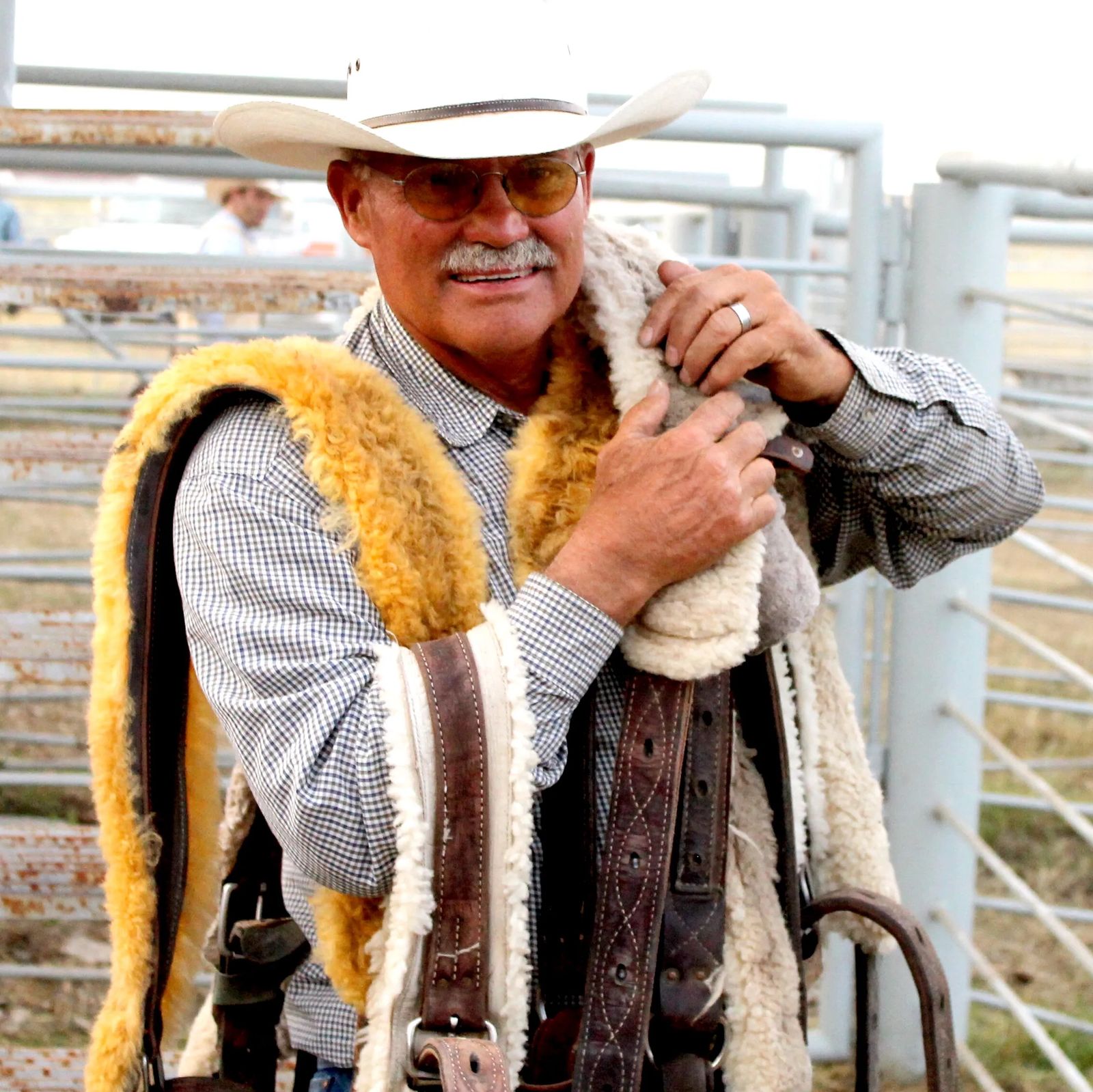 MONTANA COWBOY HALL OF FAME & WESTERN HERITAGE INDUCTEE:
Terry Linn Fast (1948-2019)
DISTRICT 1 – YEAR 2020
Terry Fast was born on November 22, 1948, in Glasgow, Montana, the second of seven children to Marvin and Esther, both of immigrant German, Mennonite families. The Fasts farmed in the Lustre community of Northeast Montana and it is here that Terry learned the fundamental nature and respect for horses from his father. Throughout his life, Terry embodied the western way of life and the values of a man committed to a traditional way of living. He faithfully dedicated his existence to his family, horses, and his community. Many knew him for his steadfast support of the sport of rodeo, its fans, and the cowboys and cowgirls across the State of Montana.
Like many children growing up in rural Montana, Terry had the daily responsibility of helping with the farming, livestock chores, and supporting others with their daily tasks. As a teenager, his natural ability to train horses allowed him to earn extra money. Later in life, it was articulated by many this was a God given talent.
Terry completed eighth grade at Lustre Grade School and graduated from Wolf Point High School in 1967. His focus as a student, and accomplishments as an athlete in track and football, earned him a scholarship to play for the Northern Lights football team at Northern Montana College in Havre. It was there he earned his Associates Degree in Diesel Technology. Around this same time Terry also served as a member of the Montana National Guard. His work ethic established at a young age was evident when receiving the outstanding award for cleanest rifle in the guards.
In February of 1970, Terry married June Hanel of Wolf Point. They welcomed their first child, a daughter, Tiffany. Two sons, Shawn and Jonah, followed. His career in the auto business began when he went to work for his father-in-law at Camrud Motors. Terry worked his way from mechanic to owning the dealership. For 30 years, Terrible Terry's Camrud Motors serviced vehicles under Terry's management. He will forever be known for his entertaining TV commercials where his children, extended family, friends, and even one of his childhood teachers were participants in his goofy shenanigans. Even after he sold the business, he continued his normal six-day work week to serve his customers who became his lifelong friends. It was not uncommon for him to travel to a farm or ranch to show a vehicle and end up helping out with the chores, sometimes turning a quick trip into an all-day adventure. The stories are many of those who benefitted from his selfless nature and willingness to put his boots-on-the-ground to work wherever they took him. In 1997, after the kids were grown, Terry and June went their separate ways.
A longtime dream came true when he purchased his first pair of Percheron draft horses. His day was complete if he could give someone a ride on one of the many wagons he refurbished. He was especially proud of the early military wagon he rebuilt from the ground up. In the traditional way, his teams pulled a horse drawn hearse for funerals and gave sleigh rides along the Missouri River Bottom and hooked up to plow or mow to get his chores done. Terry was a proud participant in the historic Montana Centennial Cattle Drive of '89 and took his teams to many local wagon trains throughout the years. In the evenings around the campfire, while reflecting on the day, he was noted for his comment, "It doesn't get any better than this."
Terry enjoyed the sport of rodeo the most and participated in the Wolf Point Stampede Wild Horse Race for over a decade. He also served two years on the Stampede Committee. In the '90s, Terry began working the rough stock chutes for Brookman Rodeo Company at the Wild Horse Stampede. He was a close friend of the late Montana Cowboy Hall of Fame inductee, Marvin Brookman, and traveled as a personal assistant with him to many rodeos before Marvin's death. Terry was a jack-of-all-trades, meticulous in taking care of the flanks and an absurdly early riser getting tubs and feed ready for the day. He could tell you the history and personality of each of the horses and bulls after only a short time spent with them. He enjoyed traveling to the Dodge National Circuit Finals, the Montana Pro Rodeo Circuit Finals and numerous Brookman rodeos. He continued to work with the Brookman crew, who became like family, until his death.
Terry humbly, and often anonymously, supported many rodeo cowboys and the community he immersed himself in throughout the years. In the mid-80s he introduced an incentive program at the Wild Horse Stampede handing out $100 dollar bills to rough stock contestants who had a penalty free ride. If the cowboy did not qualify, the money was given to a local charity of Terry's choosing. Over the next several years other rodeos emulated this concept throughout the state and nation. He was a mentor of encouragement to young cowboys down on their luck and also a supporter and sponsor of the Go-Getters Youth Rodeo for over 20 years. Organizers noted he would help pay for Championship saddles in each age group, requesting that he not be given recognition.
The strong faith in God that was instilled in Terry as a child, carried him through many chapters in his life, but none more so than at age 49, when he was diagnosed with a rare form of macular degeneration. This devastating condition results in eventual loss of vision. Terry's prayers were answered when he met a friend and partner, Mona Soliday, a registered nurse. They were joined in marriage on December 4, 2010. Even with his fading eyesight he still managed to rope, ride, and drive his team where sense and instinct became his ally.
Terry often encouraged his family to share in his lifestyle and looked forward to this time spent with others where souls were always nurtured. He was quick to hook up the team and saddle the horses for all to enjoy. He had dreams of creating a summer riding camp for children so they too could develop a relationship with horses. Unfortunately, Terry died unexpectedly on January 13, 2019, of a heart attack at the age of 70, tending to his beloved horses and wearing those trusty old boots.