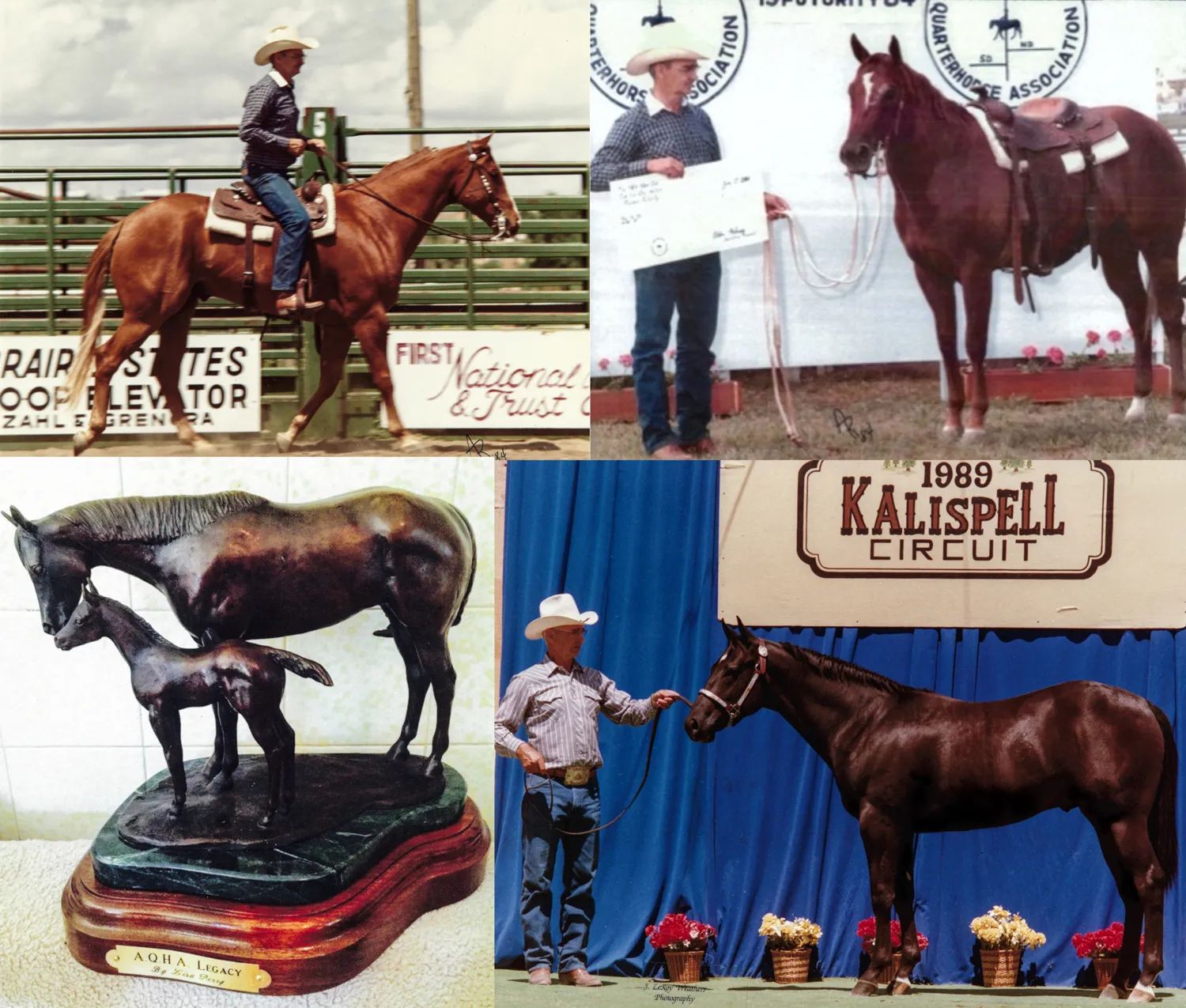 MONTANA COWBOY HALL OF FAME & WESTERN HERITAGE INDUCTEE
Robert David "Bob" Leininger
DISTRICT 1 – YEAR 2020
Robert David "Bob" Leininger was born September 22, 1930 to David John and Hildur Amelie (Nelson) Leininger. Bob was born in Ambrose, North Dakota, and moved to Westby, Montana in 1946, where he has lived since. He married Dorothy Bundt in 1949, and they had four sons, Lynn, Keith, Les, and John. Together, they built a life that revolved around horses.
Growing up, Bob was occupied with farming, ranching, and riding horses. In 1957, Bob purchased his first stallion, began raising registered Quarter Horses, and became involved in the Quarter Horse industry. The American Quarter Horse Association (AQHA) has since recognized him for 50 years of breeding American Quarter Horses. Bob was both a founder and former president of the Mon-Dak Quarter Horse Association. He organized and managed the Mon-Dak Quarter Horse Sale and Futurity. From 1979 to 1993, he was a director of the AQHA, where he served on public information and marketing committees. Bob was instrumental in the development of the AQHA Incentive Fund, a multimillion-dollar program involving paybacks to stallion and foal nominators and owners. He is a lifetime member of the AQHA, the Montana Quarter Horse Association, and the Alberta Quarter Horse Association. He also served as a former president of the Sheridan Saddle Club, of which he is now an honorary member.
Bob aimed to produce "American Quarter Horses that could do anything." He saw early success in his goal in 1965-66 when three of his horses proved their versatility and earned their AQHA Registers of Merit in different disciplines: Camelot Gil in barrel racing and reining, John B. Quick in racing, and Sue's Honey Bee in cutting. John B. Quick went on to earn a AAA rating in racing under Bob's training, and Camelot Gil, Bob's first stallion, went on to be shown in cutting, pole bending, and Western pleasure. Camelot Gil was also used as the family riding and ranch horse, and on him, Bob won the twenty-mile race from Wolf Point to Poplar, Montana the two years it was held. Camelot Gil produced 39 foals and was gelded at age thirteen to be shown by Bob and Dorothy's sons in youth horse show classes.
Bob's horse operation expanded, and in 1967, he started the Northwest Breeder Sale, held in Plentywood, Montana. Here, he also held his own Leininger Ranch production sale from 1967 to 1971. In 1972, after building a sale arena, he moved his production sale to Leininger Ranch where he held the annual sale for nearly 20 years. During these years, the ranch had up to 150 head of horses at any given time, including stallions, saddle horses, and a band of 70 broodmares.
When selecting stallions, Bob turned to his breeding goal: "a middle of the road type of horse, very pretty, with lots of conformation and athletic ability," which proved successful, as one of his stallions, Sonny's Super Star, was the National Champion of Get-of-Sire winners in 1982-84, a very honorable endeavor. Sonny's Super Star also earned his AQHA Register of Merit in Western Pleasure. Another of Bob's stallions, Impressive Redneck, was the National Reserve Champion of Get-of-Sire winners, behind Sonny's Super Star, for two years.
Bob's Leininger Ranch stallions sired numerous successful horses in all disciplines, winning countless shows. In 1977, Donna Idland won the Montana Barrel Racers Association State Champion title, riding John's Quick Time, a horse sired by John B. Quick. Bob sold horses to buyers all across the United States and Canada, as well as to buyers in Australia and Germany.
In 1990, Bob decided to disperse most of his horses and sold 120 head. He wanted to remain active in the horse industry, so he and Coup Nehring partnered to form the Leininger/Nehring Sidney Livestock All Breeds Horse Sale, held biannually in Sidney, Montana, each May and September. In 1998, Bob moved the sale to Bowman, North Dakota, where it became further successful. In 2003, he decided he had been managing horse sales long enough and turned the operation over to Nehring. Bob continued to acquire horses, however, and sold them in Bowman and Billings, Montana.
While most of Bob's life revolved around horses, he also raised cattle and farmed. He harvested his first crops in the fall of 1960 and continued to improve on the farm ground. He purchased newer tractors with greater horsepower and more efficient machinery. He and his son, Keith, farmed 6,000 acres, including spring wheat, durum, peas, lentils, mustard, and corn. His sons all helped him with the tractor work so that Bob was able to spend time training and showing horses. Leininger Ranch held annual cattle drives each fall to move their cattle from summer pastures in Fortuna, North Dakota to the ranch near Westby to winter and prepare for calving. Today, Bob's granddaughter, Lexi, manages the ranch's 300 cow-calf operation.
Bob and Dorothy, now married 71 years, have nine grandchildren and twenty great grandchildren. They lived continuously on Leininger Ranch from the day they were married until 2011, when they decided to spend their winters in Mesa, Arizona. Bob and Dorothy handed the reins to the younger generation; however they always return home to the ranch each spring.
Bob's legacy of the hundreds of outstanding horses he produced and his immeasurable contributions to Montana's horse industry will continue to leave an impact on the American West as long as there are cowboys.
References:
Robert Leininger Celebrating 50 Years of Breeding American Quarter Horses 2009, 9.
Leininger, Robert. Leininger Stories as I Remember Them. 2017.