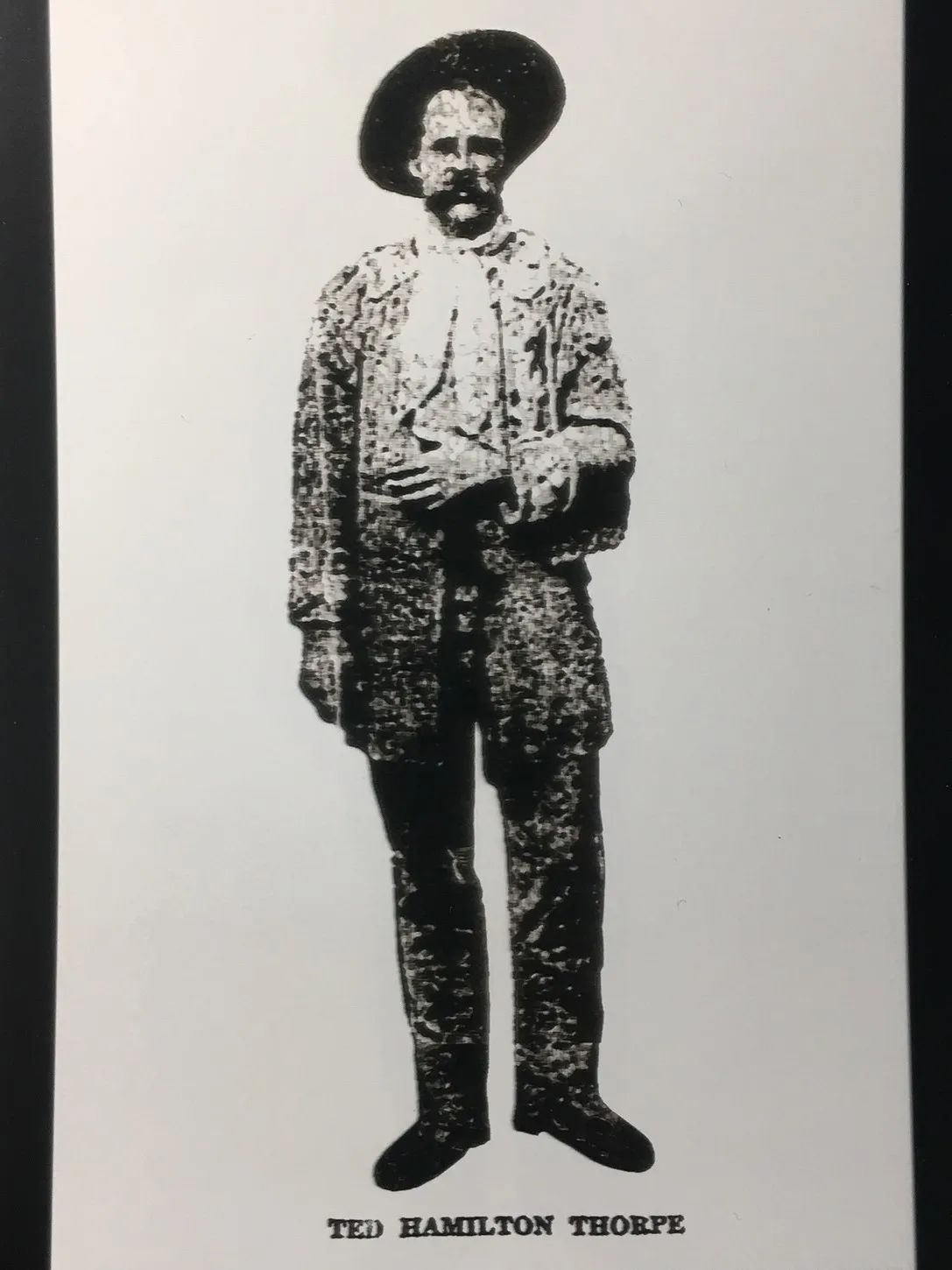 MONTANA COWBOY HALL OF FAME & WESTERN HERITAGE INDUCTEE 2019
Theodore "Ted" Hamilton-Thorpe (1857-1893)
Theodore Hamilton was born to Archibald and Rachael Hamilton on June 15, 1857, in Racine, Wisconsin the last of eight children.
In 1854 the family moved from Ontario, Canada, to Racine where Archibald was a ship carpenter on Lake Michigan.
Racheal passed away in 1863, and with the burden of caring for the children Archibald arranged for Ted's adoption with the Phillip Thorpe family. Soon thereafter the Thorpes and young Ted joined a group of immigrants with oxen and wagons headed West. On September 14, they arrived in the Gallatin Valley, Montana Territory and began raising cattle. Their settlement was south of present day Manhattan, Montana. The Thorpe ranch remains there today.
In 1864, seven-year-old Ted worked on a ranch with men much older than him. They had the daily responsibility entrusted to them to break and ride horses, enjoying some impromptu ranch rodeos as well.
A schoolhouse was built where Ted and other children in the valley attended. He joined his classmates on occasion and later recalled that he believed the best of his education was life skills taught by those around him.
Ted loved music and to play the violin. He enjoyed sharing his talent at dances in the valley, as well as at Radersburg and Hunters Hot Springs.
Boys became cowboys with man size responsibilities at a very young age in Montana. Riding through the Yellowstone to purchase cattle in Wyoming, bringing a buffalo to the camp cook and driving the cattle back to the valley ranchers was a pretty tall order for those young men.
In the Spring of 1865, the U.S. government detailed 17 year-old Ted, along with other cowboys his age, to deliver cattle to the Crow Tribe at Michen east of present day Livingston, Montana.
At age 21, Ted and fellow cowboys rode to Hellgate River to round up cattle and while he was there a friend delivered a letter to him from a half-brother, who lived in Ontario. The letter contained the details of his childhood adoption. Ted was seized with a sudden desire to know his father and siblings but did not want to diminish the bond between him and the Thorpes. Years later he shared with his family that he never arranged that meeting – Montana was his life.
In the Spring of 1880, Ted's adopted father moved to what is now known as Dillon, Montana, and began the workings of a ranch. Ted joined him to manage the cattle and the challenging task of breaking hundreds of horses on the nearby Hamilton ranch.
In the Fall of 1880, Ted rode over the north end of the Bridger Mountains through Flat Head Pass to the Upper Shields River near the present area of Smith Creek, which lies north of the Crazy Mountains. He with the help of the Crow Indians living in the area built a small cabin while stones and stakes were placed as survey markers for future settlements.
In 1882, Ted met and married Hattie Murphy, whose family ranched in the Gallatin Valley. The next year they traveled to the Upper Shields River Valley to ranch. The newlyweds honeymooned in the cabin he had earlier built and soon made it their home. During this time a son Roy was born to them. Ted placed rocks in the area creating 19 sections which were acknowledged by the U.S. Government's Surveyors. His brand was the Hat H.
In the spring of 1884, established ranchers in the area, along with Ted, rounded up wild horses and held rodeos in the Shields Valley. Later horses were also gathered and driven as far as Miles City for sale to U.S. Government Agencies.
In the spring of 1890, Hattie and Ted planned for her to take their son to Great Falls so Roy could begin his education. Ted would remain working in the valley.
In the spring of 1893, Ted and companion Gene Willard took some time away from driving cattle and made a trip to Great Falls to visit Hattie and Roy. On their return route days later, they camped overnight on Kings Hill, north of White Sulphur Springs. During the night a small band of Indians made a sudden attack on their camp. Ted was fatally wounded from a rifle shot to the back and died. He was 36 years old. Hattie and Roy respectfully buried their loving husband and father in a cemetery near Livingston, honoring a man who left an imprint on their lives and the Montana he admired. Later, with son Roy, Hattie moved to Bozeman.
Decedents of Theodore "Ted" Hamilton Thorpe, now residing throughout the U.S. and Canada are forever grateful of his adoption into the Thorpe family and that they chose to come West.