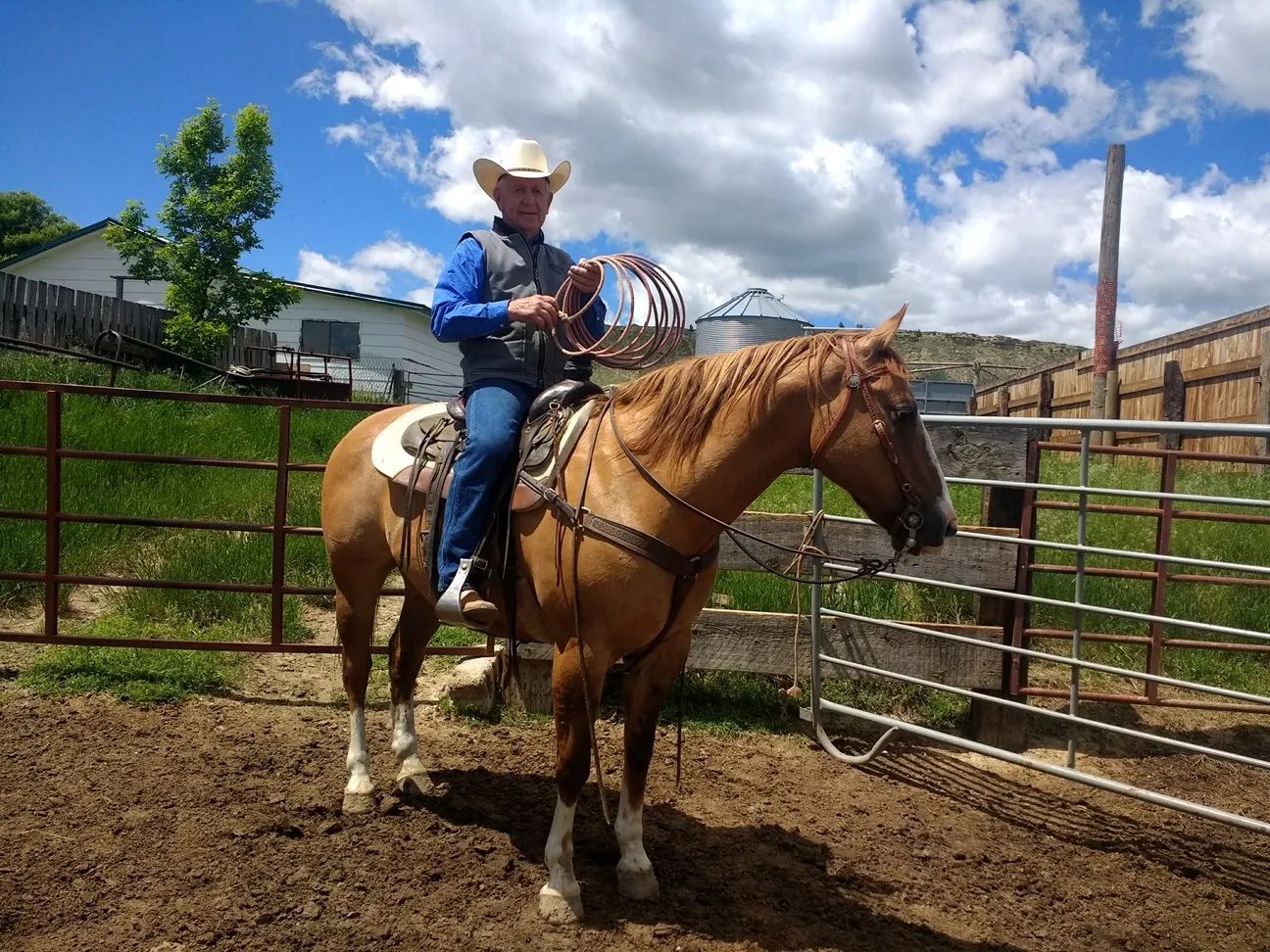 MONTANA COWBOY HALL OF FAME & WESTERN HERITAGE INDUCTEE 2019
William E. "Billy" Greenough
William Edward Greenough, Jr. was born in Billings, Montana on January 22, 1938 to William Edward "Bill", Sr. and Dagne (DeBourg) Greenough. "Billy" joined his older sister, Barbara who was born in 1936 at the family home in Wyola. His younger sister, Carol was born in 1943.
Billy warm-heartedly remembers his father competing in bronc riding and working as a pickup man at Madison Square Garden in New York City. His aunts, Marge and Alice Greenough, were both well-known lady bronc riders as was his uncle, Turk Greenough who was a world champion bronc rider.
Billy's uncle, Frank Greenough was a foreman of the Antler Ranch on the Crow Indian Reservation. They ran 10,000-15,000 Mexican steers at any given time. After Frank bought a ranch and moved to Recluse, Wyoming, Bill was appointed foreman of the Antler. One of Billy's fondest memories on the Antler Ranch was of the roundup wagon. There would be around 15 cowboys, which included reps from other ranches. Each man had seven to eight horses that were held in a rope corral and would often change horses, depending on the work. Billy's dad was the wrangler assigned to rope the horse the cowboys chose to use that day. Breakfast was served at three AM, dinner around ten AM and supper by four PM. While growing up at the Antler, all Billy knew was cowboys, cattle and horses. He felt privileged to work with great ranch hands; John Hammett, John Shreve, Pistol Abbott, the Abarr boys, Jim Barrett and Al Smith. Billy learned young, by listening, keeping his mouth shut, and paying attention to what was going on around him. "One step at a time, and always in the right direction." "When trailing cattle - remember, slow is faster." "Make sure every step those steers take is, where you want them to go."
Later on, Bill, had Hale Jeffers and Billy breaking horses for the ranch. It was not unusual to have 30-40 colts nearby, to break. They managed 250 broke horses and ran two broodmare bands. Billy learned soon on to be polite to women and to never ride in front of anyone. In 1957 and '58 the Antler shipped one of the last big shipments of 10,000 head of cattle by railcar out of Hardin, Montana. The Antler Ranch disbanded after owner Matt Tschrigi died. The family later moved back to Montana near Sage Creek in the Pryor Mountains.
Billy began elementary school in 1944 at Wyola went to high school in Lodge Grass, Montana graduating in 1956. Billy remembers well when he, Gary Hoovestal, Willard Spotted Horse and Hale went to their first High School Rodeo held in Glasgow. They traveled in a single cab pickup with a stock rack, loaded with two horses and their bed rolls. The young men were entered in the bronc riding, steer undecorating, and calf roping. Life just couldn't have been any better at that time.
He went to the community college in Sheridan, Wyoming and was on the rodeo team with Hale and Jerry Kaufman. Billy headed south to the University of Arizona for one year, was on the rodeo team where he competed in saddle broncs and bareback riding.
Billy married Alice Steffan in 1961 and later divorced. They had three children, Stephanie born in 1964, Wendy 1969 and Deb 1963.
Billy went to work, training horses, for Dick Curtiss with the Two Dot Ranch in Cody, Wyoming in 1968. Dick, who managed the Cody Night Rodeo, hired Billy as one of the Pickup Man to work the rough stock events. Billy also competed in calf roping, bronc riding, bull-dogging. Deb, of course, would go along with Billy each night to the rodeo. It was a mighty big playground for a little cowboy and where the seed for riding bareback was planted. After nearly seven years, with the Two Dot, the ranch sold. Billy moved his family to Fromberg, Montana and went to work for Oppenheimer of Kansas City, Kansas. They had cattle on contract throughout the United States. Billy traveled to their ranches inspecting cattle in Montana, Oregon, Idaho and South Dakota. He worked with Howard Hawks, Ray Hillman, John Edwards, Walt Linderman and Wally and Dean Neuman. 1972, Oppenheimer quit the cattle operation. That same year, Billy, went to work for Superior Livestock out of Brush, Colorado, with Howard Hawks, photographing cattle for their video auctions and overseeing the delivery.
In 1985, Billy met Francie Clark, and after a ten-year courtship the couple tied the knot.
Billy participated in the Cattle Drive of '89 as a drover from Carbon County. When the movies "Little Big Man" and "Walks Far Woman" were being filmed in Montana Billy worked as a wrangler on both films.
After 12 years and thousands of miles with Superior Livestock Billy settled in and began training horses fulltime at his place near Fromberg. He had a Coverall building constructed, allowing him to ride and train inside out of the weather. He also built his "Shoe Shed" that keeps him quite busy shoeing horses. He lends a hand at brandings and shipping season to area ranchers and enjoys riding with Doug Young, Pete Olsen and Sam McDowell. It's where they can cowboy, share stories and enjoy some good hearty laughter.
When the Chase Hawks Roughstock Rodeo was established in Billings, Montana, Billy was elected to the board of directors and served as vice-president for three years and with the memorial event for a decade.
Billy's son, Deb, was World Champion Bareback Rider in 1993 and in 2018 he was inducted into the Cowboy Hall of Fame in Colorado Springs, Colorado. Needless to say, the buttons on Billy's shirt have popped at least a couple of times in his life. Deb, who lives in Billings, has four children Quinn, Turk, Michael Shey and Trey.
Billy's daughter, Wendy, lives nearby in Red Lodge wheras Stephanie, also of Billings, is married and has three children; Seth, Jase and Jayden. Francie has a married daughter, Danette, who has two daughters, Abby and Ally; and one son, Larry, married, with two sons, Russell and Oliver.
Billy considers the best part of his life has been spent around hard working salt-of-the-earth cowboys who taught him some of life's greatest lessons, became his traveling partners and lifelong friends.
William "Billy" Greenough – a humble man with a friendly smile, who doesn't know a stranger, has lived a life many wish they could experience, just for a day.