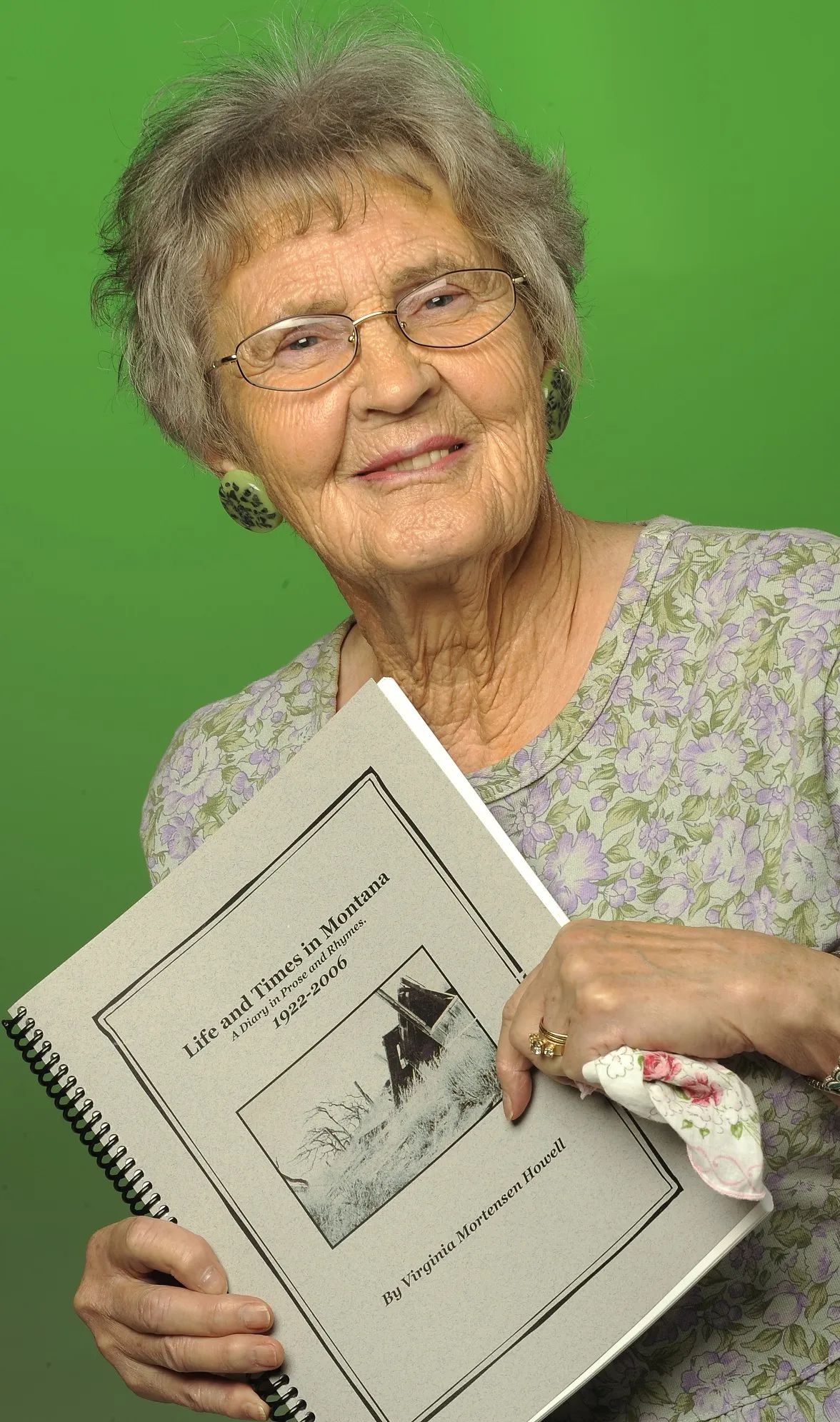 MONTANA COWBOY HALL OF FAME & WESTERN HERITAGE INDUCTEE 2019
Virginia (Mortensen) Howell (1922-2020)
Virginia Mortensen Howell was born in Declo, Idaho, on September 12, 1922, a questioned blessing for a mother who had already given birth to eleven babies. She was born at home like the rest, but unlike them was tongue-tied and unable to move her tongue for nourishment. After a doctor clipped the tethering, her father designed a bottle requiring less movement of her mouth, giving her a better chance of survival.
In 1923, the Mortensen family moved to the Moiese Valley in Western Montana. Virginia's father, employed by the U.S. government, was the Water Master for the irrigation system at Flathead Indian Reservation. They purchased 80 acres of land on credit, ran a few head of cows and farmed. Decades later when the property sold, it still held a $3500 mortgage – times were tough, especially for large families.
When Virginia was five years old, she rode with her father to work. She loved to visit with her neighbors, prompting her mother's remark "Virginia, I think your tongue is loose on both ends."
Virginia's memories of her seventh year included freight trains with people riding on top, traveling to wherever they could find work during the Great Depression. Virginia, her sister Della, and two brothers earned wages during haying season and by thinning sugar beets. In spite of the hardships, Virginia remembers a happy childhood for the most part.
When she reached the age of enrollment into the seventh grade, she traveled 15 miles to Charlo. It was quite a shock to feel like a little frog in a big pond as she had become accustomed to the world in which her father spoiled her and her older brothers made her feel important.
Virginia graduated from Charlo High School in 1940. Shortly thereafter, she married Dean Howell. Within a few weeks the couple were employed with the McGuffey's. They lived in a one-room cabin in Moiese. Virginia cleaned for Mrs. McGuffey, and with the recent loss of the hired man, Dean took his place on the farm. The young couple was earning $50 a month.
On May 7, 1941, Virginia and Dean's baby girl, Peggy Lynn, was born. In spite of the McGuffey's offer to build them a house, if they would stay, the Howell family traveled to Seattle to join Dean's older brother at Boeing. While in Seattle, Japan launched its attack on Pearl Harbor. Virginia remembers it was an anxious time for Americans when military conflicts expanded in Europe.
They returned to Moiese in 1942 seeking a better life and trying their hand at raising chickens and crops on 120 acres, 40 acres purchased from Virginia's parents. Twin boys named Leo Dean and Peter Gene were born on November 16 in St Ignatius. After two years of labor-intensive efforts farming the land, the farm was sold. Seeking a better job in the field of agriculture and with a desire to make a better life for the family, Dean traveled to Pennsylvania to learn the art of Chick Sexing. Virginia and the children lived in Polson with her parents. After months of training, Dean moved his family to Lancaster, Pennsylvania, where his brother-in-law owned the Sex Chick Company and gave him a job. On New Year's Day 1949, the Howell's third son, Michael Reed, was born.
In 1951, the family returned to Polson. Virginia and Dean were hired by the State of Montana to test chicken hatcheries producing eggs and testing for bacteria caused by Salmonella. In Billings, in 1963, Dean continued to work for the state as a sanitary inspector, and Virginia worked as a janitor at the Bench School. In 1971, the federal government trained Dean as a meat inspector. The family was soon located to Roundup where Dean oversaw meat production at Seitz Brother's Company. The local schools employed Virginia as a food service supervisor.
Work, motherhood, and not finding life to be as she had envisioned when she was younger, took Virginia down a path of darkness …
While living in Roundup, Virginia would awaken at night by "this line drifting into my mind … and it was so pretty." With pen and paper at her bedside, Virginia captured the elusive words that poured forth, withheld for much too long, words representing her survival and divinely given to erase the shadows in her life. And so, through poetry, Virginia wrote about her life in Montana.
Within the pages of Virginia's self-published book of poetry, Life and Times in Montana: A Diary in Prose and Rhymes, the most radiant images are reflected.
PAUL
His hips were lean, he favors britches with a belt cinched tight and secure.
His right hand reaches for the Bull Durham in the pocket of his faded shirt.
His boots shinned with hard clay dirt make sounds as he walks across the wooden floor.
He's the last of his kind, this old cowhand, like an old cedar post he's part of the land.
Like a barbed wire scratch that's one week old, he's brown and frayed.
He told me about his riding pards, of branding irons and ground that's hard, of maverick steers and a special horse – of heavy rains when the gullies wash.
He claims a bunkhouse for his home, on land that's his, but he doesn't own.
When he meets a lady, he tips his cowboy hat and murmurs - Ma'am.
Virginia, 97 years old and now living in Billings, says her purpose for writing the book was to record and preserve her experiences of Montana life and leave her legacy so others would know she had lived.
Reference:
Rubich, Chris. "A Montana life poured out in book of poetry." Billings Gazette clipping.
Howell, Virginia. Life and Times in Montana: A Diary in Prose and Rhymes. Self-published, 2006.