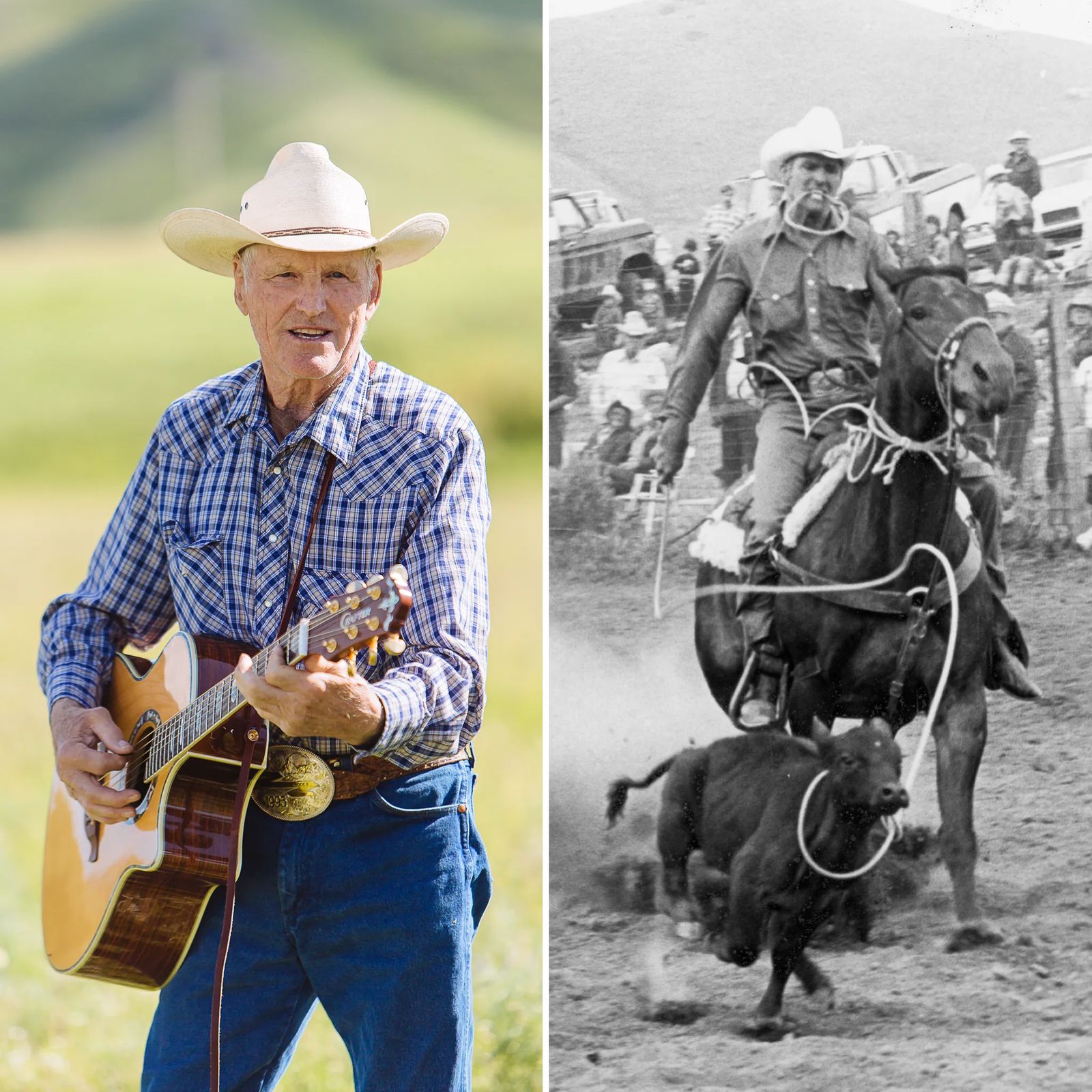 MONTANA COWBOY HALL OF FAME & WESTERN HERITAGE NOMINEE 2019
Arthur Wade Bickford
Arthur Wade Bickford was born in Havre, Montana January 26, 1934, one of eight children, to Henry and Mary (Smith) Bickford. His father was a general laborer who eventually worked for the railroad, while his mother performed various jobs.
"Wade" liked horses but had no experience as a cowboy until Matt Morgan offered him a job exercising horses for the Border Patrol at age 13. He was ecstatic to have this opportunity where soon his natural talent as a horseman was expressed. Wade was thrilled when Matt gave him the opportunity to ride the border, with him, from the Port of Willow Creek to the Port of Wild Horse north of Havre.
At age 16, Wade left home to work for the Connie Cox ranch approximately 30 miles north of Havre. He also worked on various other farms and ranches as a teen, as well as a short time working with one of his brothers on the Klatt Ranch near Ennis, Montana. One memorable job at the Cox ranch included riding back and forth across the Canadian border with Connie Cox, to work on the George Griffith Ranch in Alberta, Canada. On one such occasion they were told that the Royal Canadian Mounted Police were coming for them the next morning so Wade and Connie decided to get up early to get back across the border. They ended up sleeping too late, heard someone coming up the driveway, hurried to get dressed and accidentally got their pants switched between them. In a rush, they saddled quickly. Connie was the one to suffer in Wade's smaller pants as they rode across the border just in time to wave at the "Mounties" from the U.S. side. Wade's early cowboying adventures included trailing large herds of horses to the railyard. One such herd originated south of the Missouri River, where they swam the horses across the river, rode through Rocky Boy and onto their destination of Laredo, Montana.
Wade's skill with heavy equipment began when he was drafted into the military. He completed basic training at Camp Roberts in California in 1953. For nearly two years he served as an Army Bridge Specialist in Germany working construction, including rebuilding bridges. This training became beneficial when Wade later hired on to work for Baltrusch Construction and Patrick Construction for many years.
Following his military service, Wade returned home to Havre where he met Cathy Greytak. They were married January 17, 1956 and raised five children, Robert, Tami, Flint, Shawn, and Christa. Wade quickly put his cowboying skills to use working on several area ranches which included managing the cattle operation for the Kraft-Martin Ranch (previously the Skram Ranch) for nearly thirteen years.
In the early 1970's, a lifelong dream came true when Wade and Cathy purchased their own place; a small ranch near Chinook. During this time, they had a lease in Lodgepole, that they trailed pairs to each year. Wade completed this five day/70-mile trip multiple times with the three oldest children when they were young. Around 1981, they sold the Chinook place and purchased a new ranch south of Havre on Bullhook Creek. Wade continued to ranch as well as work his construction jobs, farmed for a time, trained horses and competed in the sport of rodeo. He also had a passion for cowboy music and was a member of the band "Country Gold" that played for shows and dances around the Havre area singing cowboy songs for many years.
Wade had started competing in rodeos prior to his time in the Army and quickly resumed the sport upon his return. He attempted bronc riding in his younger years and had won the bareback riding at a rodeo in Havre when he came back from basic training. Connie had convinced Wade and Bud Boyce to enter with hopes that more entries meant bigger winnings for Connie. This didn't work out as planned, since Bud won the saddle bronc and Wade the bareback! Even with that day's luck riding rough stock, roping was always Wade's biggest passion.
Wade has won numerous roping's and rodeos and in 1965 he was awarded the North Central Montana Rodeo All Around Champion. One run that contributed to this was when they were able to make three rodeos in a single weekend. Connie rented a plane and flew from Havre to Jordan, where Wade won using a fellow roper's horse. They returned to Havre, competing there, then drove on to Cascade, where he was successful at both rodeos. Other standouts include several Warrick Rodeos roping with his son Robert in the late 70's and early 80's, Havre Rodeo Club All Around Cowboy three years in a row, the Border Country Canadian Association Team Roping in the early 1990's, and the Montana Team Roping Association Finals Champion in 1997. At one time he was jokingly asked by Bud and Carol Boyce to not come back to Warrick because no one wanted to rope against him!
Wade who has always promoted the sport of rodeo in north central Montana is a founding member of the Havre Roping Club that was around during the late 60's and the early 80's. A wealth of knowledge from a lifetime of experience gave Wade the opportunity to assist people of all ages with training horses, roping, and barrel racing, including Montana State University - Northern (MSU-N) rodeo students who have boarded horses on his place. He has generously donated the use of his roping steers for kids rodeos and college rodeos and is often found working behind the chutes during the local rodeos. Wade donates his time preparing arenas at the Great Northern Fairgrounds for barrel racings and other rodeo events. The Bickford arena is frequently open for use by the Hi-Line Barrel Racing Association and many evenings when anyone wants to get together for roping practice.
Wade's children grew up competing in rodeo and most still ride and/or rodeo as a pastime. He is proud to have some of his grandchildren carrying on the family tradition as well. During his lifetime he has worked with an estimated 200 or more horses and at the "young" age of 84 he continues to train. You can go to Professional Rodeo Cowboys Association (PRCA) rodeos, roping's, and barrel racings and often see the candlestick brand. Two notable horses he trained are Shooter, three-time Montana PRCA Hazing Horse of the Year and Eagle, the 2015 Women's Professional Rodeo Association Barrel Racing Horse of the Year and 2016 Indian National Finals Rodeo Horse of the Year. Wade's favorite horse was, Dan, a stud he had during the 60's that sired overall good ranch horses and a versatile rodeo horse that Wade often won on. Once at a rodeo in Opheim, he was the only horse that every bulldogger used that day! He wasn't big - but he had a big heart.
As a horseman, mentor, friend, performer, and heavy equipment operator, who has taken on the challenge of just about anything, Wade continues to reflect a genuine example of a Montana Cowboy.
References:
Interview Bickford, Arthur Wade and Cathy. May 2018.
Review of rodeo buckles in Wade Bickford's possession.
Conversation with Mike Gollaher-owner of Shooter, and Emily Kallenberger-owner of Eagle