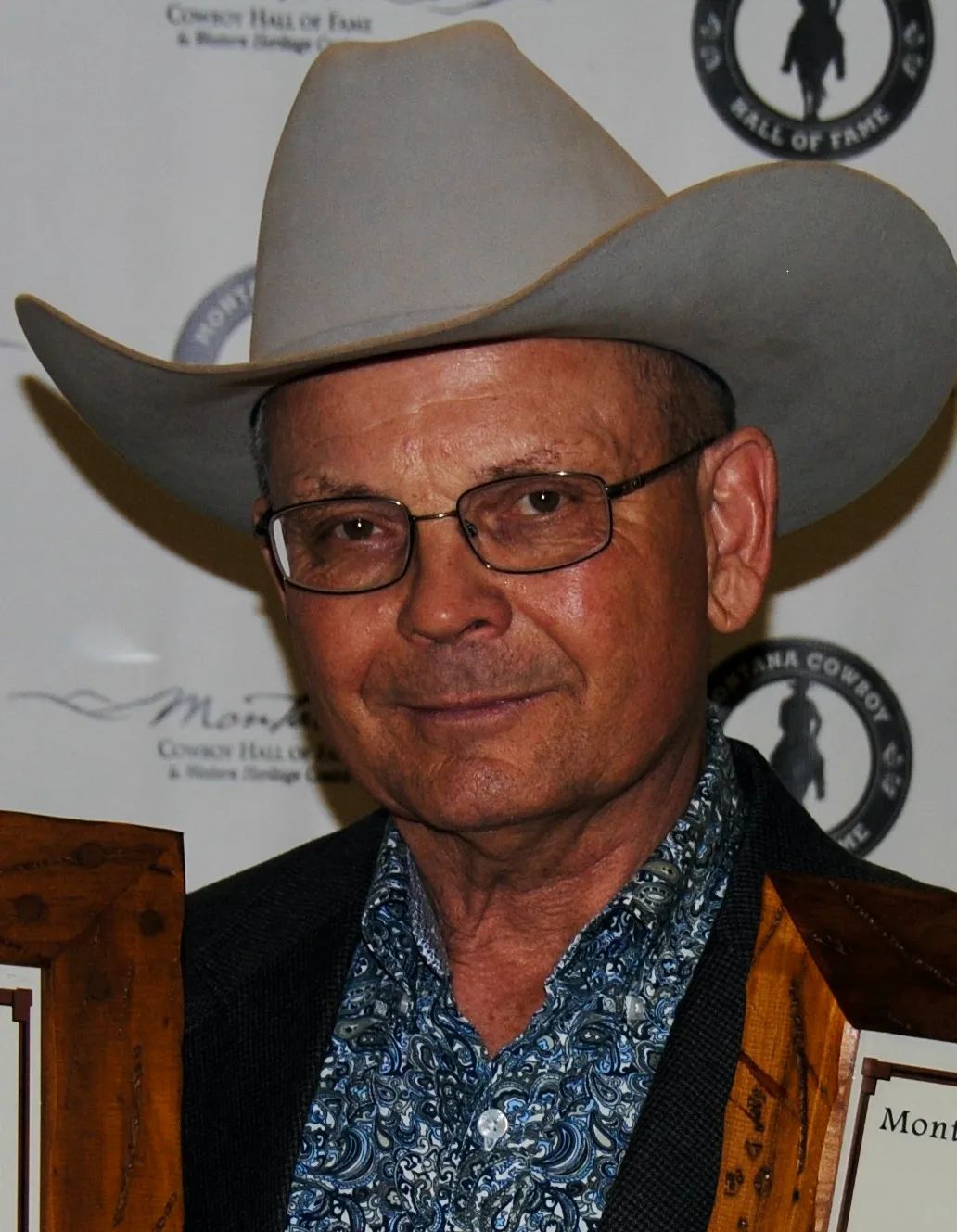 MONTANA COWBOY HALL OF FAME & WESTERN HERITAGE INDUCTEE 2019
John L. Moore
John L. Moore was born in Miles City, Montana on August 24, 1952, the son of ranchers John "Johnny" W. and Pearl (Herem) Moore. Johnny Moore was a former CBC (Chappel Brothers Cannery) cowboy who had his son horseback early. At seven, John L., or "Larry" as he was called then, helped gather and trail 5000 cattle when a neighboring ranch dispersed. Towards the end of the trail he remembers an old-timer pointing at the long line of cattle and saying: "Take a look at that, boy. That's 5000 head of cattle. You'll never see that again."
At 10, "Larry" broke his first horse, a stubborn blue roan that would be portrayed later in his award-winning novel, The Breaking of Ezra Riley. It was as a writer that John L. Moore has made his biggest contribution to Western culture. At 17, and not yet a senior in high school, he literally unsaddled his horse and went to work for the local newspaper as a full-time reporter.
Moore worked for the Miles City Star for three years, then two years for the Great Falls Tribune where he changed rodeo coverage state-wide with his in-depth reporting on all aspects of rodeo from Youth Rodeo Association to the Northern Rodeo Association, Major League Team Rodeo, National Intercollegiate Rodeo, and the Professional Rodeo Cowboys Association. In 1978 the PRCA honored Moore for his ground-breaking rodeo coverage and he placed second in a national rodeo press competition, sponsored by Levi Strauss with his article about bareback rider Kim Zupan's recovery after breaking his neck at the State Fair in Great Falls, Montana.
Following the sudden death of his father, Moore, his wife, Debra, and two children returned to Miles City in 1979 where he helped run two family ranches while writing weekly articles for the Star and freelancing to numerous publications. In 1982 he published a history of the Miles City Bucking Horse Sale entitled The Collectors' Edition. From 1986 to 2010 he wrote prolifically. His first novel, The Breaking of Ezra Riley, won the Critics' Choice Award from Christianity Today and was a runner-up for a Golden Spur Award from the Western Writers of America. His non-fiction book, Loosening the Reins, was excerpted in numerous magazines, and his 1988 drought article in the New York Times Magazine was distributed world-wide and appeared in two editions of a collegiate textbook on prose. He won two Coors of Montana rodeo journalism contests and appeared in two documentaries, Houlihan and The Last Stronghold. Recently, his sixth novel, Looking for Lynne, won a Silver Medal in the Will Rogers Medallion Awards and he appeared in the documentary His Name is Midnight which highlights the tenacity of a Montana-bred Quarter Horse that was rescued from abuse on the East Coast. In all, Moore has published ten books that have been reviewed in many publications including The Denver Post and Milwaukee Journal. Some 1500 of his articles, photos, and poetry have appeared in magazines like Western Horseman, America's Horse, Readers' Digest, and Range Magazine. Because of his knowledge of the history of the western horse, he's often the source of information for other writers and producers. On social media, where he has more than 20,000 followers, he has chronicled lesser-known stories like the FUF Ranch which ran 15,000 horses on 1.1 million acres from 1890 to 1910; the 44 Ranch near Circle, which ran upwards of 11,000 horses; the Oswald line of Quarter Horses started by Bob Shelhamer; and he has become an authority on the CBCs which ran some 63,000 horses mostly in Eastern Montana. His other social media pieces have included articles on Shirley Bridges, Sid Vollin, Gary Gatlin, Gary Crowder, Denny Looman, Bill Pauley, Bud Pauley, Cy Taillon, and many others. His Facebook article on Ferrell Butler's 1964 photograph of Looman on Jesse James at Camdenton, Missouri — condensed from an article Moore did in the 1980s for Western Horseman — is one of the most popular western pieces on social media with over 20,000 Likes and 12,000 Shares and counting!
Noted for his realism, Moore has been called "the most authentic Montana writer since Will James" by acclaimed Montana-born novelist Thomas Savage. Reviewers across America have lauded Moore for his accurate portrayals of the modern working cowboy and rancher. Montana Magazine called The Breaking of Ezra Riley a "tour de force, vibrating with power, as it is with John Moore, deep and pervasive honesty." Richard Wheeler, a six-time winner of the Golden Spur Award, said of Moore's Letters to Jess: "Moore's book has a unique Montana flavor and vividly describes how Montanans live and what they say when they gather over coffee in cafes across the state." Writer and publisher Gary Svee said of The Breaking of Ezra Riley, "it should be required reading in state schools." American Book Award and Spur Award winner Shann Ray has said, "If you want the real blood and bone of the West, read John L. Moore."
As an ordained minister, Moore has spoken throughout the United States and Canada. When pressed, he has conducted funerals for legendary cowboys like Hi Whitlock, whose family wanted a preacher who understood horses, cattle, and cowboy ways. He officiated two funerals for the popular and respected cowboy Lynne Taylor, one in Billings, and the other in Miles City.
Moore still runs his own place north of Miles City in a cowboy fashion. He handles his cattle horseback and relies on machinery only as a last resort. Once a popular breeder of ranch horses, Moore now breeds only for his own use but does advise others on working horse bloodlines.
"John is best known as a writer and historian," says cartoonist and Miles Community College rodeo coach Wally Badgett. "He's never received the recognition he deserves as a cattleman and horseman, but he spends as much time horseback as anyone and could be considered in these times, as the last of a breed."
Ironically, when the Montana Centennial Cattle Drive entered Billings in September of 1989 the horseman in the lead was Moore. He was a member of the Horse Wranglers who were honored to enter Billings first and as the Wranglers' official photographer, he led the way into the city while shooting back at the parade of horses, cattle, and cowboys. That epitomizes John's style: leading the way, preserving history, giving honor to others, and always emphasizing honesty and authenticity.
Reference: John L Moore living history documented April 2019