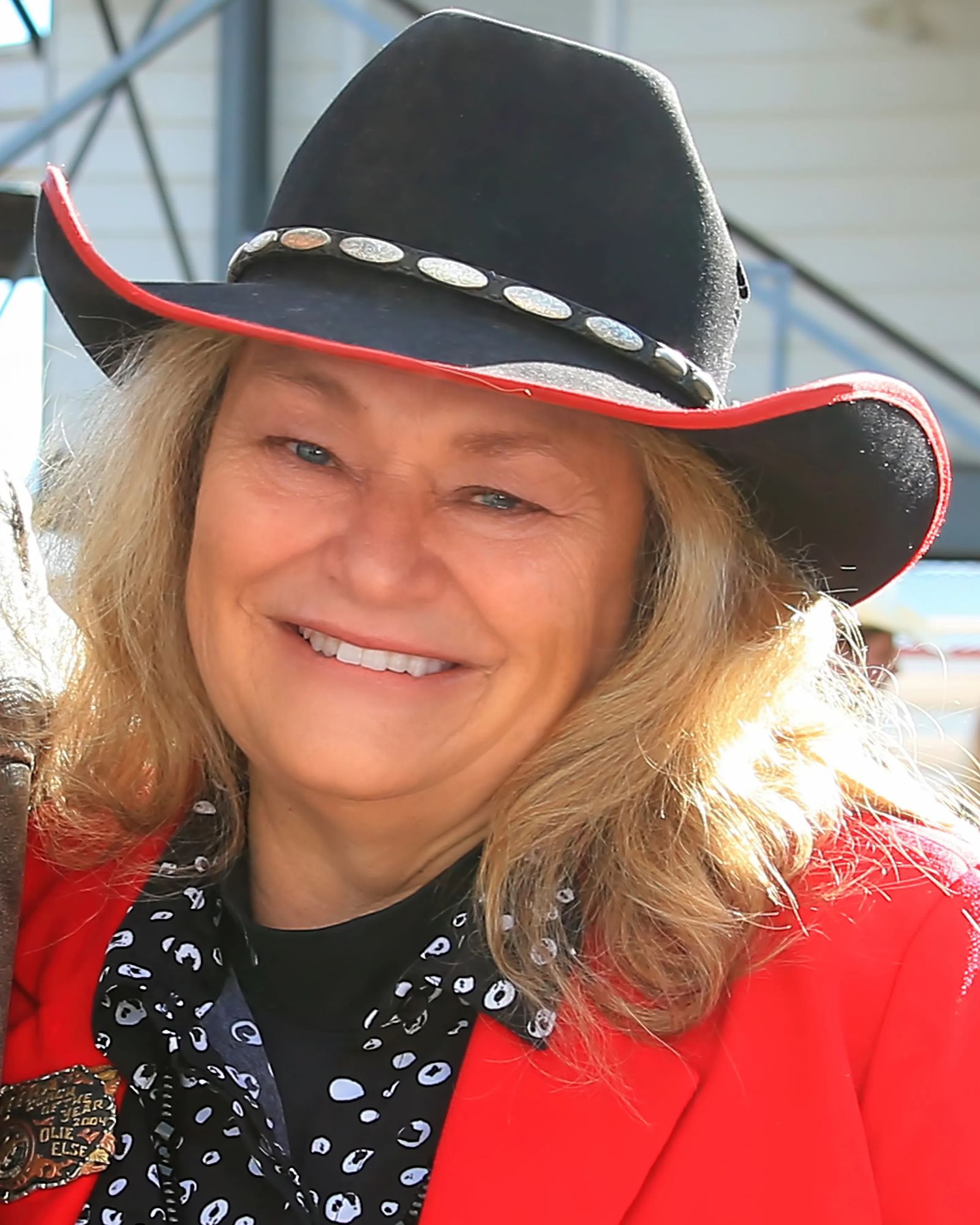 MONTANA COWBOY HALL OF FAME & WESTERN HERITAGE INDUCTEE 2019
Iola "Olie" Else
Iola "Olie," Else has been an ambassador of the University of Montana Western and the sport of rodeo for over three decades. Olie could be seen wearing her iconic tailored red jacket and ringing a cowbell to cheer on her UMW rodeo athletes. In 1999, she was named "The Grand Dame of College Rodeo," at the College National Finals in Casper, Wyoming. Current and former students recall her leadership and support while in college and remain a part of her extended family long after graduation. The UMW men's and women's rodeo teams have consistently been named Regional and National Powers with six national champions, 22 regional champions and 20 top-ten finalists. Coach "Olie," has been the motivating force behind the rodeo teams most successful run in school history. The National Intercollegiate Rodeo Association (NIRA) awarded her Coach of the Year in 2004 and again in 2018. The UMW team with Olie at the helm was named "Great Montana College Rodeo Program," at the Montana Pro Rodeo Hall and Wall of Fame gathering in 2014. Olie was rodeo club advisor for over 30 years and won the UMW Best Club award 32 times. She is the only woman to have been named NIRA Coach of the Year and the only person that has won the award twice.
Olie Else graduated from Leadore High School with honors and came to Western Montana College (WMC) from Tendoy, Idaho in the fall of 1969. She was chosen WMC Homecoming Queen in 1971 and Miss Rodeo Idaho in 1973. She was active in student government and held offices in several clubs including the rodeo club where she competed in barrel racing, breakaway roping, team roping and goat tying. Olie graduated with a BS from WMC in 1973 and her masters from the University of Montana in 1995.
Iola became a member of the Professional Rodeo Cowboys Association (PRCA) in 1974 and worked for stock contractor Reg Kesler and his wife Liz, where she timed and helped secretary rodeos in Montana, Canada and throughout the Northwest. Olie was selected as a timer at 20 Montana Pro Rodeo Circuit Finals. Olie hosted a radio show called the "Rodeo Roundup," for 22 years where she promoted the sport of rodeo and the UMW. She was presented with the Montana Pro Rodeo Achievement Award at the finals.
Olie has been honored as the 'Chief Marshall' to escort seniors at the UMW graduation, given the Distinguished Alumni Service Award, the Jane Helm Maddock Service Award, the Lifetime Achievement Award, for lifelong commitment to the western way of life, at the Montana Pro Rodeo Hall and Wall of Fame, named Big Sky Rodeo Coach of the year ten times, and Outstanding Faculty Member six times. She was recognized on the floor of House of Representatives in Washington D. C. by Representative Gianforte with the "Spirit of Montana" honor in 2018.
Olie was instrumental in bringing the Equine and Natural Horsemanship Programs to UMW. She helped expand the Natural Horsemanship Program and served as Department Chair of Equine Studies. In 2018 Olie retired from coaching but continues to teach and recruit for the UMW Equine program.
Olie raised cattle for over forty years and has deep ties in agriculture. She was a 4-H Leader and served on the District 10 School Board. Currently she is the Faculty Advisor for UMW Young Farmers and Ranchers Club and has encouraged the members to be active in promoting agriculture. The YF and R Club was named Best Campus Club and has been active in local schools, the Dillon community, and nationally.
Olie has three children that all graduated from UMW. Kayla is a Doctor of Veterinary Medicine Tate, is a high school Superintendent, and Tad is a rancher, teacher and entrepreneur. She has four grandchildren Nash, Jett, Cade and Canin and is incredibly proud of them all. Olie has taught, advised, mentored and coached thousands of students that have earned a degree. These students have gone on to become doctors, lawyers, veterinarians, bankers, teachers, ranchers, entrepreneurs, and productive tax paying citizens. The success of her children and her students has been her life's work. Iola "Olie" Else, student advocate, will leave a legacy of having instilled a strong work ethic and the western way of life into hundreds of young people.