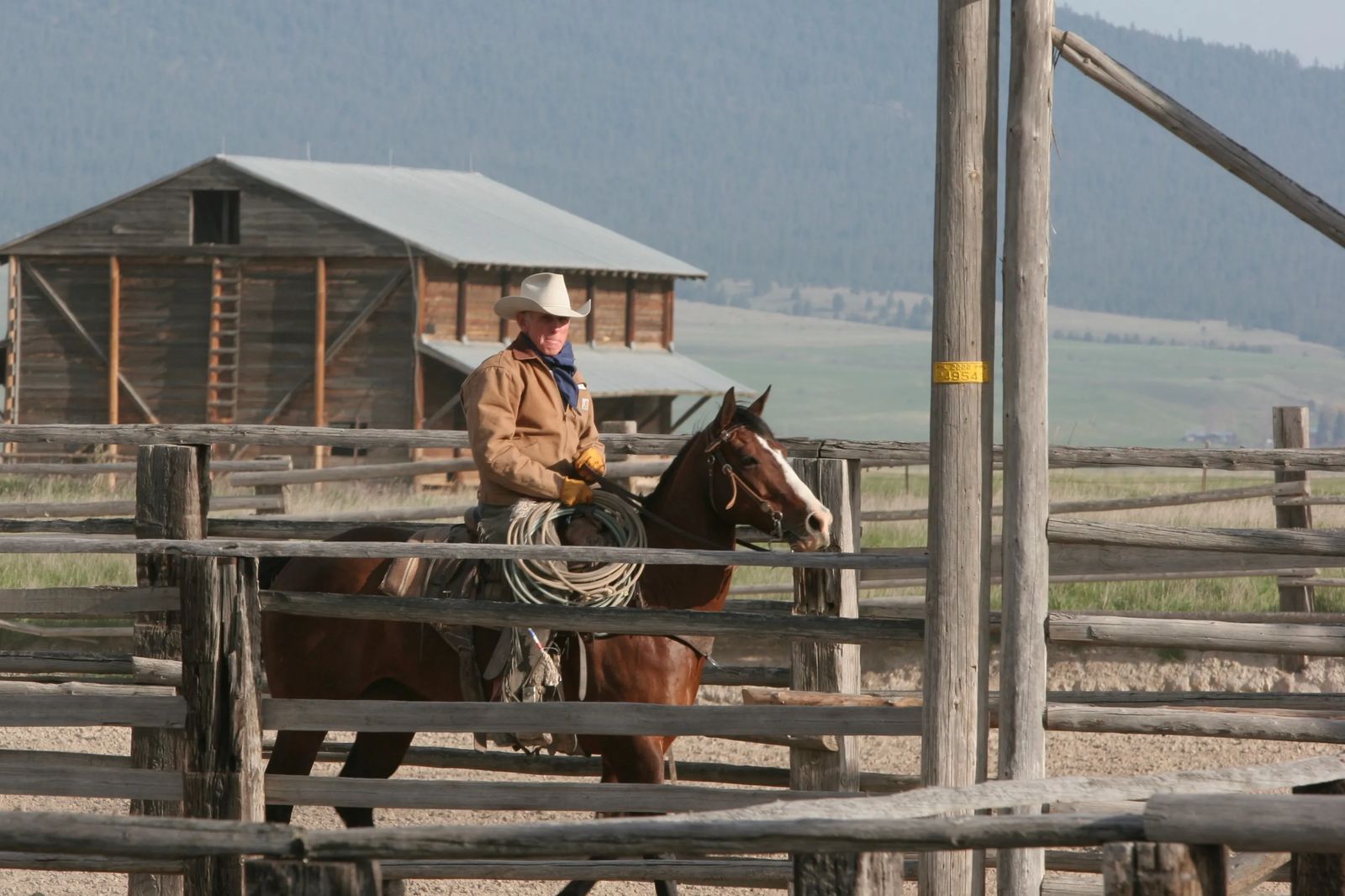 MONTANA COWBOY HALL OF FAME & WESTERN HERITAGE INDUCTEE 2019
Walter J. "Walt" Vermedahl
Walter J. "Walt" Vermedahl was born March 29, 1939 in Radio, Montana, to John and Carrie (Tollum) Vermedahl and lived 16 miles west of Polson in Irvine Flats.
At age 14, Walt learned how to train colts and to shoe his saddle horses from his neighbor. It wasn't long after, he started his own horse training business. At high school rodeos, he entered bareback, saddle bronc, calf roping, cow cutting, and steer wrestling. In between events you could find him helping his fellow competitors or learning from the rodeo clown how to do rope tricks.
Walt joined the National Guard in 1956 and served for seven years.
In 1959, Walt placed first in bareback at the state High School Rodeo Finals and went on to win third in the saddle bronc riding at Nationals.
After high school graduation, he packed his bag and with his saddle rode the bus to Bozeman to train horses for a couple of months. Returning to Polson, a friend in the National Guard recommended Walt for a job at Glacier Park Horse Concessions. He loaded his treasured horse Bingo and headed to St. Mary's for the summer. The park visitors cheered as he stood on his loyal steed to perform the Texas Skip and Wedding Ring rope tricks. He wrangled dudes for the Concessions over the next five summers, where he shod horses, packed, and guided; becoming part owner of the business the last two seasons. Walt recalled when he and one of the owners took a car to the top of a hill to check on the 30 head of horses that were turned out to pasture. A beaver pond had created a barrier that prevented the men from crossing and gathering the herd. Walt's whistle beckoned his well-trained horse Bingo to lead the entire herd back to the corrals and to one proud Walt. In the fall, he packed hunters into the Bob Marshall. One fall he packed 16-foot boards, cement mixers, and 4x8 sheets of plywood, to the Granite Park and Sperry Chalets for remodeling.
Walt travelled to Wilcox, Arizona in the winters of 1959 & '60 to work on a ranch. The following winters he trained horses and colts out of Round Butte south of Irvine Flats. On any one of those wintery days you could easily recognize this cowboy in the distance riding for miles; stopping at ranches to add more horses or colts to his training string, up to eight at a time, with a pigtail to connect them. With his hat crease in the traditional western teardrop, this long, lean, cowboy rode 20-30 miles trading horses as he headed back to the home ranch.
In the spring of 1964 Walt embarked on the famous Montana Centennial Train Ride. He drove a six-up in 16 different cities across the United States while tending to the care of 75 horses and mules. Upon his return, he married Pat Bell, finished his last summer in the Park, and relocated to the Polson fairgrounds where he set up to train. He bought 30 head of cattle and became a partner in a horse named Destiny Printer with longtime friend Al Grandchamp. Printer won the Charlie Russell Futurity in 1966 at the Chouteau Fair; and later won an American Quarter Horse Association (AQHA) Performance Register of Merit; a 5-event competition of cow cutting, reining, heading, trail, and western pleasure.
Walt was instrumental in the construction of the Pony Palace in Pablo, Montana. He was part owner, operated the facility, directed winter rodeos, trained horses, and managed the 60 head of boarded horses and the 125 head of cattle. This gathering place had a western store, and held competitions in: cow cutting, cowboy polo, team roping, barrel racing, jumping, and horse shows.
By 1973 Walt's passion for team roping was growing. He was a savvy cowman and Irvine Flats beckoned his family back to his roots. They bought the Picket Ranch, a short ride from his folk's place. Along with a lease from the Flathead, Salish, and Kootenai tribes, they purchased several hundred head of cows. Walt's colt breaking and horse training skills became well known around the country. He owned and trained numerous outstanding horses. An average of ten outside horses were saddled every morning for a day's work at the ranch accompanied by dogs he had trained. In 1980, a stud named Skid Frost, purchased in partnership with Walt's dear friend John Carpenter, joined Destiny Printer. Little did the men know this stud would someday make Walt famous in the Professional Rodeo Cowboy Association (PRCA).
Walt was awarded Pick Up Man of the Year in 1989 and '90 by Northwest Rodeo Association. Also, in 1990, Walt built an indoor arena. Team roping practice was scheduled every Wednesday evening, rain or shine, followed by a traditional serving of ice cream. The four children he raised have fond memories of that sweet treat and the stories shared around the table. He offered horsemanship and colt breaking clinics for several years and became very resourceful making his own chaps, bridles, reins, and repairing leather. Overhauling tractors, irrigation equipment, and welding, would have been done horseback if at all possible. That same year, Skid Frost, marked with the Heart Bar V brand, sired a horse named Precious Speck. "Speck" injured himself when he accidentally jumped a fence and drove a steel post into his right flank. Not healing as they had hoped, they kept him at the ranch instead of selling him as earlier planned. The scar became a blessing-in-disguise. Walt competed successfully on Speck, instinctively recognizing Speck's outstanding caliber of talent, speed, and cow sense due to his experience of riding thousands of horses. In 2000, Travis Tryan purchased Speck and nicknamed him "Walt". The first year he owned him, Travis and his brother Clay qualified for the Wrangler National Finals Rodeo. Travis and "Walt" qualified eight more times and "Walt" claimed AQHA/PRCA Head Horse of the Year four times. In 2015, "Walt" became the first rope horse to be inducted into the Pro Rodeo Hall of Fame in Colorado Springs, Colorado.
Walt along with his wife, attended the honorable ceremony. Walt and Mary live in Cave Creek, Arizona. You can still spot this cowboy from a distance, competing, roping, and mentoring. A good horse, rope in hand, and faith in the Lord, has carried Walt through a remarkable life - admired by many.