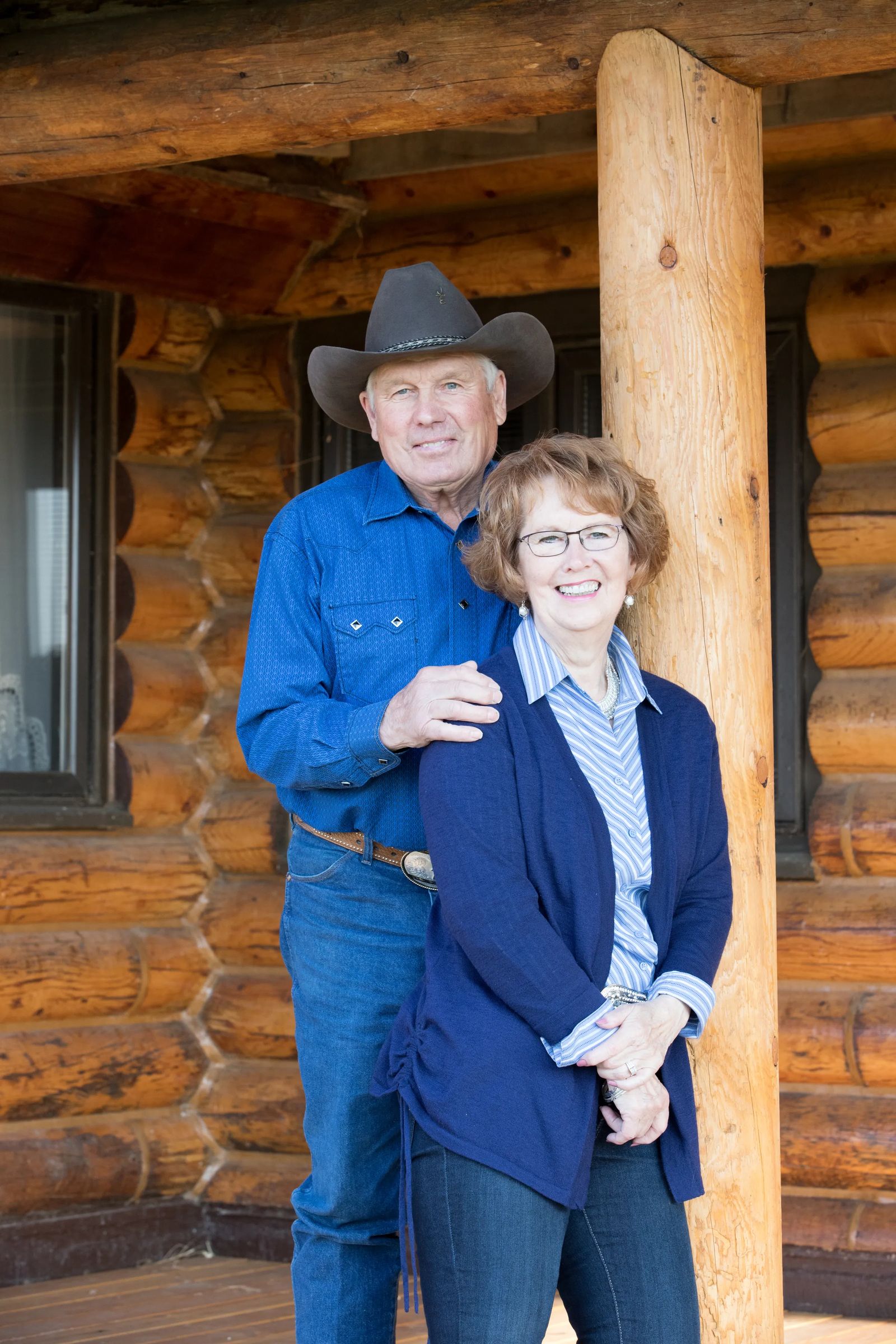 MONTANA COWBOY HALL OF FAME & WESTERN HERITAGE INDUCTEE 2019
Arvid Joseph & Linda Joy (Lee) Eggen
Arvid Jospeh Eggen was born June 26, 1943, the eldest child and only son of Joseph and Katherine (Kohler) Eggen. He was raised on the J Bar E Ranch, 12 miles west of Plentywood on the Big Muddy River in the Archer community of Sheridan County. Arvid continues as the 3rd generation to live on the ranch.
When looking over the country in the spring of 1898, Arvid's grandfather, John Eggen, and his great uncle, Andrew Fadness, came across a vibrant green acreage with a beautiful natural flowing spring, rendering the decision to set down roots in that location. The spring remains active today providing water for three houses, the barn, and corrals. A large barn was erected in 1908 which stands as an icon to the area and era.
During the first ten years of ranching, John and Andrew raised cattle and horses. For several years they were able to run their livestock from the Canadian border to the Missouri River and from the North Dakota border to Scobey, Montana on open range.
In 1908, when the homesteaders began to stake claims under the Homesteading Act, they began building fences. The Eggens, who had established the J Bar E Ranch, sent a strong message and started cutting the fences. John and Andrew decided they would fight this battle in a round-about way and began selling horses and cattle to the homesteaders. Eventually they became good friends with their homesteading neighbors.
John and his wife, Tillie, had three children: Joseph, Gene, and Lillian. John passed away in 1941 and a few years later, son Joseph (Joe) bought the ranch from his mother. He married Katherine "Kay" Kohler and had three children: Arvid, Joann and Linda. On June 18, 1967, Arvid married, Linda Joy Lee. To this union two children, Lorrie and Jay-De, were born. Today they reside on the expansion of the ranch along with their families.
The J Bar E Ranch has always been known for raising fine cattle and horses. In 1952, Joe decided to dabble in the registered cattle business and bought 13 head of bred Horned Herefords cows. That adventure was the beginning of activities surrounded by bull sales and traveling throughout the United States, Canada and, Mexico meeting and making lifelong friends.
At one time half the homeplace was set up for farming and the other half for grazing. As Arvid began managing, he soon realized his desire to concentrate on raising quality cattle and quarter horses and seeded the farmland to grass.
Arvid and Linda own "Winning Little Leo", their American Quarter Horse Association stallion. He is the last known grandson of the legendary "Leo" (born in 1940) and the great grandson of "Joe Reed II" and "Little Fanny". He is from the lineage of "Dry Spec A Pepper", with seventeen legends and foundations in his pedigree. "Leo", as he is now called, is quiet & well-mannered, has cow savvy and great speed. Sure-footed, his prodigy has excelled as trustworthy steeds for ranchers, barrel racers and ropers in the arena, and countless trail riders. At age 24, he stands at stud having sired six foals this year. His colts are intelligent and quick to learn.
Arvid and Linda are gracious hosts. They love to entertain guests in their beautiful log home, where the door is always open to friends, neighbors, hunters, Hereford enthusiasts, and teenagers alike. In the 1990's the Eggens decided to share their passion and knowledge of northeast Montana and its rich history. They began a 5-day hunting business providing a place where people from around the world could come to stay and hunt, allowing Arvid and Linda the opportunity to educate others about agricultural and the western life-style. Visitors learned about American ranchers and cowboys who take great care of the land, livestock, and wildlife, thus providing for the safe and abundant food we all enjoy. Without good stewardship, ranchers would not be in business to manage and sustain the food chain, which enables others to live healthy life-styles. Guests have returned annually from Hawaii, Alaska, and many of the continuous states.
The Eggen's have always had a soft spot for youth, encouraging them in a western lifestyle. Arvid and Linda, who were involved as members and leaders in 4-H, teach safe beef and sheep showmanship skills to 4-H and FFA students.
Arvid has become known as the local "cow whisperer" helping ranchers pick out their annual replacement heifers, to work cattle more quietly and put together a quality herd. Linda is an efficient and beautiful seamstress who has designed everything from christening to wedding gowns and guided numerous 4-H sewing members with their projects throughout the years.
Branding time is a big event on the J Bar E. Neighbors and friends gather to "rope and drag" calves to the fire. On any given year it is not unusual to have a crew of 50 to 75 people sit down to a delicious meal prepared by Linda. The home cooking is a big reason why so many show up and enjoy a good time of laughter, stories, making friendships, and creating memories to last a lifetime.
The Eggen family's western roots lie deep and continue to expand with the next generations. Lorrie has two sons and a daughter. In 2017, she took over the ranch, with her Dad advising and son, Jarett, working alongside her.
Jay-De owns a cattle hauling business and has developed a good reputation as a dependable handler of livestock hauling cattle and registered bulls throughout the United States. He works for the J Bar E during the summer months. Jay-De has three daughters.
Arvid and Linda, are the pillars of a ranching lifestyle. Their children and grandchildren are prepared to preserve while holding strong to their faith in God, staying loyal to the western way of life, and teaching respect of the land.
References:
Interviews with Linda Lee Eggen by Avice Hoff, 2018
Interviews with Linda Lee Eggen by Lorrie Eggen, 2019
Memories as written by Linda Lee Eggen, 2019
Sheridan Daybreak II, published 1984, Library of Congress No: 85-60467 copyright @1985, page 72
Sheridan Daybreak III, published 2005, page 50 – 58, North Winds Publishing & Printing, Great Falls, MT 59403
Certificate of Registration, American Quarter Horse Association #3390082 'Winning Little Leo', sorrel stallion, born May 01,1995