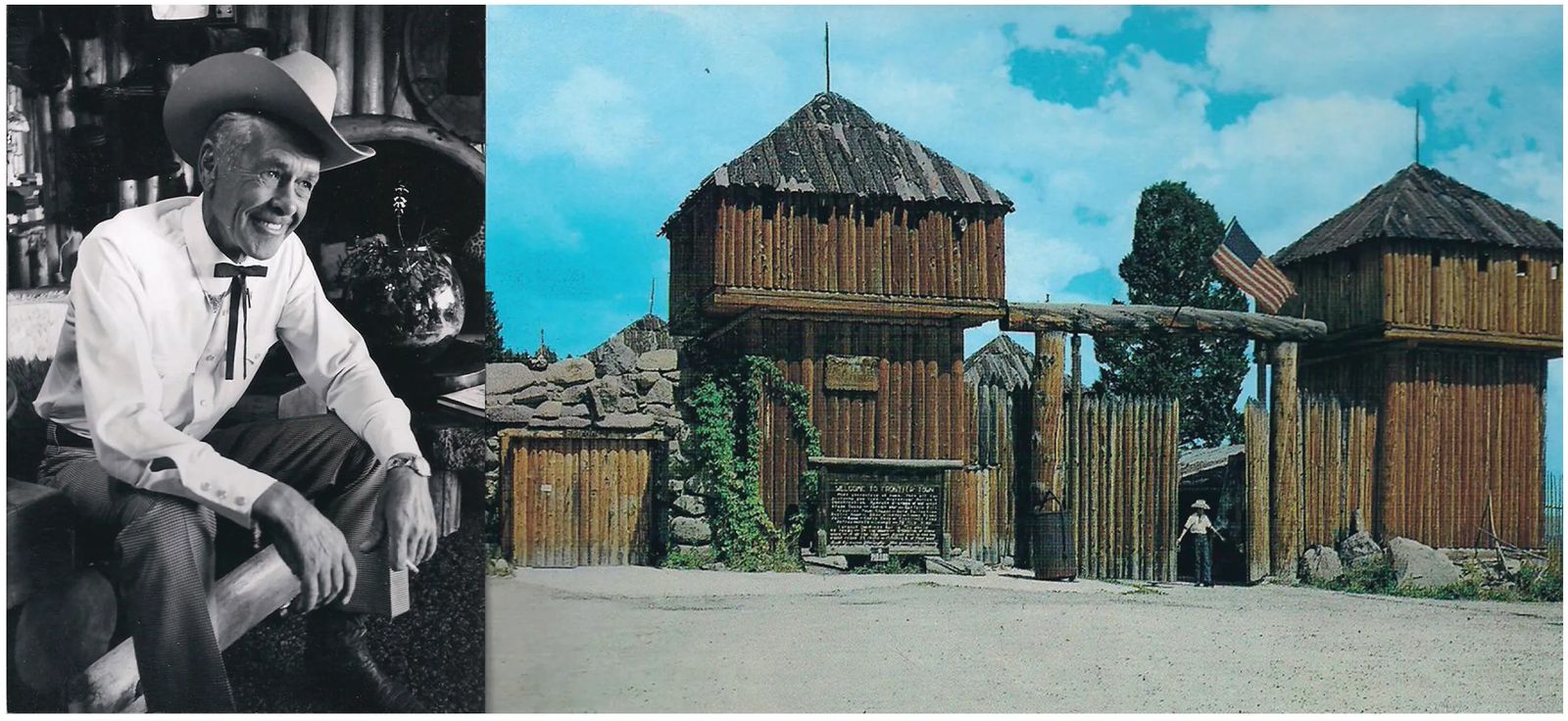 MCHF & WHC HALL OF FAME INDUCTEE 2018
John R. Quigley - Frontier Town (1915-1979)
John R. Quigley was born September 8, 1915, the son of John R. Quigley Jr. and Kathryn (Manley) Quigley at the family ranch located three miles from Blackfoot City, Montana. John was the grandson of Montana Pioneer, John R. Quigley Sr. In 1919 at the age of three and a half John lost his mother when she was stricken with what was known as "the Spanish Influenza". At the family ranch near Avon, Montana, he grew up a little like Tom Sawyer, Huckleberry Finn, Kit Carson and Daniel Boone, all combined with the Quigley pioneer life heritage.
John rode his first horse when he was less than two years old and in turn loved and respected them throughout his lifetime. He rode horseback to the Three Mile Country School where his favorite subjects were of an historical nature. He graduated from Powell County High School in Deer Lodge, Montana in 1933.
From his earliest years John pestered the old timers to tell him the tall tales of buffalo and Indians – feast and famine – heat and cold – tenderness and cruelty. As a boy he was always out in the woods, panning for gold and searching for artifacts that were left from the pioneers. John knew every inch of his father's Sunset Ranch and the surrounding territory and could handle any horse or chore put to him.
John operated his own guest ranch, Lost Cabin Ranch, prior to World War II. The "Lost Cabin" structure was his first successful attempt at building with native material in pioneer style. It was one of his greatest works and the main attraction on the guest ranch.
John married Marguerite (Kirwin) Quigley in 1933 and they became the parents of John (Jack), Peter and Kitty Ann. Together, they operated Lost Cabin Ranch and ski resort north of Avon. He later married Sussan "Sue" Whittier.
After the war, and with the death of his father, he purchased 40 acres of land, which ran almost perpendicular up and down the slopes of the Continental Divide. When he told people he would carve out a frontier outpost cut into the mountain and call it "Frontier Town", they called him "Crazy Cowboy".
During the winter of 1947, John began building his "Frontier Town," using his knowledge of leverage by setting the first boulder on the Continental Divide. He continued to drag boulders weighing from five to ten tons and set them on one another. For the most part, his only aids were his own strength, a pry pole and a small pickup truck equipped with a winch. After John set the boulders, he would cut the sections of lodge pole pine. He was so intent on preserving frontier authenticity that he connected the logs with wooden pegs.
The first block house and buildings were built in 1947. The saloon in 1951-1952 featured a bar made from a Douglas fir tree, 50 feet long, six inches thick and weighing six tons. It was listed in the Guinness Book of World Records as the longest one-piece bar in the world. The artwork John created on the back bar showed panoramic, miniature dioramas of a buffalo kill, an Indian war, and a running stagecoach. At the end of the bar was a full-mount of a 500-pound black bear that had broken into the kitchen and came down to the bar where John shot him. He added a dining room that could seat 350 people and served as a summer theater. He built a revolving stage weighing over five tons that could be easily turned, even by a child.
John constructed the Chapel in Frontier Town from massive logs and rocks. The pews were slabs from large pine trees that he shaped by hand and covered with sheepskin. Seated in a pew and looking toward the altar, you could see a magnificent view of the valley. Centered in the huge picture window was a wooden cross. John also built a frontier jail. Artifacts that he had collected throughout the years were displayed, including gold that he had placer mined.
Frontier Town was one of Montana's finest man-made tourist attractions where thousands of out-of-state visitors as well as Montanans visited yearly. They enjoyed a unique opportunity to step back in time to the days of pioneers, mountain men, gold miners and Indians. It was featured in national publications such as Life and Readers Digest. Famous personalities like George Montgomery, Dinah Shore and A.B. Guthrie Jr. were longtime friends and visited Frontier Town. Another notable visitor was the Rev. Billy Graham when he was traveling to the 1962 World's Fair in Seattle.
John R. Quigley was truly exceptional, not only in the field of engineering but also with his imaginative, inventive, creative, artistic abilities. His gift of "Frontier Town" to the world was truly a treasure to all who were blessed to have had the opportunity to enjoy the "fruits of his labor". John's loyal partner and wife, Sue, almost from the very beginning, was important to its success. Her self-taught merchandising ability proved to be the financial bloodline for John to keep building his dream. It was a great loss to the Treasure State when this spectacular replica of Montana history was lost to private ownership.
John R. Quigley passed away at his beloved Frontier Town on November 23, 1979.
References: Frontier Town Times - Souvenir Edition -Volume II - No. 1-
Marjorie Culum, Editor
Frontier Town booklet - One Man's Folly – by A. B. Guthrie Jr.
John R. Quigley personal writings in Frontier Town booklet
Quigley Family History site on the Internet