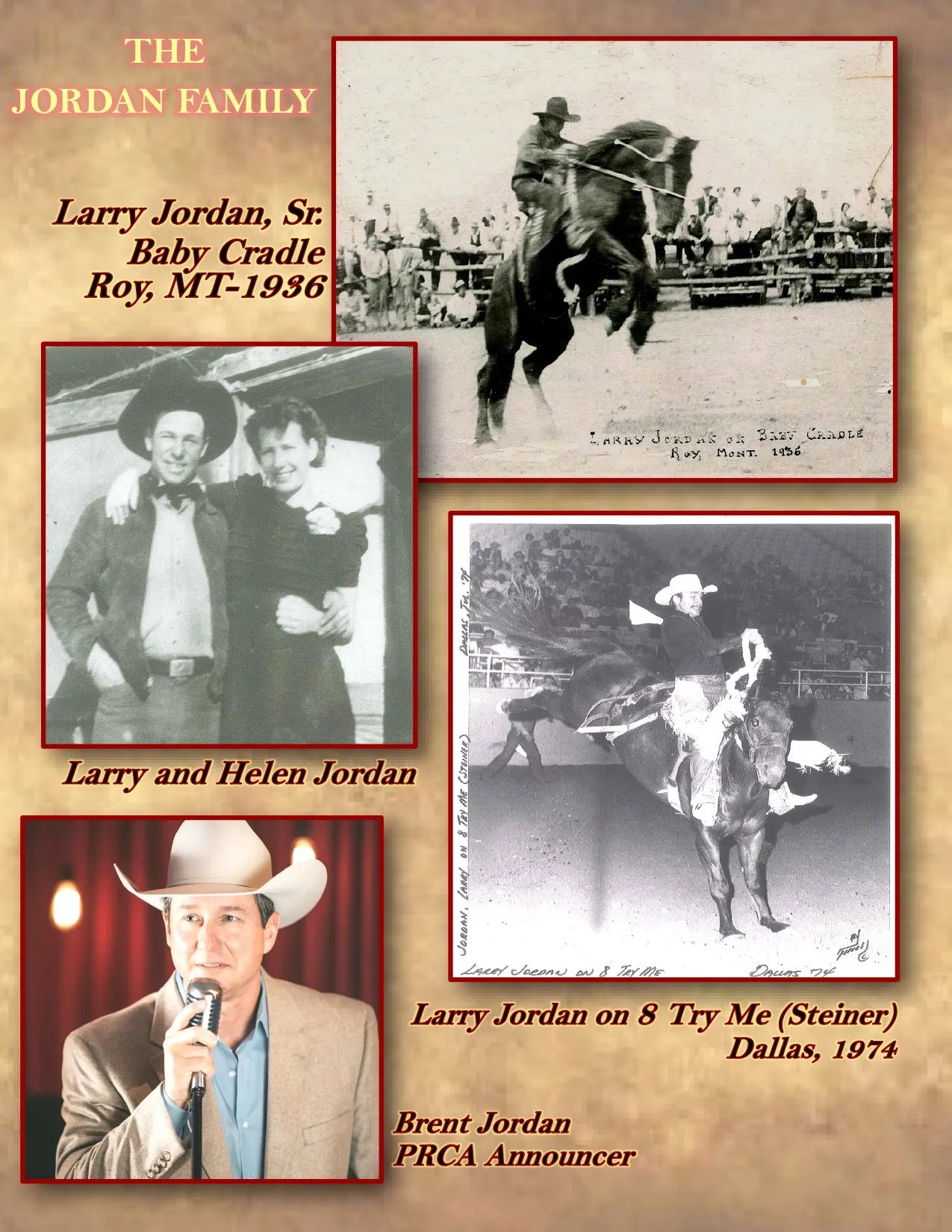 MCHF & WHC OF FAME INDUCTEE 2018
Jordan Family of Missouri River Breaks Country (1912-2001, 1913-2011, 1945, 1972)
Larry and Helen Jordan ranched for over 60 years in and near the Missouri River Breaks, north of Roy, Montana.
Helen was born on December 15, 1913 in Butte, Montana. She graduated from Eastern Montana State Normal School (now MSU-Billings) and was the captain of her basketball team. She was proud of the fact that she helped pack the cornerstone for McMullen Hall.
Helen Kudzia married Larry Jordan, from Ismay, in Lewistown, Montana, a union that lasted for 65 years. They were known for their Quarter and Paint horses throughout the country. Helen was a horsewoman in the truest sense, caring for horses and cattle her entire life. One well-known horseman, Randy Rasmussen, named his finest filly "Helen of Roy" in her honor. In addition to being a devout Catholic, Helen was a school teacher, splendid homemaker, and above all a great mother. She was known as the hard-working lady with a big heart.
Lawrence Emmett "Larry" Jordan was born in a dugout on O'Fallon Creek outside of Ismay, Montana on February 18, 1912. Larry was one of the last CBC (Chapel Brothers Cannery) Cowboys.
The CBC's ran 63,000 head of horses of which 50,000 were located in the Missouri, Musselshell, and Yellowstone River drainages and the plains of central and eastern Montana. Larry worked for the CBC for several years, rounding up, branding, castrating and shipping horses from the Miles City area to the cannery in Illinois. He also provided 20-30 head of bucking horses for the Tunicliff Rodeo Company in Montana during the 1950's and 60's as well as helping run the calf roping chutes.
When the couple married, Helen taught school in the Roy area and Larry broke horses and trapped coyotes for a living – together, they were building a ranch.
Larry served on the board of directors for the Montana High School Rodeo Association for nearly 14 years.
A well-known central Montana cowboy, Lee Fields, said this about Larry. "He was certainly a big country cowboy - loved good looking fast horses and had a great sense of humor. He was the best and funniest story teller I ever heard and I believed every story he told was either true or entirely possible."
In 2010, Larry and Helen were awarded the Cowboy and Cowgirl Heritage award from the Montana Pro Rodeo Hall and Wall of Fame in appreciation for preserving the western heritage way of life.
Larry passed away February 28, 2001 and Helen on November 27, 2011.
Larry Edward Jordan, the only son born in 1945 to Larry and Helen has a long list of accomplishments in athletics being the only individual to be recognized in two sports in the Montana State University-Billings Hall of Fame-football and rodeo. Larry is a National Finals Rodeo (NFR) qualifier in the saddle bronc riding going to the finals in 1971 and a two-term Professional Rodeo Cowboys Association (PRCA) Board of Director. He founded the PRCA Circuit System in 1974 as well as building the groundwork for the Professional Rodeo Judging System. Larry's biggest wins in rodeo competition were in Edmonton, Canada and Madison Square Garden-stateside as well as placing in numerous other major rodeos in both saddle bronc riding and steer wrestling. He holds the record of 3.2 in steer wrestling for the Canadian Swift Current, Saskatchewan rodeo.
Larry was inducted into the Montana Pro Rodeo Hall and Wall of Fame, in Billings, Montana, in the NFR Saddle Bronc division and Legends category. His latest endeavor is the creation of the World of Rodeo Reunion and Gold Card Gatherings, held annually during the Wrangler NFR, which is in it's sixth year, honoring all aspects of professional rodeo and the equine industry. Larry currently serves as a board member on the Rodeo Historical Society (Rodeo Hall of Fame) of the National Cowboy and Western Heritage Museum in Oklahoma City, Oklahoma.
Brent Jason Jordan, Larry and Helen's only grandson, born in 1972 was the apple of their eye. A third generation PRCA member, he has exceled in the real estate business and the world of professional rodeo announcing. Brent has announced 30 different PRCA rodeos and events across the United States including Master of Ceremonies for the Miss Rodeo America contest. He co-announced the Home on the Range Match Bronc Ride with Hadley Barrett and the Badlands Circuit Finals with Bob Tallman, the Senior Pro Rodeo and Indian National Finals Rodeo, Wrangler 50th NFR Big Round Up and Visit and World of Rodeo Reunion, the Benny Binion Famous Bucking Horse and Bull Sale, Tour Far West Rodeo Spain & Italy 2009, the World Class Bucking Horse Finals and the Montana Timed Event Championships. Brent has served as Master of Ceremonies for the Montana PRCA Hall and Wall of Fame Award Banquet for twelve years and is part of the WNFR production staff and voiceover for the Linderman Award presentation. Additionally, he was nominated for Announcer of the Year by the Women's Professional Rodeo Association. Brent currently resides in Livingston, Montana.
Rodeo blood that runs deep in the veins of the Jordan family today first pumped in the hearts of a young couple who built a ranch in the Missouri River Breaks country of central Montana.
Reference: Jordan family history