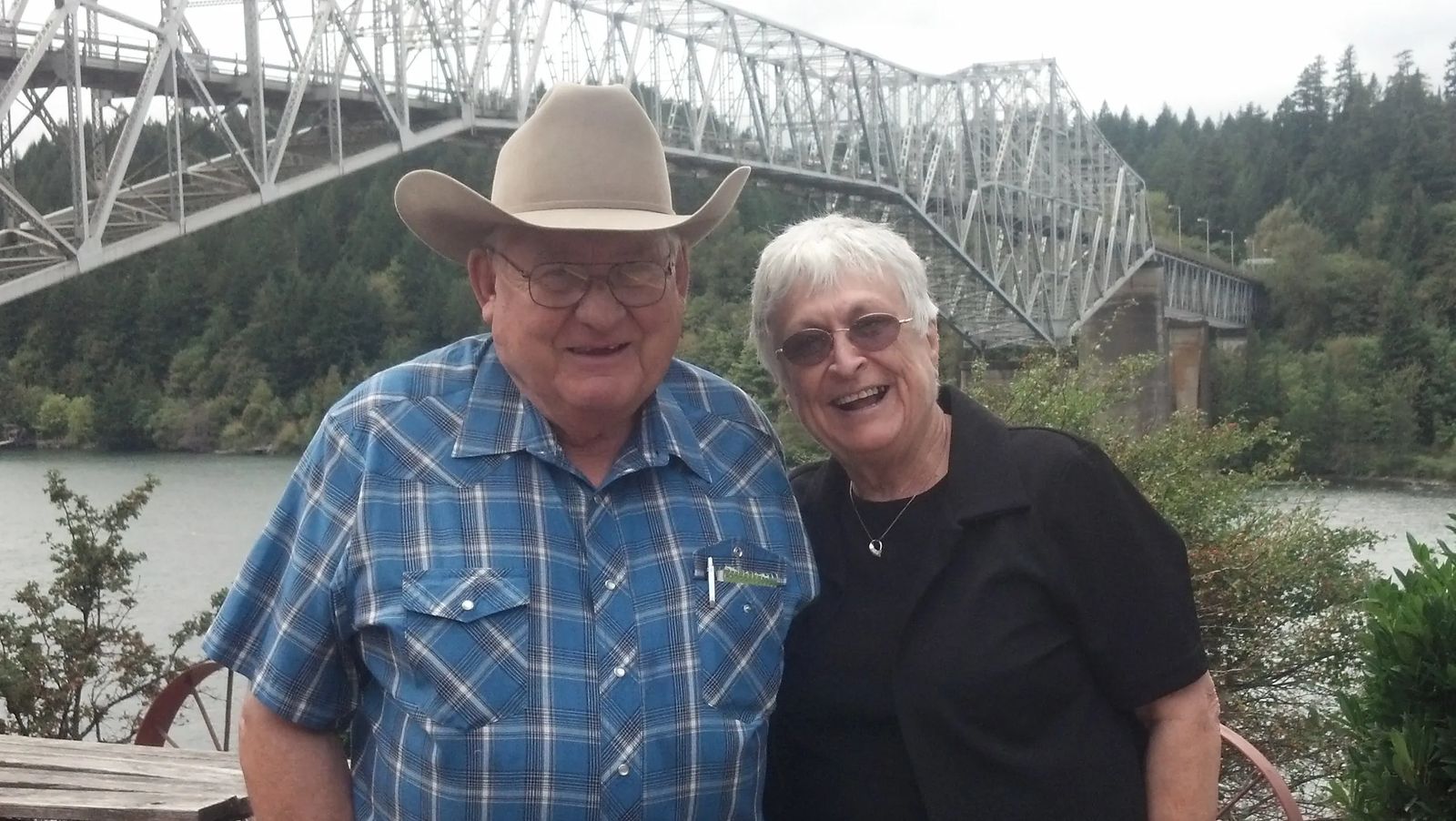 MONTANA COWBOY HALL OF FAME INDUCTEE 2018
Clarence Allan & Mary Ann Pursley
Clarence Allan Pursley was born on July 16, 1933 in his grandparents', George and Clara (Kugelard) Rickert's modest ranch home located east of Big Sandy, Montana, near the foothills of the Bear Paw Mountains. "Allan" is the older of two sons that were born to James "Jim" and Mildred (Rickert) Pursley. He and his younger brother Aaron "Duke" Pursley grew up working the farmland and livestock on their family's ranch. As a young man, Allan enjoyed his work as a cowboy at a local ranch. In 1952, he graduated from Big Sandy High School. Allan went on to voluntarily join the United States Army in 1953 and found out that he had actually been drafted. He served as a radar operator of the 90mm aircraft guns for two years, protecting the perimeter of Chicago, Illinois.
Born to Howard and Mary (Shovlin) Pfrimmer in Ennis, Montana, on February 2, 1938, Mary Ann (Pfrimmer) "Annie" Pursley is the oldest child of 16; three boys and 13 girls. Her father's jobs as a ranch hand, government trapper, sheriff and owner of a soda fountain, laid the ground work to a life lived in various locations of Montana from Ennis to Augusta, Great Falls to Dupuyer and Geyser to Big Sandy where Annie attended high school.
Allan and Annie first met in school. However, due to their five year age difference, it was not until later that they took notice of each other. While Allan was away serving his country, he had several young women corresponding with him. Fortunately, it was Annie who stole his heart. Upon his return to Big Sandy in December of 1955 he asked the then 17 year-old to marry him. The young couple exchanged wedding vows on May 19, 1956 in front of their parents at the Methodist church in their hometown.
The newlyweds spent the next day at a rodeo with Allan's brother, Duke and their cowboy friends in Winnifred, Montana. Although Allan tried his hand as a competitor the success he would later achieve in the rodeo world was not found making the eight-second whistle.
The Pursley's made their first home in Havre, Montana, where Allan worked at Valley Motor Supply and Annie was a stay-at-home mom with their first daughter, Geri, who was born in September of 1957. Their family grew quite quickly with the addition of their son, Wayne, on October 7, 1958 and exactly one year later on his first birthday, they welcomed a baby girl, and named her Norma.
Allan was later employed as a traveling salesman with various companies and also worked at a couple car dealerships, while Annie ran a lunch counter and was a grocery clerk for several years. Throughout those early years, they lived in Big Sandy for a short time at his parents' ranch, returned to Havre, then moved to Helena, Montana, before settling permanently in Great Falls.
In the early 70s they both managed Western Village, a local western store in Great Falls. It was there that Allan began his career as a leather craftsman, building wallets, purses and belts.
The bug to build saddles bit him hard, so he decided he would take on his first saddle project by rebuilding an old saddle from his parents' ranch. The family home's bathtub became the place to soak the leather while the dining room table was the perfect place to cut it. His first saddle took several months with a lot of trial and error. This is all it took for him to set his sights on being a full-time saddle maker. In 1976, that's exactly what he did. Allan along with his friend Larry Haferman, also of Great Falls, opened Broken Arrow Saddlery by investing a mere $300 each while leaving behind his duties at Western Village. Annie remained working there while Allan began to fulfill his dream, which later led to sole ownership of the saddlery.
Although life was good and Allan had settled into his lifelong profession, tragedy struck the evening of July 13, 1976. The county sheriff came to the Pursley home and notified them that their 17-year-old son, Wayne, had perished in a plane accident while flying with Hank Hibbard on the Seiben Ranch just south of Cascade, Montana, while checking cattle.
Life changed for Allan and Annie that fateful night. While trying to mend their broken hearts Allan looked to his friend Bill Jacobs of Great Falls for advice. Bill too had lost a son and his words to Allan, have forever made an impact on him. Bill told Allan to get involved with the youth and that's exactly what he did. Allan began building bronc saddles with the guidance of Professional Rodeo Cowboys Association (PRCA) bronc rider Larry Jordan of Roy, Montana. On weekends, Allan traveled with Bill's son Donald to rodeos in Montana feeding livestock and opening chute gates all-the-while offering encouragement to young cowboys.
Allan and Annie's small house, located south of Great Falls, became a second home to cowboys, cowgirls, clowns, contract personal and all their props, a menagerie of animals, rodeo secretaries and timers. Annie loved sending everyone down the road on a full stomach. As the years went by, her special trick-filled pancakes were notorious on the rodeo trail.
In 1991, Annie became a member and timer of the PRCA. She traveled extensively with professional rodeo secretary Sunni Backstrom, who became like a daughter, working rodeos for Mike Cervi from Waco, Texas to Sidney, Iowa. She also timed for stock contractors Reg and Liz Kesler and later Greg and Judy Kesler at numerous rodeos in Montana, which ultimately led to her timing the Montana Pro Rodeo Circuit Finals (MPRC) several times.
Allan gave so much of himself to so many young men that looked to him for guidance and in return they blessed him in numerous ways both personally and professionally. His bronc saddles have been ridden by PRCA, Indian, Canadian, MPRC, high school, intercollegiate, and regional champions.
At age 85, Allan continues to build ranch, barrel racing and bronc saddles while at age 80, Annie, a PRCA gold card holder, enjoys her retirement.
What was once a family of five has grown to countless numbers including seven grandchildren, four great grandchildren and a long, long list of rodeo family. The young-at-heart couple exemplifies the way of the cowboy and the standard of a true western lifestyle. They've never turned away someone in need – something to be mighty proud of.
RESOURCE: Personal interview. April 2018. Geri Pursley