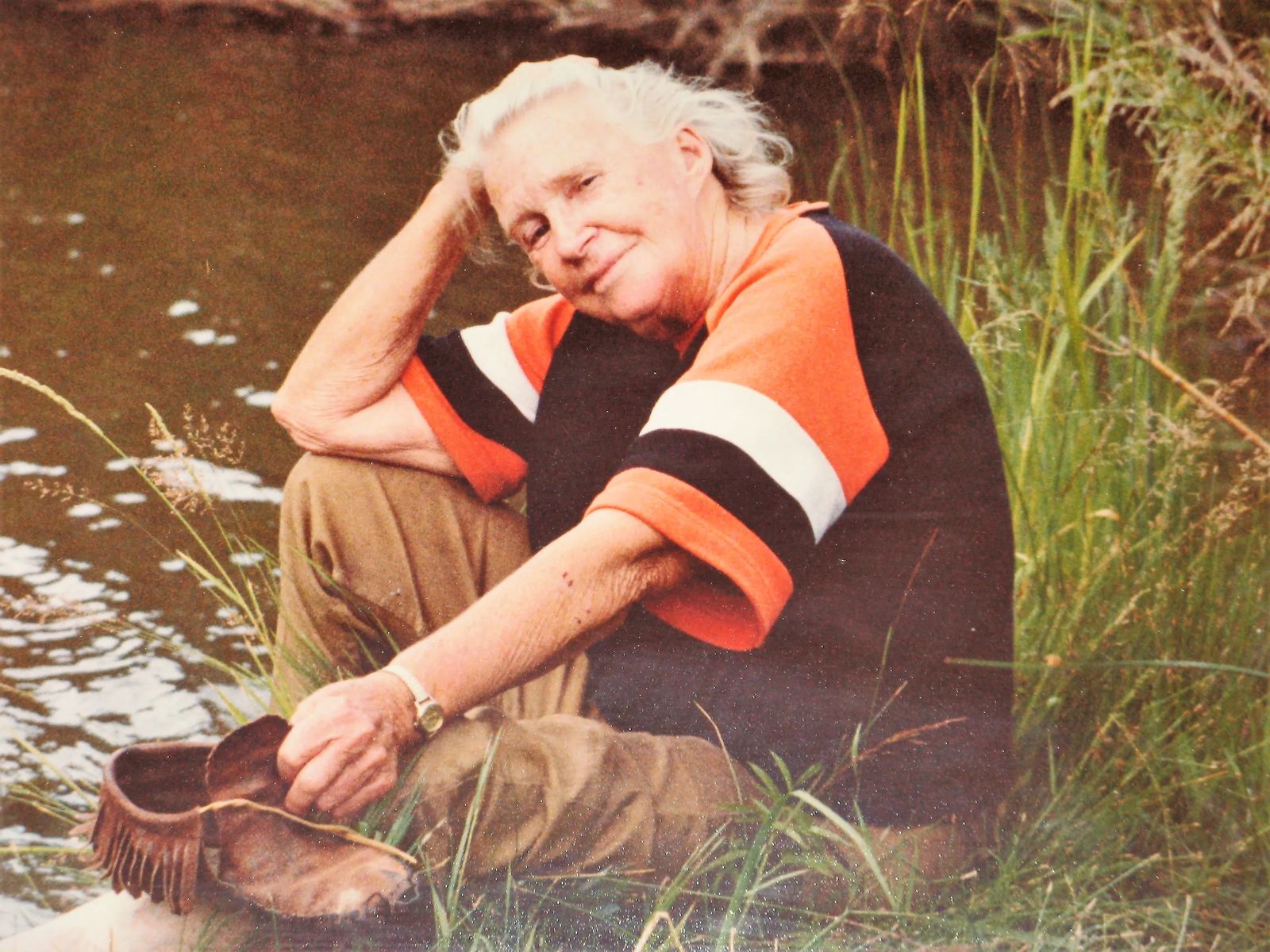 MCHF & WHC HALL OF FAME INDUCTEE 2018
Marion Laureen (Kearful) Vercruyssen (1903-1989)
Marion Laureen (Kearful) Vercruyssen was born at Clear Creek, in Blaine County, 15 miles south of Chinook, Montana on September 13, 1903 to Jerome A. and Flora M. (Tibbits) Kearful. She spent her entire life in Montana making significant contributions to our western heritage. Marion taught students for 25 years in rural one room school houses assisting countless students in acquiring the skills needed to be successful on farms and ranches which greatly improved life in rural communities all over northern Montana.
Marion grew up as a real pioneer on lands that her father and mother had each homesteaded in the foothills of the Bear Paw Mountains on Clear Creek. These homesteads were combined to establish the Eden Ranch. She and her sisters, Phoebe and Josephine, lived with her parents in a log cabin built by her father with logs from the nearby mountains. In 1916 at the age of 13, her family purchased and moved into a Sears and Roebuck prefabricated house on the ranch. This was the same home that Marion would live in when she moved back to the ranch in 1947. During the winter of 1916, her sister, Josephine, passed away. Marion's family raised cattle, sheep, and garden produce which they sold door to door in the surrounding communities.
Marion maintained a passion for education all her life, partially acquired from her father who was instrumental in pioneering the rural school in their area. After completing her primary education at Ada School near her home, she enrolled in Havre High School in Havre, Montana to obtain her secondary degree. Marion worked as a maid for her room and board to enable completing her high school education. Working to achieve her dream to become a teacher was not the only difficult time she faced. In 1921, a Junior in high school, Marion was diagnosed with breast cancer and traveled by train to the Mayo Clinic in Rochester, Minnesota for surgery. Her strong will and determination overcame this hurdle and she graduated in 1922. Marion's educational career started immediately after graduation as she began teaching at rural schools in Blaine County with an Emergency Elementary State Certificate. She rode horseback to her first teaching assignment where some of the students she taught were older than she. Marion's entire first year teaching salary was $100.
Marion married Gus Vercruyssen in Havre, on October 4, 1926, at St. Jude's Catholic Church. The young couple's first undertaking was to manage the Mission Ranch on the Fort Belknap Indian Reservation. Later they owned and operated their own ranch on Clear Creek near the Eden Ranch. Rural work during this era was labor intensive and required numerous hired hands. Feeding the men was a full-time chore which meant preparing and cooking most of the day. Marion was well-known for her delicious meals and friendly hospitality and enjoyed keeping her kitchen open in the evenings for all crews in the surrounding area to gather and feast on her baked goods. The Vercruyssen's had four daughters, Flora, Fay, Joan and Laureen. Marion and Gus divorced in August of 1942 which brought on her greatest challenge of supporting her youngsters. With the tension of the marriage behind her and an incredible resilience, she returned to teaching in the rural schools and cooking on a neighboring ranch where she lived.
Realizing the need for more education to better instruct her students Marion enrolled at Western Montana College in Dillon in 1952. Through correspondence and various short courses at Western, she obtained an Elementary School Standard Certificate in 1954. Marion taught at several schools in a one-hundred-mile radius of her home, one in Hill and eight in Blaine County, including the Ripley School near the Canadian Border. The teacherage at Ripley was poorly equipped and rundown with only enough space for her and the two youngest girls who joined the other students and were taught by their mother. Many evenings, Marion and her girls visited families of children from the school for dinner and to stay over in better living quarters. Teaching school in the Bear Paw Mountain area meant she often had to battle 30 miles of unpredictable roads or live in a shabby teacherage. Many of the schools Marion taught at lacked resources, equipment, and needed supplies. However, she was very creative and managed not only to teach her students the basics but enhanced their curriculum far beyond what was required. Marion was well liked by her pupils and their parents and thus the pressure was put on her to keep on teaching even at retirement age so she agreed to take students into her home for their lessons.
By 1947 Marion's parents had passed away and it was at this time that she returned to run the Eden Ranch in conjunction with teaching. Arthur "Churnie" Peugh became her partner and helped her to manage the place. They raised registered Hereford cattle, horses, pigs, sheep, goats, geese, chickens, turkeys and peacocks. Marion was very resourceful - one time she found a cracked turkey egg and needing every turkey she could to sell, she taped up the egg and placed it under a hen where it hatched. She planted a half acre garden, of which the produce won many awards at the county fair. Even when working in the garden, Marion reflected the image of a true pioneer woman, bare foot and wearing a dress she walked behind the horse and plow. She loved to fish in Clear Creek with a willow pole, a string, hook, and worm once catching a 24-inch-long Rainbow Trout out of the swimming hole. Realizing that some people might not believe her, she laid the trout out on a piece of cardboard and traced it for proof of her catch.
Marion's talents included writing short stories for local area newspapers and western stories for The Montana Farmer Magazine. Her creative and humorous stories which included titles such as "The New Farm Hand", "Ma Goes to Church" and "Cows and Romance" were all written about her take on ranch life. Marion often provided advice for her family - One time a grandson called upon Marion regarding a decision to be made about two jobs he was considering. She was quick and to the point "Take the one that pays the most." One of Marion's favorite pastimes was attending rodeos and watching her daughters' barrel race or sons-in-law participating in wild cow milking contests. Marion truly loved and embraced her western way of life living on the Eden Ranch which remains in operation today by two of her grandsons.
Marion Vercruyssen passed away on March 26, 1989. Her incredible ambition and unwavering commitment to live and to help others in rural northern Montana has earned her a well-deserved resting place in the Calvary Cemetery in Havre, Hill County, Montana, not far from the Eden Ranch.
Resources: Family notes and memories from Marion's children and grandchildren.