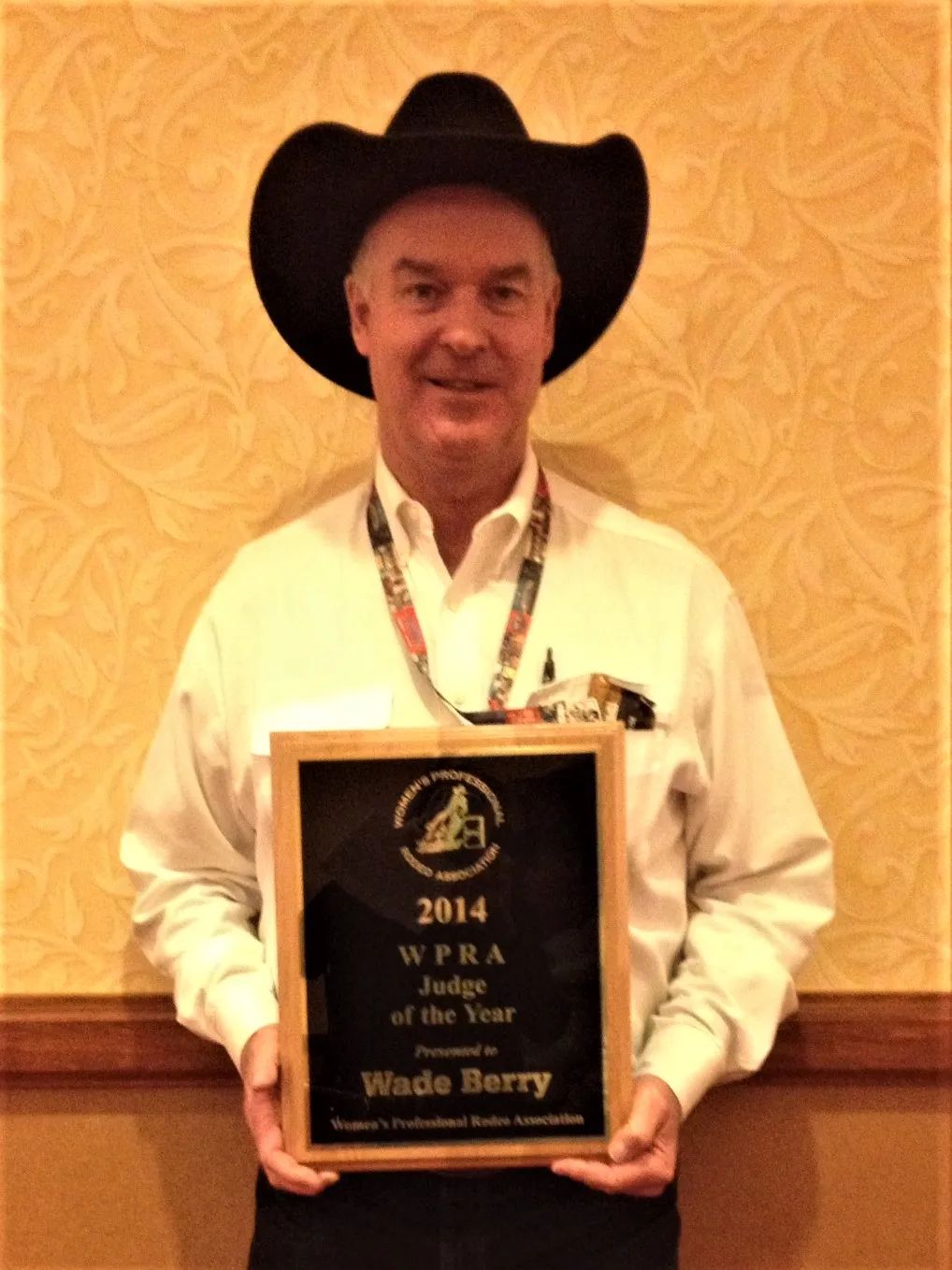 MCHF & WHC HALL OF FAME INDUCTEE 2018
Wade Wayne Berry
Wade Wayne Berry was born in Farmingdale, South Dakota, March 12, 1957 to Buster and Mary Lou Berry, the oldest boy of six children. He was raised on a ranch where he learned to rope, ride, calve and brand at a very young age. Wade broke his first colt while in the second grade and knew he was hooked. He attended elementary, middle, and high school in Wall, South Dakota, where he excelled in basketball, football, and rodeo. Wade was the South Dakota High School All Around Champion cowboy in 1974. The next year he bought his membership card to join the Professional Rodeo Cowboy Association (PRCA), competing in multiple events at the pro level.
In the fall of 1975, Wade moved to Miles City, Montana, to attend Miles Community College on a rodeo scholarship where he later earned an associate's degree in Elementary Education. Throughout college he competed in bareback riding, steer wrestling, calf roping, and team roping. He worked his way through school breaking colts, training race horses, and day to day ranch work for Lyle Petus.
With college behind him, Wade went to work at the Art and June Reukauf and Cliff and Lila Glade ranch north of Terry, Montana and later for Art's, son in law, Fred Berzel, in Ismay, Montana. He worked side by side with Fred for three years in every aspect of ranch life. After several years of day work breaking colts, and rodeoing, Wade began working full time for Bill Murray on the Murray ranch south of Miles City. He spent five years with Bill as head ranch hand.
Wade married Corina (Mayberry) on June 4, 1983 and to this union children Ace and Trista were born, joining their half-brother Wayne.
Wade started competing in the Miles City Bucking Horse Sale in 1975. In 1980, he was named the champion bareback rider. In 1984 Wade rode 19 bareback horses in a two-day period and competed in his first wild horse race with Casper Schaefer and Benny Reynolds. This lead to the legendary team of Casper, Wade and Pat Haughian. Their team went on to win 16 consecutive competitions. When they decided to retire, they entered the Wolf Point Stampede wild horse race as their final event. They ended their, career winning the wild horse race three days in a row. Wade has either participated in or judged the World-Famous Miles City Bucking Horse Sale, as the locals like to call it, since 1976.
At the professional level, Wade competed in bareback riding and steer wrestling. With countless rodeo titles in the PRCA, Wade qualified for the Montana Circuit Finals twice and was runner up bareback champion in the Badlands Circuit. In 1986, Wade was awarded the all-around title at the Rapid City Stock Show. This win, along with several other rodeo titles gave his career the defining points necessary to move him to the highest level of competition. In 1987, Wade finished in the top 15 steer wrestlers in the world, cinching his spot at the Wrangler National Finals Rodeo. Wade competed in Las Vegas, Nevada, in 1987, winning the tenth round of the finals and continued to compete in the steer wrestling until his retirement in 2005. He received his PRCA Gold Card status in 1995.
Although Wade was no longer riding broncs, or jumping steers, his love of the sport of rodeo remained strong and found alternative options for staying active in the sport. He became an active member on the Montana High School Rodeo Association board while sharing his rodeo knowledge to up and coming competitors. Aside from hosting numerous steer wrestling clinics, continuing to assist with coaching rodeo at Miles Community College, and traveling to youth rodeos with his kids, Wade found his newest calling in 1980 as a professional rodeo judge.
Wade was selected to judge the Louisiana High School Finals Rodeo eight separate occasions, the South Dakota High School Rodeo Finals a total of ten years, and the Montana High School Rodeo Finals four separate years. He was chosen to judge the College National Finals Rodeo in 2014 and 2016, as well as four occasions judging the National High School Rodeo Finals.
In 2014, 2016 and again in 2017 Wade was deeply honored when he was selected to judge the Wrangler National Finals Rodeo. Following his multiple-time opportunity to judge the Montana and Badlands Pro Rodeo Circuit Finals, Wade was chosen to judge the Ram National Circuit Finals in Kissimmee, Florida, 2015 through 2017. In addition to his achievements at the pro level, Wade was named 2014 Women's Pro Rodeo Association Judge of the year, as nominated and voted on by the contestants of Women's Pro Rodeo.
Wade continues to reside in Miles City with his wife, Corina, where they both support local rodeo and ranching events. He and Corina are foster parents, allowing Wade to expose a new generation to the sport of rodeo. He has created a lifestyle and raised a family that upholds strong Montana western tradition. As an inducted member of the Montana Pro Rodeo Hall and Wall of Fame Wade is a valued figure in Montana's ranching and rodeo community.
References:
Allison, Amorette. "Berry named rodeo judge of the year." Miles City Star. 28 November 2014, page 1.
Berry, Wade. Personal Interview. 15 April 2017.
Katzanek, Jack. "Rodeo stars head to NFR." Miles City Star. 1 December1987, page 9.